'The Favourite' Trailer: Rachel Weisz And Emma Stone Fight For Olivia Colman's Favor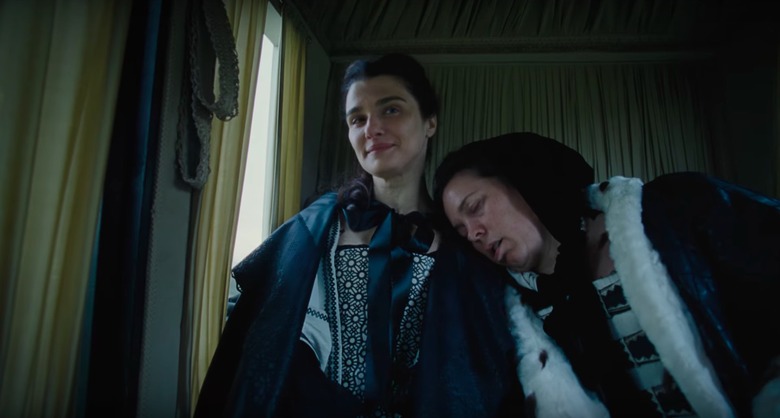 Rachel Weisz and Emma Stone may be fighting for Olivia Colman's favor in The Favourite, but all three are fighting for a place in the upcoming Oscar race.
Yorgos Lanthimos' highly anticipated new film received rave reviews and plenty of Oscar buzz at the Venice and Telluride film festivals, pushing all three actresses to the forefront of the acting categories at the Oscars. And on the tail of the period piece's buzzy festival debut, Fox Searchlight has dropped the official The Favourite trailer.
The Favourite Trailer
Lanthimos, whose career has rapidly been rising since he earned an Oscar nod for the screenplay for his first English-language feature The Lobster, has managed to infuse his signature grotesque style into the period drama with The Favourite.
The 18th century drama follows the mentally unstable Queen Anne (Colman) and her royal court, who scramble to appease her fickle demands. At Queen Anne's right hand is her scheming close friend Lady Sarah (Weisz), whose position is suddenly threatened by the arrival of a charming and beautiful new servant (Stone), who quickly rises through the ranks to become Queen Anne's new favorite.
Cat fights and royal intrigue never seemed so unsettling and weird as they do in The Favourite, which sees Lanthimos flexing his quirky, macabre stylings. And according to critics out of the Venice International Film Festival and the Telluride Film Festival, it is Lanthimos' at his best. Variety calls The Favourite a "savage misanthropic baroque costume drama," while Indiewire dubs it "his crowning achievement." But best of all, of course, are the three actresses at the center — all of whom receive raves, with Colman in particular getting the majority of the praise. "Colman's performance is so volcanically great, they may shrug and find themselves giving in to the daffy, fiery vulnerability of her portrayal," Entertainment Weekly says.
Here is the official synopsis for The Favourite:
Early 18th century. England is at war with the French. Nevertheless, duck racing and pineapple eating are thriving. A frail Queen Anne (Olivia Colman) occupies the throne and her close friend Lady Sarah (Rachel Weisz) governs the country in her stead while tending to Anne's ill health and mercurial temper. When a new servant Abigail (Emma Stone) arrives, her charm endears her to Sarah. Sarah takes Abigail under her wing and Abigail sees a chance at a return to her aristocratic roots. As the politics of war become quite time consuming for Sarah, Abigail steps into the breach to fill in as the Queen's companion. Their burgeoning friendship gives her a chance to fulfil her ambitions and she will not let woman, man, politics or rabbit stand in her way.
The Favourite opens in theaters on November 23, 2018.