The Entire First Episode Of Jim Carrey's 'Kidding' Is Free Online Right Now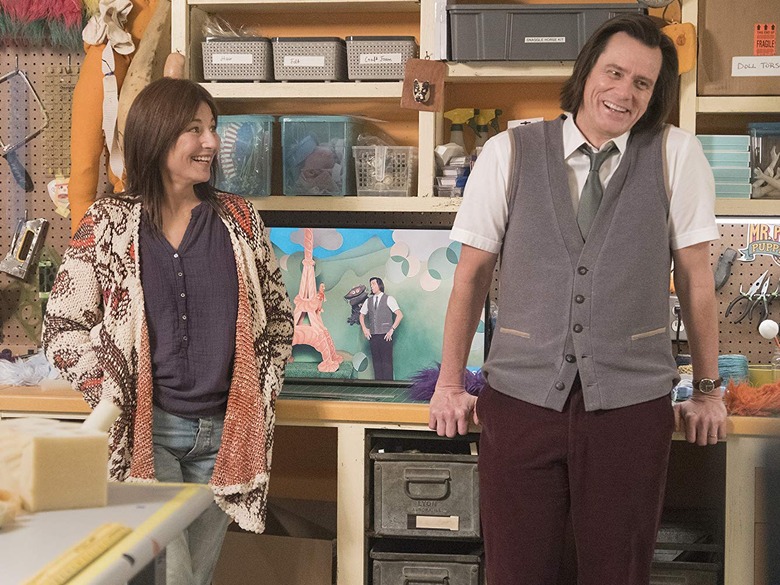 You don't have to wait five more days for the reunion of Eternal Sunshine of the Spotless Mind collaborators Jim Carrey and Michel Gondry. The first episode of their new Showtime series, Kidding, is now available to watch in its entirety on YouTube.
The black comedy about a Mr. Rogers-esque figure (Jim Carrey) who has a mental breakdown amid a personal crisis and the crushing pressure of the social media era, Kidding is a blacker-than-black comedy created by Dave Holstein, directed by Gondry, and starring Carrey, Catherine Keener, Judy Greer, and Frank Langella.
Kidding stars Carrey as Jeff Piccirillo, AKA "Mr. Pickles," who for decades was an icon of children's television and beloved by the country as a beacon of kindness and wisdom. But when Jeff's family life begins to spiral out of control, his happy facade begins to crack. And in the age of social media, his meltdown is ripe for all the world to see.
Kidding Episode 1
The first episode of Kidding promises another career-best performance for Carrey. Carrey plays Mr. Pickles as a man on the verge of a breakdown, with a glint of insanity in his eyes even as he sings to children or plays with puppets. It's an unnerving performance, and probably not one you want to see if you're a hardcore Mr. Rogers' Neighborhood fan. Kidding is by no means an indictment of the beloved real-life educational show, but the timing does feel oddly close to this summer's uplifting documentary, Won't You Be My Neighbor.
Kidding offers a tantalizing reunion for Carrey and Eternal Sunshine of the Spotless Mind director Michel Gondry as well, though that is probably the only similarity these two projects share. This Showtime series is a dark comedy that is not afraid of unsettling its audiences, and Carrey's unhinged performance here is proof of that.
Holstein executive produces the series with Carrey, Gondry, Jason Bateman, and others. Justin Kirk (Weeds), Ginger Gonzaga (I'm Dying Up Here), and Tara Lipinski will have guest starring roles in the first season as well as Betty Thomas, Danny Trejo, and Conan O'Brien as himself.
Here's the synopsis for Kidding:
Green Means Go. Jim Carrey stars as Jeff, aka Mr. Pickles, an icon of children's television. But when Jeff's family begins to implode, he finds no fairy tale or fable or puppet will guide him through the crisis.
Kidding officially premieres on Showtime on September 9, 2018.