Exclusive 'UFO' Clip: You're Failing Professor Gillian Anderson's Class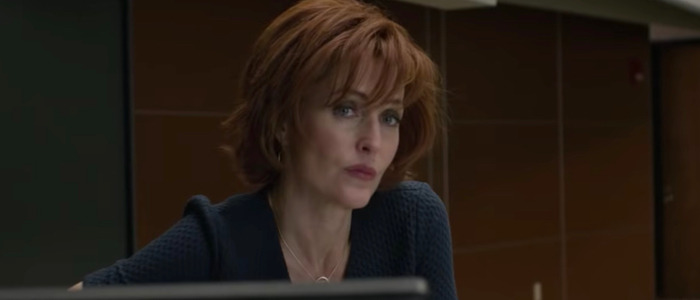 Try as she might, Gillian Anderson can't escape UFOs. The X-Files star appears in UFO, a new sci-fi thriller about a college student who gets caught in a government cover-up. We have an exclusive UFO clip for you below, featuring Anderson's no-nonsense professor giving out a failing grade. Ouch.
UFO Clip
I don't know about you, but if Gillian Anderson told me she was failing me, I'd probably crawl into a cave and die. That has to sting. In this UFO clip, Anderson's character, Dr. Hendricks, confronts Derek (Alex Sharp), a college student who swears he once saw a UFO as a child. The experience has haunted him ever since, and he's become convinced of a government cover-up. Clearly all this conspiracy theorizing is taking at toll on Derek, as he finds himself about to flunk out at college.
It's interesting to see Anderson involved in a UFO-related project again. For years, the actress tended to avoid such films in order to fend-off X-Files typecasting. Perhaps that's no longer a concern, even if she is sporting a very Scully-like wig here. In addition Anderson and Sharp, UFO stars Ella Purnell (Miss Peregrine's Home for Peculiar Children) and Ben Beatty (Hail, Caesar!). Ryan Eslinger writes and directs the movie, which is now available on digital and DVD from Sony Pictures Home Entertainment.
Derek (Alex Sharp) a brilliant college student, haunted by a childhood UFO sighting, believes that mysterious sightings reported at multiple airports across the United States are UFO's. With the help of his girlfriend, Natalie (Ella Purnell), and his advanced mathematics professor, Dr. Hendricks (X-Files' Gillian Anderson), Derek races to unravel the mystery with FBI special agent Franklin Ahls (David Strathairn) on his heels.