'My Brilliant Friend' Trailer: HBO Adapts Elena Ferrante's Neapolitan Novels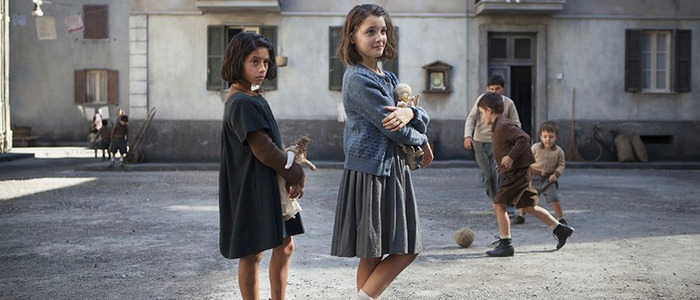 Elena Ferrante's Neapolitan novels have been a literary sensation, beloved by critics and readers alike. Now, HBO is attempting to bring the books to life with a 32-part adaptation (!). Things kick off with the series My Brilliant Friend, debuting on HBO this November. Watch the first My Brilliant Fiend trailer below.
My Brilliant Friend Trailer 
The Neapolitan Novels – My Brilliant Friend, The Story of a New Name, Those Who Leave and Those Who Stay, and The Story of the Lost Child – have made the reclusive writer Elena Ferrante an international literary superstar, even though she's kept her true identity a secret since publishing her first novel in 1992. Now Ferrante's books come to life, courtesy of HBO. HBO is adapting the books into an ambitious 32-part series, beginning with My Brilliant Friend, directed by Saverio Costanzo. The entire book series follows two girls, ElenaGreco and Raffaella Cerull, from childhood to adulthood. My Brilliant Friend covers the childhood portion. Here's the book's synopsis:
Book one in the New York Times bestselling Neapolitan quartet about two friends growing up in post-war Italy is a rich, intense, and generous-hearted family epic...Beginning in the 1950s in a poor but vibrant neighborhood on the outskirts of Naples, Ferrante's four-volume story spans almost sixty years, as its protagonists, the fiery and unforgettable Lila, and the bookish narrator, Elena, become women, wives, mothers, and leaders, all the while maintaining a complex and at times conflictual friendship. Book one in the series follows Lila and Elena from their first fateful meeting as ten-year-olds through their school years and adolescence.
Through the lives of these two women, Ferrante tells the story of a neighborhood, a city, and a country as it is transformed in ways that, in turn, also transform the relationship between her protagonists.
Books have been adapted into TV shows before – especially by HBO, who recently turned Big Little Lies and Sharp Objects into two highly-acclaimed series. But turning four books into a series seems wildly ambitious and new. When the series was first announced, Casey Bloys, president, HBO Programming, said:
"We are thrilled to partner with Wildside, Rai and Fandango to bring the powerful, epic storytelling of Elena Ferrante and her Neapolitan Novels to life. Through her characters, Elena and Lila, we will witness a lifelong friendship set against the seductive social web of Naples, Italy. An exploration of the complicated intensity of female friendship, these ambitious stories will no doubt resonate with the HBO audience."
My Brilliant Friend will debut on HBO in November.