'Roma' Early Buzz: Alfonso Cuaron Has Delivered Another Masterpiece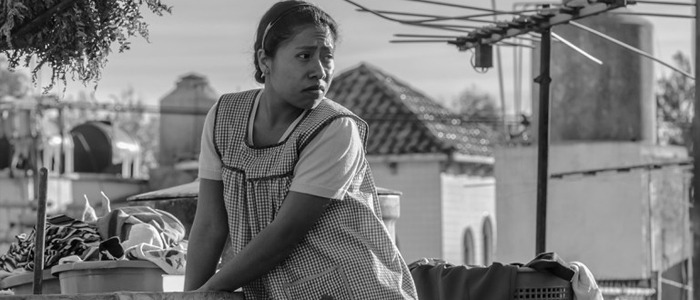 Mexican filmmaker Alfonso Cuaron is back with Roma, his first feature since he blew us away with 2013's survival thriller Gravity. This new black and white movie set in the titular Mexico City suburb in the early 1970s is "a vivid portrayal of domestic strife and social hierarchy amidst political turmoil", and critics are already calling it one of the best movies in Cuaron's impressive filmography.
The first Roma reviews are in following the film's Venice Film Festival premiere, and you can read some of the glowing reactions below.
Roma Reviews
Todd McCarthy at The Hollywood Reporter calls Cuaron a "poetic curator of memories" and has incredibly high praise for the film:
Blessed with an exceptionally acute sensitivity to the things of life, Roma is a memory film of unusual beauty that pushes to the foreground what is commonly left in the background. Alfonso Cuaron's long-aborning, autobiographically inspired drama impressionistically recreates the titular Mexico City neighborhood circa 1970-71, but concentrates less on kids than on the sometimes confounding behavior of the adults around them. An immersive bath in some of the most luxuriantly beautiful black-and-white images you've ever seen, this is the work of a great filmmaker who exhibits absolute control and confidence in what he's doing. He takes an unsentimental, unexpectedly dispassionate view of convulsive family issues, which are placed in the greater context of specific Mexican social matters and the march of time. This immaculate drama from Netflix could score equally well with upscale art-seekers and general Spanish-speaking audiences.
Jessica Kiang at The Playlist says the movie is "stunningly personal" and "ambitiously expansive and human":
The highest compliment that can be paid is that, again, it does not feel like this world was created but uncovered just the way it is, as though it had been trapped in amber for five decades, or caught in a sudden Vesuvian eruption, with food left on tables, books half-read on nightstands and dogs frozen mid-jump at the gate. The level of skill it takes to create this effect cannot be overstated: this is personal filmmaking taken to such an extremely minute level that at times it can almost feel prurient, like we're accidentally eavesdropping on things too private for our ears, like we've intercepted an embrace sent back through time and not really meant for us at all.
Alonso Duralde at The Wrap was impressed with the lead actress, a woman who has never acted before:
"Roma" offers plenty of Cuarón-ian flourishes throughout — from a violent street protest that bursts into a placid furniture store to long tracking shots of busy, period-dressed Mexico City streets — but keeping the camera on Yalitza Aparicio is all the director needs to do to hold our attention. Whether or not Netflix audiences will respond to this film's subtle delights on a small screen, Alfonso Cuarón has created a heartfelt masterpiece of mood and nostalgia, one that reminds us that his gifts as a storyteller and an interpreter of the human experience are not dictated by scale of production.
Eric Kohn at IndieWire says the film eschews the director's previous showiness for something more restrained:
Thanks to Cuarón's own remarkable 65mm cinematography, it feels as if the filmmaker is writing his memoirs with moving images, yielding a hypnotic effect closer in style to the muted aesthetic of Argentine auteur Lucrecia Martel, or Chantal Akerman's "Jeanne Dielman." Cuarón's "Roma" is by far the most experimental storytelling in a career filled with audacious (and frequently excessive) gimmicks. Here, he tables the showiness of "Children of Men" and "Gravity" in favor of ongoing restraint, creating a fresh kind of intimacy. Like a grand showman working overtime to tone things down, he lures viewers into an apparently straightforward scene, only to catch them off guard with new information.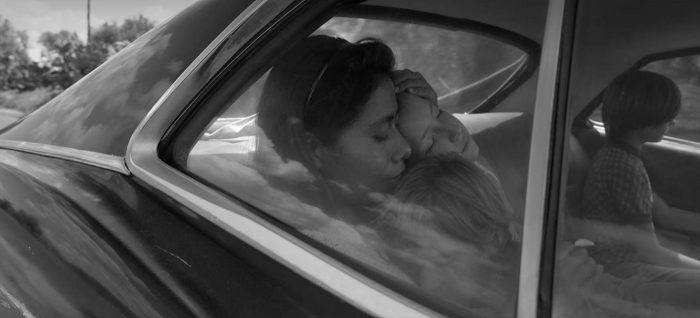 Stephanie Zarachek at Time likens Roma to "a portrait of a loved one painted from memory":
Cuarón is a superb craftsman, but his real gift is that he puts human nature above filmmaking. Roma follows in the tradition of neorealist filmmakers like Vittorio De Sica and Satyajit Ray. No one else is making movies like this today. The picture is being distributed by Netflix, and though that arrangement seems unusual for a filmmaker of Cuarón's stature, it also makes sense: You can't imagine a major Hollywood studio, at least the way the studios operate today, releasing a movie as intimate as Roma is.
David Jenkins at Little White Lies found himself completely transported into the movie's world:
It is about family connections, communication, class anxiety, children, animals, birth, death, men, women, politics, the elements, the landscape, the city, the country, dreams, cinema, art, literature, music, technology and everything else in between. It would perhaps belittle this work to resort to the cliché that "all life is here", but, well, it really is.
There is a soap opera element to its subtle narrative, particularly as we are quickly immersed in the lives of Cleo's affluent employers and their four lively children. Yet there is little obvious cause and effect from scene to scene. Well, there is, but never in a way that feels contrived. Scenes are often filmed in slow, arching pans, as if a probe as been transported back from the past to create a photographic record of life in all its messy authenticity. Its narrative flow feels entirely organic. But that description only scratches the surface. The film is an act of remembrance, a shrine to loved ones and an ultra-sensual form of autobiography – I don't know if it was just me, but I could absolutely smell this film while watching it.
Glenn Kenny at RogerEbert.com says Roma is "mesmerizingly beautiful" – are you sensing a pattern here? – and tells future audiences what they can expect:
The story is not told in a mainstream dramatic fashion. Cuarón's style here takes cues from early Fellini and Tarkovsky, particularly his "Mirror" (look no further for this influence than the movie's opening shot), and is also informed by the director's own particular penchant for long takes. But there's nothing here that immediately makes the viewer think "how'd they do that" in the manner of "Children of Men," although really, you SHOULD think that, particularly in the visit to the furniture store to buy a crib for the baby scene in which a large scale riot breaks out on the street below. There are many scenes in which incredibly choreographed action is backgrounded (as when Cleo goes back to her home village and finds the father of her child participating in mass martial arts training exercise) while smaller dramas are enacted by the characters. It's a way of looking at the world, and of course that way is defined by memory: even if the publicity materials didn't tell you, it's clear that the family is the filmmaker's.
Variety's Owen Gleiberman is one of the only critics who seemed to not fall under the movie's spell as much as the rest:
For all its dust and flow and sprawl, there's hardly a moment in "Roma" that isn't orchestrated for our observance from on high, and that's one reason why a lot of people are likely to hail it as some sort of masterpiece. "Roma" is no mere movie — it's a vision, a memory play that unfolds with a gritty and virtuosic time-machine austerity. It's a Proustian reverie, dreamed and designed down to the last street corner and scuffed piece of furniture. Yet I actually think it's far from a masterpiece, because as a viewing experience it has a slightly hermetic coffee-table-book purity. Every moment comes at you in the same methodically objective and caressing Zen way.
Cuarón, make no mistake, has done this entirely by design. He presents life in the unruly Mexican metropolis as an immersive experience, a you-are-there trance-out. For what it is, "Roma" is gorgeously done, yet you may feel gently absorbed in it more than than you're deeply moved by it. If the film were more thrashing and vulgar, it wouldn't be such an art object, but it might have been more dramatically galvanizing.
Roma will hit limited theaters on December 14, 2018 and presumably be streaming on Netflix on that same date.