Netflix To Give Awards Season Theatrical Runs To 'Roma,' 'The Ballad Of Buster Scruggs,' And '22 July'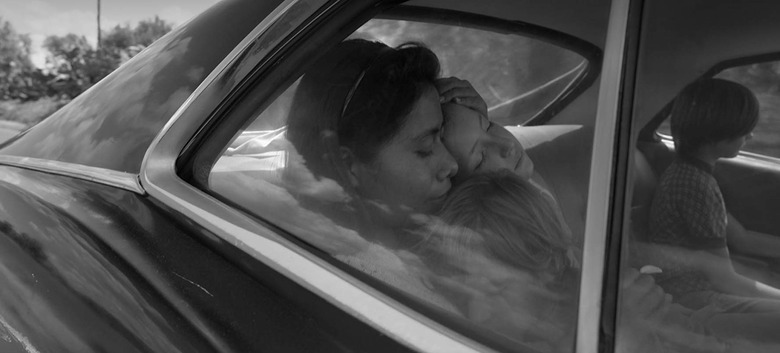 A day after it was reported that Netflix was considering theatrical releases for its highly anticipated prestige pictures, it has been confirmed that the streaming giant will give limited theatrical runs to Alfonso Cuaron's Roma, Joel and Ethan Coen's The Ballad of Buster Scruggs, and Paul Greengrass' 22 July.
However, these awards-season runs aren't a sign of changing ways for Netflix — this day-and-date release for awards-friendly films is a strategy that the streaming service has practiced since 2015's Beasts of No Nation.
As all three films make their world premieres at the Venice Film Festival — starting with Roma today, Buster Scruggs on Friday and 22 July on September 5 — Netflix has released their awards-season theatrical release dates. Deadline has confirmed that the streaming giant plans to give Roma, Buster Scruggs, and 22 July awards-qualifying runs. All awards-eligible films are required to run in theaters for at least seven consecutive days in Los Angeles.
Deadline writes:
Paul Greengrass' Norway political thriller 22 July on October 10, the Coen Brothers' western The Ballad of Buster Scruggson November 16 and Alfonso Cuaron's black and white epic Roma on December 14.
22 July and Buster Scruggs will play for a week, but it's possible that Roma could play for two weeks.
According to Deadline, these limited theatrical runs will take place in 10-12 theaters in big city locations, playing largely at Landmark theaters. Landmark has historically been the favorite venue for Netflix movies, as it is the preferred chain for Academy voters in Los Angeles and New York.
However, this tradition could be broken by Roma, which was filmed for screens capable of Dolby Atmos sound, and Landmark theaters aren't equipped for that. However, Alamo Drafthouse is, and it's possible that Roma could see its theatrical run extended not only to two weeks, but to more venues. This would be a boon for audiences in general, as Cuaron's newest, and most personal film has already been praised for its lyrical black-and-white cinematography that would be best experienced on the big screen. I know that Netflix still stands steadfast in their belief that the theatrical experience isn't sacred, but I wish they could support a theatrical release for their films outside of awards-season. Some films deserve to be seen on the biggest screens possible.
Netflix has not yet announced the streaming dates for Roma, The Ballad of Buster Scruggs, and 22 July, but it stands to reason that they will follow soon after the limited theatrical runs.