'A Star Is Born' Soundtrack Features 19 Songs And 15 (!) Dialogue Tracks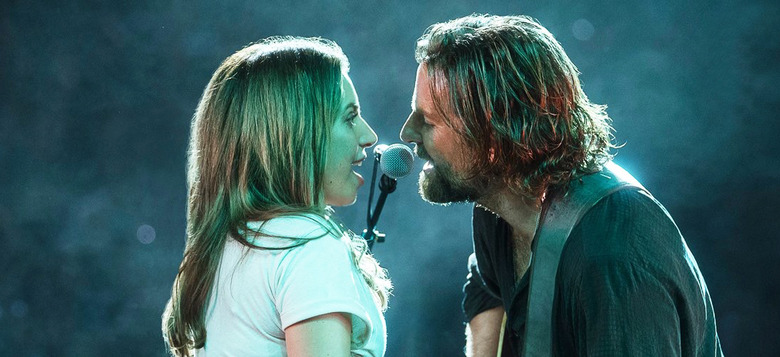 When you've got one of the biggest pop stars in the world headlining your movie, you don't need to wait for the film release to sell the soundtrack. And when you have Lady Gaga and Bradley Cooper co-starring in A Star is Born, you can add 15 dialogue tracks to that soundtrack and no one will blink an eye.
We're still a little over a month away from the release of A Star is Born, but Interscope Records has announced that the A Star is Born soundtrack is now available for pre-order, featuring 19 songs and 15 (!) dialogue tracks. That's right, 15.
Interscope Records announced the pre-order availability for A Star is Born, the third remake of the classic story of a faded, alcoholic musician who discovers and falls in love with a ingenue whose fame soon surpasses his own. Cooper has never shown off his singing chops before on such a grand scale, but impressed in the trailer, while we all know that Lady Gaga — who makes her feature film acting debut here — can easily carry this film's vocals on her own. So get prepared for Gaga's soaring notes and Cooper's (likely drunken) warblings in the A Star is Born soundtrack
"A Star is Born soundtrack features 19 songs in a wide range of musical styles + 15 dialogue tracks that will take you on a journey that mirrors the experience of seeing the film. Pre-order the music from the film now, out Oct. 5," Interscope announced in a tweet. The 34-track soundtrack is available to pre-order digitally and physically here.
Here is the soundtrack listing:
Black Eyes – Bradley Cooper
Somewhere Over the Rainbow (Dialogue)
Fabulous French (Dialogue)
La Vie en rose – Lady Gaga
I'll Wait for You (Dialogue)
Maybe It's Time – Bradley Cooper
Out of Time – Bradley Cooper
First Stop, Arizona (Dialogue)
Always Remember Us This Way – Lady Gaga
How Do You Hear It? (Dialogue)
Look What I Found – Lady Gaga
I Don't Know What Love Is
Is That Alright? – Lady Gaga
Hair Body Face – Lady Gaga
Too Far Gone – Bradley Cooper
32 Twelve Notes (Dialogue)
I'll Never Love Again (Film Version)
I'll Never Love Again (Extended Version) – Lady Gaga
Spoiler-phobic fans better stay away from this soundtrack, because it seems like it contains the entire film (there's one dialogue track literally labeled Scene 98!). But unless this is more of an opera (or better yet, a Hamilton-style rap opera) instead of a straight musical, I hope that Interscope releases a non-dialogue version of the soundtrack soon. But perhaps the music and the dialogue are so intertwined that they cannot be separated, as Cooper suggests in a recent interview with Entertainment Weekly.
"We knew the story we wanted to tell, and then the music really became a character in the movie" Cooper told EW, adding:
"There is no lyric that's ever in any point of the movie that doesn't have exactly to do with where one of them is or hopes to be or regrets being. That was our launching pad and then it was just about discovering what songs fit in the right places. We had wonderful songwriters that helped us and it was just an exploration. That's the only way I know how to do it — you have to go to work every day with the people that you want to work with and try to create something."
Gaga added, "There were so many songs too, so many different incarnations of each song. We were writing songs during the filming."
A Star is Born opens in theaters on October 5, 2018.