'Star Wars Resistance' Featurette: Meet Your New Heroes, Team Fireball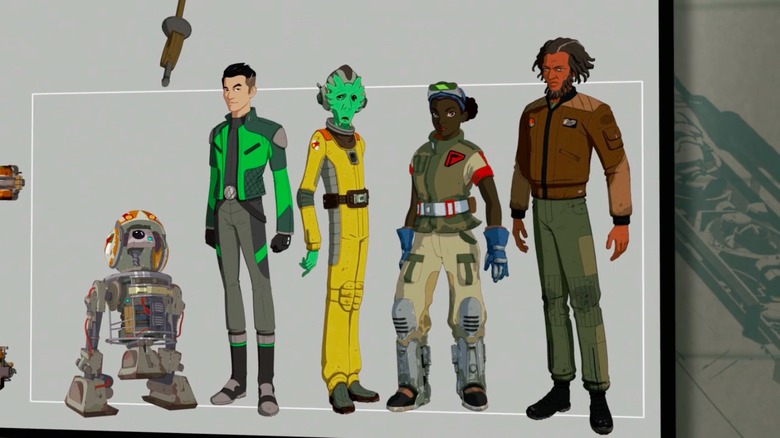 The best part of any new Star Wars series is the plethora of colorful characters they introduce, many of whom become fan-favorite badasses who cross over into comic books and novels. And it looks like the scrappy characters of Star Wars Resistance are no different. A new Star Wars Resistance featurette introduces us to Team Fireball, the main characters who will headline the Disney Channel animated series.
Star Wars Resistance Featurette: Team Fireball
Entertainment Weekly has debuted the new featurette, which fleshes out the main characters of the newest anime-style Star Wars series. While we knew Star Wars Resistance would follow Resistance operative Kazuda Xiono (Christopher Sean) and his adventures spying on the First Order while working undercover as a racer, the featurette dives into Kaz's close-knit racing team, who don't necessarily know about his covert mission.
Team Fireball is made up of Jarek Yeager (Scott Lawrence), Tam Ryvora (Suzie McGrath) and Neeku (Josh Brener), all of whom are working to restore an old ship named Fireball — named so because of its tendency to burst into flames. Here is a rundown of the team (via EW):
Jarek Yeager: A former Rebellion pilot now trying to live a quiet life as a mechanic. But when Poe and Leia request his help embedding Kaz on the Collosus, he's drawn back to answer the call of duty.
Tam Ryvora: A fellow mechanic who used to be a racer herself before she lost her ship. "She's tough, no-nonsense, she kind of has attitude," McGrath says.
Neeku: A green, horny-toad-looking alien who's a bit naive, and usually dorky and cheerful. "He is this unbelievably positive, happy character," Brener says. "No no matter what kind of day you're having, Neeku is having a great day."
Bucket: The skeletal-looking astromech droid who is fond of wearing X-wing fighter pilot helmets. He has seen better days but he still has an important role to play in the coming fight.
Rounding out the Star Wars Resistance voice cast are Myrna Velasco (Elena of Avalor), Josh Brener (Silicon Valley), Donald Faison(Scrubs), Bobby Moynihan (DuckTales), Jim Rash (Community) and Rachel Butera (Tammy's Tiny Tea Time), as well as Gwendoline Christie returning as Captain Phasma.
Here is the synopsis for the first, one-hour episode of Star Wars Resistance:
"While undercover, Kaz works as a mechanic and lives with Poe's old friend Yeager, a veteran pilot who operates a starship repair shop run by his crew: Tam, Neeku and their old battered astromech droid, Bucket. Kaz soon finds himself in over his head with his newfound friend BB-8 as he'll have to compete in dangerous sky races, keep his mission a secret from his newfound family, and avoid the danger of the First Order."
Star Wars Resistance premieres on Disney Channel and Disney Now on October 7, 2018 at 10 p.m. ET/PT.