Michael Jackson's 'Thriller 3D' Is Getting An IMAX Theatrical Release For The First Time Ever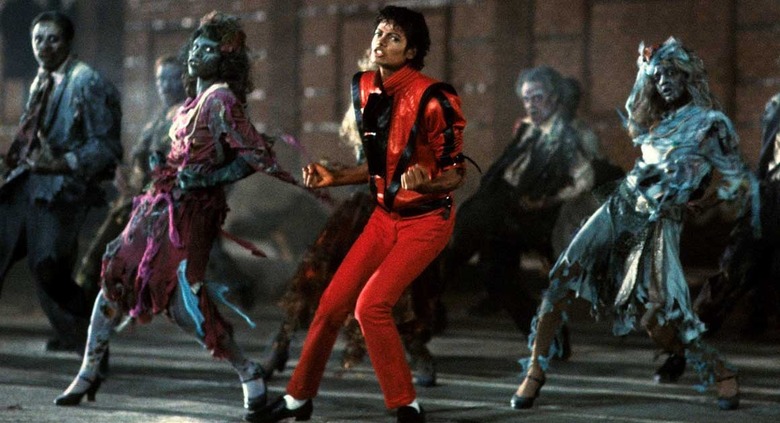 There's no better celebration of Michael Jackson's birthday than the — ahem — thrilling news that his iconic short film that revolutionized the music video landscape is coming to theaters. Right on the heels of the Michael Jackson Diamond Celebration, IMAX announced that Michael Jackson's Thriller 3D will head to IMAX 3D theaters for the first time ever.
But a word of warning: the remastered short film will only be in theaters for one week before it heads back to the grave.
The IMAX Corporation and the Michael Jackson Estate are teaming up to release the digitally re-mastered Michael Jackson's Thriller 3D in IMAX 3D theaters this September. The short film will run for one week only in domestic IMAX theaters ahead of showings of Eli Roth's The House with a Clock in Its Walls, beginning September 21, 2018.
"Michael loved to give his fans the latest and greatest in technology and entertainment experiences so a partnership with IMAX to bring THRILLER 3D to theaters made perfect sense. Fans are going to love this," said John Branca and John McClain, co-executors of the Estate of Michael Jackson.
Thriller, off the album of the same name, began as a short film directed by An American Werewolf in London director John Landis and written by Landis and Jackson. The 14-minute short film debuted in 1983 and forever changed the music video game and has been hailed as a "watershed moment" for the music industry, transforming music videos into a viable art form. The film premiered at the AVCO Theatre in Los Angeles in 1983, where it sold out every night for three weeks. Most importantly, it introduced the best wedding reception dance.
Michael Jackson's Thriller 3D was remastered from the original 35mm negative last year and converted into 3D by Optimum Productions with Landis' oversight. All the audio, including Jackson's music, Elmer Bernstein's score, and sound effects, were adapted to 5.7, 7.1 and Atmos standards. The remastered short film first made its premiere at last year's 74th Venice Film Festival, and will now make its first-ever IMAX debut.
In an interview with Billboard ahead of the Venice premiere, Landis praised the remastered version's "spectacular visuals," adding, "But we didn't just restore Thriller. We enhanced it ... like in that scene in the Wizard of Oz when Dorothy and the others are being buffed and polished inside Emerald City."