Creepy 'Suspiria' Clip Features Writhing, Dancing And Claws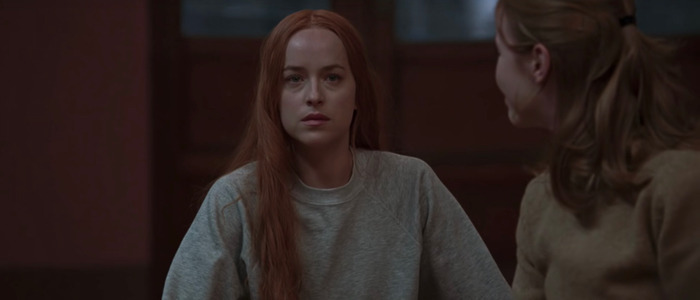 Do you like Tilda Swinton drawing a huge set of curtains, Dakota Johnson writhing on the floor, and cameo appearances from monster hands? If so, this creepy new Suspiria clip is for you! Luca Guadagnino's remake of Dario Argento's horror classic remains enigmatic, and this clip certainly won't provide any direct answers. What it will provide, though, is an overall feeling of dread. What more can you ask for? Watch the Suspiria clip below.
Suspiria Clip
The Suspiria trailers released so far have done a great job selling the film, but they've also remained deliberately vague. This clip is our first detailed look at what Luca Guadagnino has in store for us, and it doesn't disappoint. While the clip ends just as things are starting to get really spooky, there's enough ominous dread and weirdness on display here to leave a lasting impression.
In the clip, Tilda Swinton's character Madame Blanc instructs dance student Susie (Dakota Johnson) to "improvise freely." Susie obliges by writhing about on the floor as the other students dance around her. Almost immediately, the music – courtesy of Radiohead's Thom Yorke – becomes dark and foreboding, all as Johnson flexes her shoulder blades into unsettling positions. All of this is pretty effective on its own, but things get really weird when the camera pans down beneath the floorboards, revealing a demonic hand sliding along the ceiling below. The presence of the hand seems to act as a magnet, pinning Dakota Johnson's character to the floor, and inspiring a concerned look from Swinton. And then the scene ends before we can find out what the heck is going on here.
I know some die-hard horror heads have problems with the idea of a Suspiria remake. For one thing, aside from the premise of evil forces lurking at a dance academy, Guadagnino's take on the material looks a lot different than Argento's. Rather than the bright, vivid colors of the original, Guadagnino has stripped the color down, creating a somewhat drab color palette. This might seem confusing on the surface, but I'd much rather Guadagnino try to create his own thing rather than ape Argento's style. I'm all-in on this film, and I can't wait to see it.
Suspiria, starring Dakota Johnson, Tilda Swinton, Mia Goth, Lutz Ebersdorf, Jessica Harper and Chloë Grace Moretz, opens in NY and LA theaters October 26, expanding nationwide November 2, 2018.
A darkness swirls at the center of a world-renowned dance company, one that will engulf the troupe's artistic director (Swinton), an ambitious young dancer (Johnson), and a grieving psychotherapist (Ebersdorf). Some will succumb to the nightmare. Others will finally wake up.