'Sorry For Your Loss' Trailer: Elizabeth Olsen Grieves For Her Husband In Facebook Watch Series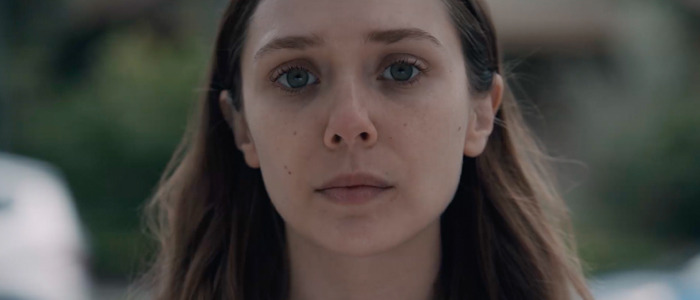 The era of Peak TV continues, and a new contender has officially entered the fray to vie for your time against Netflix, Amazon, and Hulu: Facebook Watch. The trailer for one of the social network's first major original shows, Sorry For Your Loss, has now debuted online, and you can see stars Elizabeth Olsen (Avengers: Infinity War), Kelly Marie Tran (Star Wars: The Last Jedi), and Jovan Adepo (Overlord) in our first look at the new drama below.
Sorry For Your Loss Trailer
The half-hour dramedy series hails from creator and writer Kit Steinkellner, a playwright who previously worked on Amazon's Z: The Beginning of Everything. Olsen is starring in the series and producing the show alongside James Ponsoldt, the excellent filmmaker behind grounded, raw indie movies like The Spectacular Now, Smashed, and The End of the Tour. Ponsoldt directed the pilot and several more episodes of Sorry For Your Loss, which explains why this show looks pretty damn good.
It would have been much easier to write off Facebook Watch as a non-starter platform that doesn't deserve our attention, but a show that tackles a huge topic like grief head-on with maturity, fantastic actors, and a solid creative team absolutely deserves to be on our radar. I keep waiting for the streaming content bubble to burst, and while it inevitably will one day, we haven't even seen any of Apple's planned slate of original content yet. If Facebook Watch establishes itself as a legit player in this game, we'll have even more great television to watch until that bubble finally pops. Talk about first world problems.
Looks like I may have to dust off my old Facebook account and give this series a chance when it debuts next month.
Here's the show's official synopsis:
The sudden death of her husband upends and transforms every relationship in Leigh Shaw's life. It also forces her to realize there was a lot about her husband that she didn't know.
The show is simultaneously devastating and uplifting, with grounded, flawed characters desperate to find humor anywhere they can. The series dives into grief as an unavoidable, universal, transformative part of life. Leigh's journey will teach us that grief is not something merely to endure, medicate away or 'muscle through,' but an essential part of the human experience.
Sorry For Your Loss arrives on Facebook Watch on September 18, 2018.