'Vox Lux' Trailer: Natalie Portman Takes Center Stage As A Pop Superstar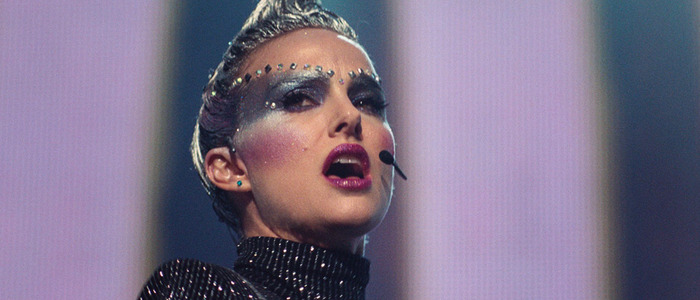 Vox Lux, the latest from Childhood of a Leader director Brady Corbet and Oscar-winner Natalie Portman, focuses on a woman's rise to pop superstardom over the course of 18 years. A new teaser trailer provides our first official look at Portman in action, albeit briefly. Watch the Vox Lux trailer below.
Vox Lux Trailer
If you have yet to see The Childhood of a Leader, the directorial debut of actor Brady Corbet, I urge you to check it out – it's currently streaming on Netflix. Corbet's first feature as a filmmaker is haunting and hypnotic, featuring a propulsive score from Scott Walker. The minute the film ended, I was excited to see what Corbet would do next as a director.
That next film is Vox Lux, and it will debut at the Venice Film Festival and play TIFF next month. Per the official TIFF write-up of the film, Vox Lux begins in 1999, following "teenage sisters Celeste (Raffey Cassidy) and Eleanor (Stacy Martin), who have survived a seismic, violent tragedy. The sisters compose and perform a song at about their experience, making something lovely and cathartic out of catastrophe — while also launching a career."
Along the way, the sisters draw the attention of a manager (Jude Law), who helps bring them fame and fortune. The second half of the film picks up in 2017, and finds the now 31-year-old Celeste (Portman) the mother of a teenage daughter of her own (also played by Raffey Cassidy) and "struggling to navigate a career fraught with scandals when another act of terrifying violence demands her attention."
This all sounds intriguing and mysterious, and I'm here for it. Portman is a wonderful actress, and this looks quite different from other films she's done (with the exception of maybe Black Swan). Interestingly, Rooney Mara was originally supposed to star, but had to drop out. It'll be interesting to see what Portman does with the role, as well as the musical elements. Sia composed original songs for the film, while Childhood of a Leader composer Walker re-teams with Corbet to handle the music.
There's no official release date for the film set yet, but the fact that it's playing Venice and TIFF suggests it's gearing-up for an awards season run. Which means you can probably expect to see Vox Lux close to the end of 2018.
Natalie Portman gives a bravura performance in the second feature from actor-director Brady Corbet, which spans decades in the life of a young woman juggling a scandal-ridden music career, a teenage daughter (Raffey Cassidy), and an overbearing if doting manager (Jude Law).