The 'Mrs. Doubtfire' Broadway Musical Is Ready For Its Close-Up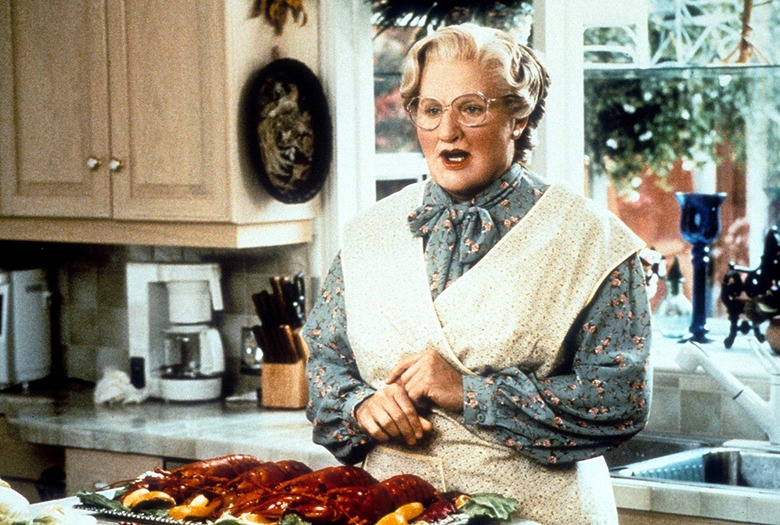 Say "hellooooo" to your new favorite musical. The Great White Way has got its hands on yet another adaptation of a beloved cinema classic, bringing to Broadway a Mrs. Doubtfire musical. The 1993 comedy originally starring Robin Williams as a struggling actor who disguises himself as his children's nanny is the next movie adaptation to be brought to the stage.
Playbill reports that the Something Rotten! team is set to adapt Mrs. Doubtfire to the stage, with four-time Tony winner Jerry Zaks set to direct. But there's nothing rotten about the talent producing this musical — John O'Farrell and Karey Kirkpatrick, who are writing the book, and Karey and Wayne Kirkpatrick, who are writing music and lyrics, were nominated for Tonys for their work on Something Rotten!
In a joint statement, producers Kevin McCollum and Bob Cohen of Fox Stage Productions said:
"Mrs. Doubtfire is such a beloved story, both laugh-out-loud hilarious and extremely moving. Getting this team together and crafting Mrs. Doubtfire for the stage has been pure joy. We can't wait to get into production."
This isn't the first attempt at bringing Mrs. Doubtfire to Broadway. In 2015, Disney legend Alan Menken, David Zippel, and Harvey Fierstein, who appeared in the Golden Globe-winning film, were announced as the creative team heading the adaptation. But the project stalled, and now three years later, Zaks will head a team consisting of O'Farrell and Kary and Wayne Kirkpatrick.
The original Mrs. Doubtfire was a smash success in 1993, cementing Williams' place as a comedy icon. It was a huge box office success that year, second only to Jurassic Park, and has gone down in history as a beloved comedy classic. Various attempts to develop a sequel were made, with a script in the works as recently as 2014, but those plans halted following Williams' tragic death a year later.
Williams left big shoes (and pantyhose) to fill for whoever gets cast as the lead in the Mrs. Doubtfire musical. But the film seems like the perfect fit for the stage, especially following the success of musicals like Legally Blonde, School of Rock, and Groundhog Day.