'Sherlock Holmes 3' Plot Clues Revealed By Jude Law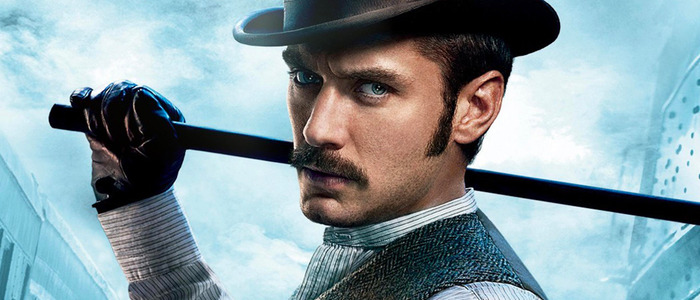 The game's afoot yet again as Sherlock Holmes 3 enters development. Robert Downey Jr. and Jude Law will return yet again as Holmes and Watson, embarking on yet another mystery that will likely involve abundant scenes shot in slow motion.
While specifics of the new film are still being sleuthed out, Jude Law dropped some potential Sherlock Holmes 3 plot details that play up the codependency between Holmes and Watson.
Jude Law is out there promoting his upcoming turn as Hot Young Dumbledore in Fantastic Beasts: The Crimes of Grindelwald, but he also took some time to talk Sherlock Holmes 3 with Entertainment Weekly. The third entry in the film franchise is currently in development, so there's not a whole lot of details available at the moment. But Law did describe how the film will handle the complicated Holmes/Watson relationship.
"We hope to propel the story forward," Law said. "As always, the essence of the story is their codependency. We're going to examine — since it's been several years since we've seen them — we're going to play up the fact that they haven't seen each other for a long time either."
The codependent nature of the Holmes/Watson relationship has always been at the forefront of the way the characters have been portrayed, and has been amplified to the extreme in both the Sherlock Holmes films, the BBC series Sherlock and CBS series Elementary. Sherlock Holmes: A Game of Shadows ended with Downey Jr.'s Holmes being presumed dead after going over the Reichenbach Falls – only to reveal at the last minute that Holmes was still alive. This story device is borrowed directly from Sir Arthur Conan Doyle's source material, in which Doyle attempted to kill off Holmes, only to eventually bring him back. The BBC's Sherlock also used this concept, having Benedict Cumberbatch's Holmes fake his death, only to return later.
While I like both Downey Jr. and Law, I haven't really cared for either Sherlock Holmes film – although I'll say the second film is better than the first, despite a significant lack of Rachel McAdams. But the two movies have a surprisingly strong following, and the third film will no doubt draw a crowd as well. Chris Brancato is handling script duties for the new movie, while the director's chair remains unoccupied for the moment. Guy Ritchie helmed the first two films, but he has yet to commit to the third.
Sherlock Holmes 3 isn't the only Holmes-based entertainment on the horizon. Holmes and Watson, a comedic take on the material starring Will Ferrell and John C. Reilly, will be arriving in theaters this December. Sherlock Holmes 3 is expected to arrive on December 25, 2020.