'Johnny English Strikes Again' Trailer: Rowan Atkinson Is Doing What He Does Best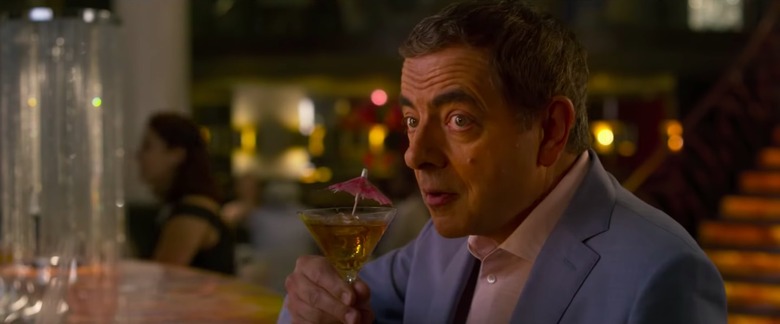 You've never met a man like Johnny English before. Well, that's not technically true, you've met him two times before, in 2003's Johnny English and 2011's Johnny English Reborn. But every time, the bumbling British spy played by Rowan Atkinson keeps surprising you with how wild his antics get. So when Johnny English Strikes Again, you better be prepared for even a crazier, wackier ride.
Johnny English Strikes Again Trailer
The James Bond spoof has taken on a life of its own, as Johnny English Strikes Again brings the accidental secret agent back for round three. The new official trailer for the British comedy film is fairly brief, but Atkinson's comedy mettle shines through, as he gets into more shenanigans in this one-minute trailer than you could expect.
In a piece of meta-casting, Johnny English Strikes Again features a real-life Bond Girl Olga Kurylenko as Johnny's new femme fatale. I'd like to believe that this movie takes place in the same universe as the 007 franchise, and that Kurylenko's character is truly in awe of Johnny English precisely because he's such a far cry from the dapper (and in Daniel Craig's case, brooding) Bond. But when she declares that Johnny English is unlike any man she's met before, she probably hasn't seen him wreck half of London while under the influence of a virtual-reality game.
Directed by David Kerr and written by William Davies, Johnny English Strikes Again stars Rowan Atkinson, Olga Kurylenko, Ben Miller, Emma Thompson, Jake Lacy, Miranda Hennessy, Tuncay Gunes, and David Mumeni.
Here is the official synopsis for Johnny English Strikes Again:
JOHNNY ENGLISH STRIKES AGAIN is the third installment of the Johnny English comedy series, with Rowan Atkinson returning as the much loved accidental secret agent. The new adventure begins when a cyber-attack reveals the identity of all active undercover agents in Britain, leaving Johnny English as the secret service's last hope. Called out of retirement, English dives head first into action with the mission to find the mastermind hacker. As a man with few skills and analogue methods, Johnny English must overcome the challenges of modern technology to make this mission a success.
Johnny English Strikes Again will strike U.S. theaters on October 26, 2018.