'Hell Fest' Red Band Trailer: You're Invited To A Killer Experience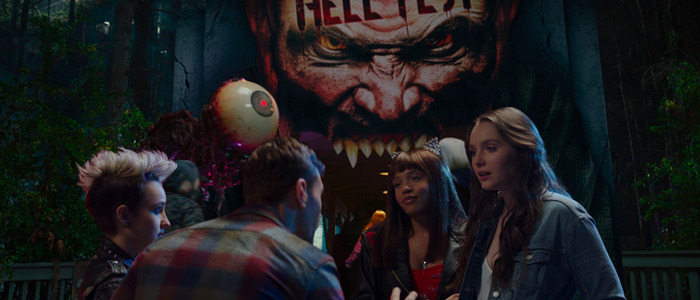 Welcome to Hell Fest, an amusement park to die for. Hell Fest finds a group of foul-mouthed youths traveling through a horror-themed amusement park, only to find the horror is real. It's a bit like the Goosebumps book One Day at HorrorLand, only with a bigger body count and more cursing. Watch the Hell Fest red band trailer below.
Hell Fest Red Band Trailer
Before we get into this, I need to clear something up. There's another movie about rambunctious youngsters being stalked at a horror-themed event coming out this year, and it also has Fest in the title: Blood Fest. I'm not sure how this happened, but these are the times we must live in. Blood Fest is going for a more comedic bent, though, while Hell Fest appears to be more of a straight-up horror film.
The concept – masked killer stalks college kids through amusement park – is solid enough. But some of the dialogue on display here is a bit awkward. "It's so fucking dope!" someone says less than 10 seconds into the trailer. Of course, these are supposed to be college kids, so I suppose they shouldn't be walking around firing off snappy Aaron Sorkin-like screeds. Perhaps it all works better within the context of the film itself.
Hell Fest hails from producers producer Gale Anne Hurd (The Walking Dead, The Terminator), Tucker Tooley (Limitless, Den of Thieves) and director Gregory Plotkin, who helmed Paranormal Activity: The Ghost Dimension and edited Get Out and Happy Death Day. The cast includes Amy Forsyth (Rise, Beautiful Boy), Reign Edwards (The Bold and The Beautiful, Snowfall), Bex Taylor-Klaus (Voltron, The Killing), Christian James (Nashville, Exposed), Roby Attal (The Long Road Home, Red Eleven), Matt Mercurio (Black Lightning, The Resident) and Candyman himself, Tony Todd.
Look for Hell Fest in theaters on September 28, 2018.
A masked serial killer turns a horror themed amusement park into his own personal playground, terrorizing a group of friends while the rest of the patrons believe that it is all part of the show.
College student NATALIE (Forsyth) is visiting her childhood best friend BROOKE (Edwards) and her roommate TAYLOR (Taylor-Klaus).  If it was any other time of year these three and their boyfriends might be heading to a concert or bar, but it is Halloween which means that like everyone else they will be bound for HELL FEST– a sprawling labyrinth of rides, games, and mazes that travels the country and happens to be in town. Every year thousands follow Hell Fest to experience fear at the ghoulish carnival of nightmares.
But for one visitor, Hell Fest is not the attraction – it is a hunting ground. An opportunity to slay in plain view of a gawking audience, too caught up in the terrifyingly fun atmosphere to recognize the horrific reality playing out before their eyes. As the body count and frenzied excitement of the crowds continues to rise, he turns his masked face to NATALIE, BROOKE, TAYLOR and their boyfriends who will fight to survive the night.