Alec Baldwin Quits Joaquin Phoenix 'Joker' Movie [Updated]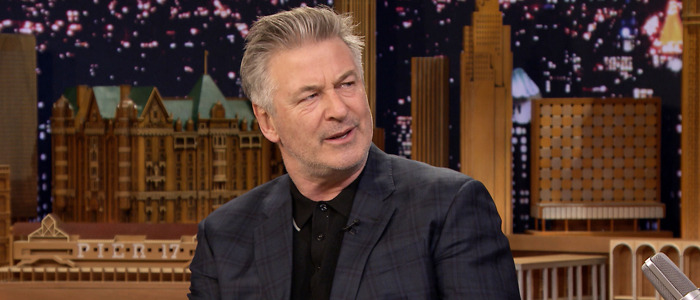 Update 3: In yet another update to this story, Alec Baldwin has now dropped out of the Joker movie. Details below.
Update 2: Baldwin has sent out a cryptic tweet about his role in the film, suggesting that elements of this story may be inaccurate. We have added the tweet and details below.
Update: The Hollywood Reporter's Borys Kit has a more detailed description of Baldwin's version of Thomas Wayne, which you can read below. Our original article follows.
Alec Baldwin is joining the DC cinematic universe.
According to a new report, the Oscar-nominated actor will play Thomas Wayne, Batman's father, in the upcoming Joker film for director Todd Phillips (The Hangover). Read more about Baldwin's newest role below.
Deadline has the news about Baldwin joining the Joker movie cast, although the outlet says that Warner Bros. has not confirmed which role he will play. The Wrap, however, is confident in saying that Baldwin will play Thomas Wayne, the wealthy philanthropist who, along with his wife Martha, is murdered in the streets in front of young Bruce Wayne after leaving a theater.
Batman has appeared on screen so many times over the years that the death of Thomas and Martha Wayne has almost become something of a check-box that filmmakers decided to tick, though there's rarely an actual need to show their deaths on screen. We all know who Batman is – he has one of the most famous origin stories of any character ever created, in any medium. It's unclear if Joker is going to add its own "Thomas and Martha get murdered" scene to the DC movies pantheon since this film is supposed to be an origin story about the Clown Prince of Crime, but I'm guessing we'll see them die once again here. In an age where mass shootings are depressingly common, perhaps Phillips will be able to imbue the scene with an extra level of meaning.
Joaquin Phoenix stars as the title character who goes from a failed comedian to the Clown Prince of Crime in this 1980s-set drama that takes its inspiration from the famous one-off comic The Killing Joke. Phillips (Old School, War Dogs) is directing, and Martin Scorsese is executive producing. Robert De Niro is on board to play a talk show host who is instrumental in the Joker's origin, which sounds like he's flipping the script on his starring role in Scorsese's 1983 movie The King of Comedy. Marc Maron (GLOW) is playing a booking agent for De Niro's character's talk show. Frances Conroy (Six Feet Under, The Tale) is set to play the Joker's mother, Penny, while Zazie Beetz (Deadpool 2, Atlanta) is playing a single mother who catches the Joker's eye.
Alec Baldwin has made tons of headlines for his recent impression of Donald Trump on Saturday Night Live (which I personally think is some of the worst comedic work of his career), but he's more than capable of playing a truly great and memorable scumbag, too. This take on the movie – a dark, mid-budget crime drama set in the gritty underbelly of Gotham in the '80s – sounds like there's plenty of room for Baldwin to play a larger-than-life character who fits perfectly in that world. This is also a bit of full-circle casting, since Baldwin was one of the actors originally considered to play Batman in Tim Burton's 1989 movie.
Update: THR reports that "the script paints Thomas Wayne as a cheesy and tanned businessman who is more in the mold of a 1980s Donald Trump." Apparently Baldwin will spend the rest of his life doing Trump impressions. This is yet another example of no one involved with this film understanding the meaning of the word "subtlety." I'm not saying the project needs to be an expressionist film with characters shooting each other furtive glances as the primary means of conveying emotion, but to include a Trump-style character and then to cast Alec Baldwin? It's so...obvious. I'm worried about this movie.
Update 2: In a surprising turn of events, Baldwin tweeted that elements of this story are inaccurate, but it's difficult to discern exactly what he's trying to say here:
Is Baldwin saying that he hasn't been cast in the Joker movie or is he saying that his Thomas Wayne won't be portrayed as a Trump-like figure? It's not clear at the moment, but the latter feels far more likely.
Update 3: USA Today has learned Baldwin has left the project completely. "I'm no longer doing that movie," Baldwin said, citing scheduling issues. "I'm sure there are 25 guys who can play that part," the actor added.
Production begins in just a few weeks (September 10), and Joker will hit theaters on October 4, 2019.