'House Of Cards' Season 6 Images Introduce The Shepherd Family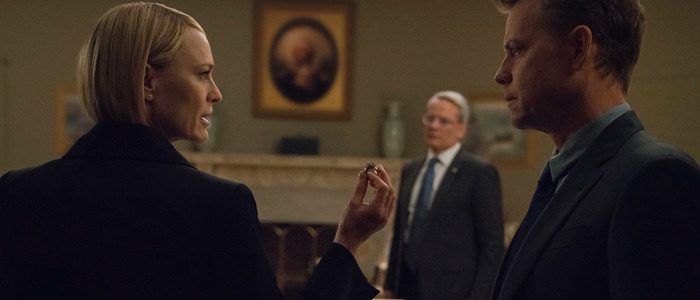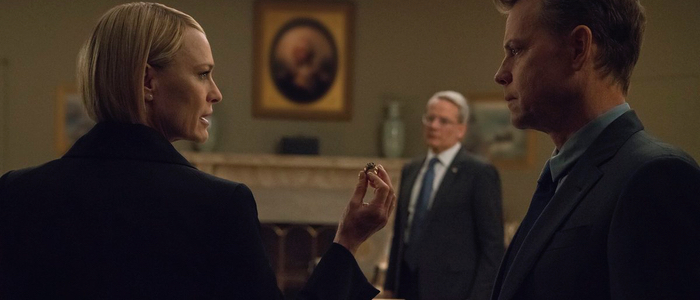 The sixth and final season of House of Cards will arrive in November, and we still don't quite know how it will all play out. The Netflix series has gone through a major shake-up in the wake of former star Kevin Spacey's firing.
Now, Robin Wright assumes command of the series, closing the story of the Underwoods out with more intrigue and back-stabbing. Ahead of the fast-approaching premiere date, a set of new House of Cards season 6 images has arrived, introducing us to a new group of characters – the Shepherd family.
House of Cards season 6 will have Robin Wright's President Claire Underwood dealing with more dark secrets – and the Shepherd family. Diane Lane and Greg Kinnear star as "Annette Shepherd and Bill Shepherd, a sister and brother who inherited Shepherd Unlimited, a leading industrial conglomerate whose family foundations exert a powerful behind-the-scenes force in the American political landscape. The two share a vision for the future of America, as well as a complicated past with the Underwoods." Meanwhile, Cody Fern plays "Duncan Shepherd, Annette's ambitious and devoted son, who represents the next generation of DC power players."
What could this "complicated past with the Underwoods" be? The Underwoods have a lot of skeletons in their closets, so take your pick. Based on the description above, the Shepherds are likely to be Claire's main antagonists for this final season. It's easy to see parallels between the Shepherds and the real-life Mercer family – wealthy power-players who have interests (and money) in backing the current Republican party.
Netflix released a set of new images showing off the Shepherds, which you can see below. They don't tell us much, but at least confirm that Diane Lane is going to have a killer wardrobe.
I'm very curious to see how this final season plays out. I've enjoyed House of Cards for the most part – the last two seasons have been a bit shaky, but still entertaining. This final season comes with a lot of baggage. Kevin Spacey has been the face of the series since its inception, and now the show has had to rebrand and retool itself in the wake of Spacey's firing for sexual misconduct allegations. For a brief period after Spacey's firing, it seemed like Netflix would pull the plug on House of Cards entirely. But a vocal online campaign expressed interest in having Robin Wright take elevated to lead, and that's exactly what Netflix did. Wright is phenomenal, and has turned in a consistently memorable, icy performance on the series since the get-go. I have faith that she'll be able to send the show off on a high-note.
House of Cards season 6 premieres November 2, 2018 on Netflix.
Golden Globe winner and Emmy Award nominee Robin Wright returns as President of the United States in the sixth and final season of the award-winning landmark series House of Cards. Wright is joined by Academy Award nominees Diane Lane and Greg Kinnear as well as Cody Fern this season alongside Emmy Award nominee Michael Kelly, Jayne Atkinson, Academy Award nominee Patricia Clarkson, Emmy Award Nominee Constance Zimmer, Derek Cecil, Campbell Scott and Boris McGiver. House of Cards executive producers are Melissa James Gibson, Frank Pugliese, Robin Wright, David Fincher, Joshua Donen, Dana Brunetti, Eric Roth, Michael Dobbs and Andrew Davies. The series was created by Beau Willimon and is produced by Donen/Fincher/Roth, with MRC as the studio, for Netflix.