The Russo Brothers To Direct 'Cherry' After 'Avengers 4'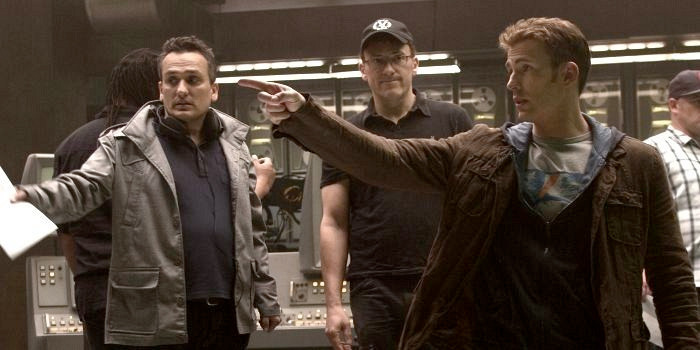 Anthony and Joe Russo have probably made enough money directing three huge Marvel Studios movies that they never have to work again. But they're in it for the love of the game, and they've started a new studio called AGBO that's designed to develop new film and TV projects (among other forms of entertainment, like location-based immersion and VR). Next year's Avengers 4 will mark their final film at Marvel Studios (at least for now), but the brothers have found their next directing gig: a new movie called Cherry that sounds like it has one hell of a story. Get the details below.
Deadline has the news about the Russo Brothers' newest project, an adaptation of first-time author Nico Walker's book that's also called Cherry. The novel tells a story that closely aligns with events that actually happened to Walker; the protagonist is an Army medic who comes back from the Iraq War with undiagnosed PTSD and starts robbing banks to cope.
Here's how the outlet describes the novel:
The book has been called Jesus' Son meets Reservoir Dogs, a breakneck-paced debut novel about love, war, bank robberies, and heroin. A young man from an affluent family marries his hometown girlfriend before joining the Army and shipping out to Iraq. An Army medic, he is unprepared for the grisly reality that awaits him, and the rough-and-tumble nature of his fellow soldiers who smoke, huff computer duster, take painkillers, watch porn, and get gruesomely injured all too regularly.
By the time the soldier returns home, his PTSD rages, he's soon on drugs and in debt, and he finds an outlet in knocking off banks, a pursuit that forces him to focus and makes him feel the way he did in pressure combat situations. Walker robbed about a dozen banks and stole close to $40,000 over four months, before finally getting caught in 2011.
AGBO beat out companies like Sony, Endeavor Content, and Warner Bros. for the rights to the story, despite Warner Bros.' package of The Disaster Artist helmer James Franco slated to direct and Stronger writer John Pollono writing the script. But AGBO's $1 million bid won out in the end, and the Russos went out of their way to lock this one down. They grew up near where Walker did in Cleveland, and Deadline says they've also lost friends to the opioid crisis and wanted to shine a spotlight on that particular issue.
This sounds like a 180 from the massive endeavor that is Avengers 4 and could signal the types of smaller projects the Russos want to make moving forward. They started out as independent filmmakers before graduating to mid-level comedies, moving to television, and then snagging Marvel gigs and making some of the most financially successful films ever made. They've earned their clout, and while I really enjoyed Infinity War, I'm also very excited to see what these guys do when they aren't burdened with juggling a million comic book characters in the same film.