'The Nun' Featurette: Building 'The Conjuring' Cinematic Universe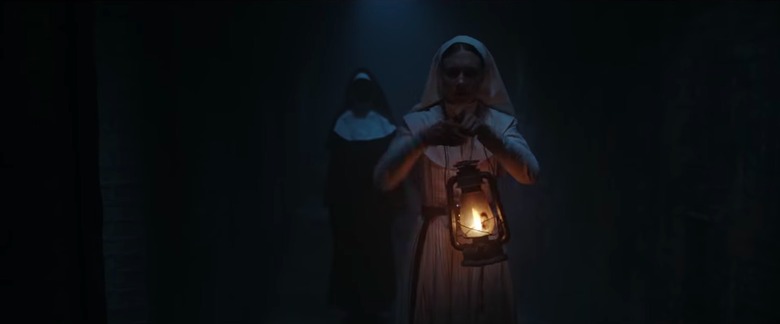 When The Conjuring was released in 2013, few people expected it to launch a whole cinematic universe with its own mythology and crossover characters. A sequel or two, maybe, as hit horror films are expected to make. But one that could rival the superhero universes? Blasphemy.
But eight years later and we're four films into a Conjuring cinematic universe, with even more to come in the future. And the latest The Nun featurette takes us back to the beginning.
The Nun Featurette
"One of the things that occurred to all of us early on is, they have a superhero universe, why can't we do that in the horror world?" Wan says in the featurette. "When we were making the first Conjuring, it became very apparent to us that there could be a bigger universe."
The Conjuring spawned the spin-off film Annabelle in 2014, which in turn gained its own sequel Annabelle: Creation in 2017. And in between we had The Conjuring 2 in 2016, which gave rise to the fan-favorite villain of the ghastly Nun. Which brings us to the upcoming The Nun, the latest film release-wise, but the first chronologically. The Nun takes place in 1952 Romania, when a Catholic priest and a novice are sent by the Vatican to investigate the mysterious suicide of a nun at the Câr?a Monastery.
"With The Nun we're going right back to where it all began," The Nun director Corin Hardy teases in the featurette.
Does this mean The Nun plants the seeds for the rest of The Conjuring universe? Could we call this the Captain America: The First Avenger of The Conjuring-verse? Which makes me wonder if we'll ever get an official title for The Conjuring universe other than referring to it as "the one where Patrick Wilson has sideburns." Not the Dark Universe. We know that one's taken.
Demián Bichir, Taissa Farmiga, and Jonas Bloquet star in The Nun, which opens in theaters on September 6, 2018.
When a young nun at a cloistered abbey in Romania takes her own life, a priest with a haunted past and a novitiate on the threshold of her final vows are sent by the Vatican to investigate. Together, they uncover the order's unholy secret. Risking not only their lives but their faith and their very 

souls, they confront a malevolent force in the form of a demonic nun