'Ben Is Back' Trailer: Lucas Hedges Is Julia Roberts' Turmoiled Teen Son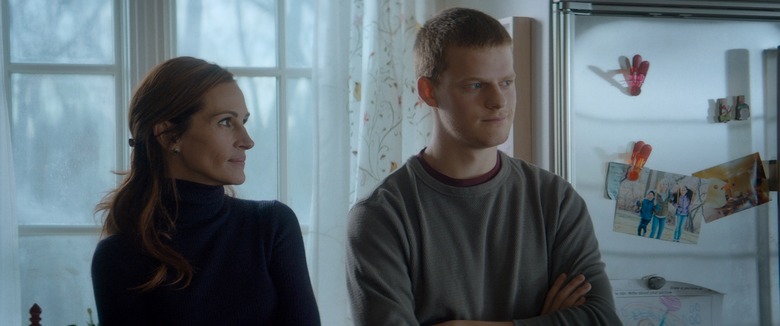 Quick, someone call Timothée Chalamet and tell him that Lucas Hedges has yet another prestige pic coming out. The Oscar nominee just gained some ground in the pair's ongoing "It Boy" war with a new drama directed by Hedges' own father, Peter Hedges.
Hedges stars as a recovering drug addict teenager who attempts to reconcile with his mom, played by Julia Roberts, in the Ben is Back trailer. See the official teaser trailer below.
Ben is Back Trailer
Lucas Hedges is busy playing as many turmoiled teens as possible. After appearing in last year's Oscar-nominated Lady Bird and Three Billboards Outside Ebbing, Missouri, the Manchester By the Sea Oscar nominee seems determined to get another Oscar nod. First there's the upcoming gay conversion drama Boy Erased, then Jonah Hill's gritty directorial debut Mid90s. Now Hedges is starring in the family drama Ben is Back.
Hedges plays the eponymous 19-year-old who returns to his family's suburban home on Christmas Eve morning. Ecstatic that her son is back, Holly (Julia Roberts) worries that Ben will have trouble staying clean while visiting his hometown. Over the next 24 hours, family ties are strained and Ben's willpower tested in this film written and directed by Oscar-nominated screenwriter Peter Hedges (About a Boy).
The brief teaser trailer only shows us Holly and Ben's emotional reunion, but Ben is Back seems like a tearjerker that seems ripe for Oscar season. It raises the stakes in the battle for A24's favorite boy, as Chalamet is set to star in the similar prestige flick Beautiful Boy, which also follows a recovering teen drug addict. Who will win the best angsty teen powerhouse performance? We'll have to see come Oscar season.
Ben is Back also stars Courtney B. Vance (The People V. O.J. Simpson: American Crime Story) and Kathryn Newton (Lady Bird).
Here is the official synopsis for the movie coming to TIFF next month:
19 year-old Ben Burns (Lucas Hedges) unexpectedly returns home to his family's suburban home on Christmas Eve morning. Ben's mother, Holly (Julia Roberts), is relieved and welcoming but wary of her son staying clean. Over a turb
ulent 24 hours, new truths are revealed, and a mother's undying love for her son is tested as she does everything in her power to keep him safe.
Ben is Back opens in theaters December 7, 2018.