'The Old Man And The Gun' Trailer: This Is A Mostly True Story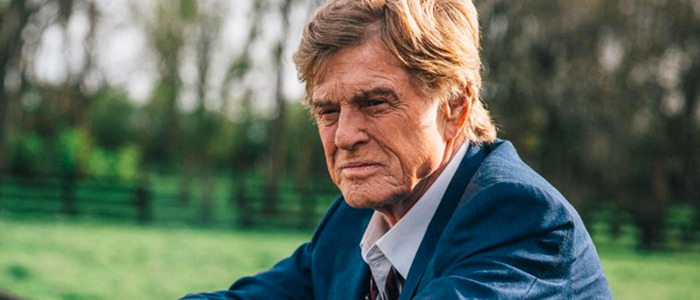 Robert Redford recently announced his retirement, but before he sails off into the blissful life of a retiree, he's starring in The Old Man the Gun. The crime comedy is based on the true story of Forrest Tucker, a career criminal who escaped from prison 18 times. David Lowery, Redford's Pete's Dragon director, helms the film, which also stars Casey Affleck, Sissy Spacek, Danny Glover, Tom Waits, and Tika Sumpter. Watch the new The Old Man and the Gun trailer below.
The Old Man and the Gun Trailer
Well, this looks charming as hell. By all appearances, The Old Man and the Gun is a bit of a laid-back, low-stakes, folksy sort of story. While Lowery is using the true story of Forrest Tucker as a jumping-off point, it's clear he's taking some liberties for the sake of good old fashioned storytelling – and that's just fine. I find the tone of what's on display here to be endearing – sure, Redford's character is a criminal, and sure, he's being pursued by lawman Casey Affleck. But none of that seems to really matter.
Instead, The Old Man and the Gun looks like an excuse for Redford to turn on the charm one final time. And the scenes with Redford and co-star Sissy Spacek look as if they're really going to pop. Spacek just delivered one of her best performances in recent years in this week's episode of Castle Rock, and there's a real chemistry between her and Redford here.
I don't know how serious Redford is about retiring, but if he is, this looks like a nice film to go out on. And Redford agrees. "Never say never, but I pretty well concluded that this would be it for me in terms of acting, and [I'll] move towards retirement after this 'cause I've been doing it since I was 21," the actor said. "I thought, 'Well, that's enough.' And why not go out with something that's very upbeat and positive?"
The Old Man and the Gun will play at the Toronto International Film Festival before opening September 28, 2018.
The Old Man and The Gun is based on the true story of Forrest Tucker (Robert Redford), from his audacious escape from San Quentin at the age of 70 to an unprecedented string of heists that confounded authorities and enchanted the public. Wrapped up in the pursuit are detective John Hunt (Casey Affleck), who becomes captivated with Forrest's commitment to his craft, and a woman (Sissy Spacek), who loves him in spite of his chosen profession.