'The Man In The High Castle' Season 3 Trailer Wants You To Fight For The World You Want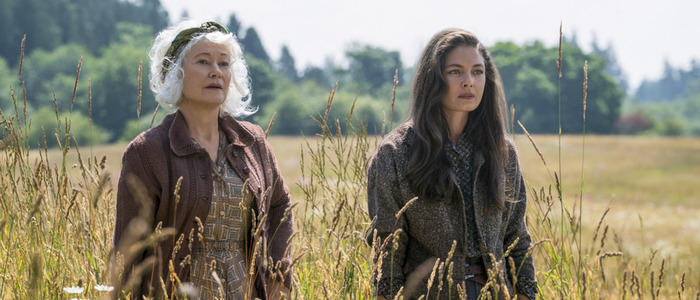 Amazon's alternative history series The Man In The High Castle is back with an all-new season. The show is set in a world where the Nazis won World War II, and remain in power well into the 1960s. The latest season finds the Nazis developing technology to actually travel to other dimensions – dimensions where America won the war. Watch the Man In The High Castle season 3 trailer below.
The Man In The High Castle Season 3 Trailer
This is a very good trailer...except for the dreadful cover of "In The Name of Love", which nearly derails the whole thing. Beyond that, The Man In The High Castle season 3 looks unfortunately timely, with resistance fighters pushing back against fascists in power.
Season 3 "finds Juliana Crain (Alexa Davalos) grappling with her destiny after seeking safety in the Neutral Zone. Realizing that their fates are intertwined, she works with Trade Minister Tagomi (Cary-Hiroyuki Tagawa) to interpret the mystery of the last remaining films. Meanwhile, as tensions between the Reich and the Empire continue to rise, Joe Blake (Luke Kleintank) returns from Berlin and is sent on a diplomatic mission to San Francisco, where he and Juliana reunite and come to a turning point in their relationship. Also in the new season, Obergruppenfuhrer John Smith (Rufus Sewell) finds himself celebrated by Nazi high society, but political forces are closing in as North American Reischsmarschall Lincoln Rockwell and J. Edgar Hoover plot against him. Helen (Chelah Horsdal) takes drastic action to protect her family while they struggle with the aftermath of Thomas' death, and Smith learns of a shocking and ambitious new Nazi program that has personal and global ramifications."
Everything here looks great (that shot of the Statue of Liberty falling down as fireworks go off is downright chilling). I haven't stayed up-to-date on this series, but the footage on display in this trailer is convincing me to go back and catch up. The series started out seeming little more than an alternate history saga based around one question – "What if Nazis won the war?" – and has clearly evolved into something bigger, weirder and more ambitious.
The Man in the High Castle stars Alexa Davalos (Mob City), Luke Kleintank (Pretty Little Liars), DJ Qualls (Z Nation), Joel De La Fuente (Hemlock Grove), Brennan Brown (Focus), Bella Heathcote (The Neon Demon) Chelah Horsdal (You Me Her) and Jason O'Mara (Agents of S.H.I.E.L.D.) with Cary-Hiroyuki Tagawa (Revenge) and Rufus Sewell (Victoria).
Season 3 debuts on October 5 on Amazon Prime Video.
Based on Philip K. Dick's award-winning 1962 alternate history novel, The Man in the High Castle explores what would have happened if the Allied Powers had lost World War II.