Lena Dunham Is The Latest Star To Join Quentin Tarantino's 'Once Upon A Time In Hollywood'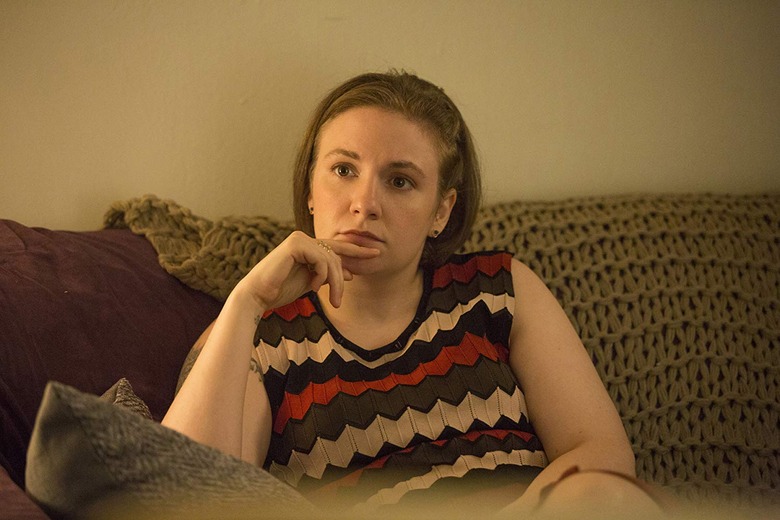 Once Upon a Time in Hollywood keeps adding more stars to its already-stacked cast. But while this latest addition is a big name, it's also a wholly unexpected choice.
Lena Dunham is joining Quentin Tarantino's Once Upon a Time in Hollywood cast in an undisclosed role. Though the Girls creator has earned a slew of Emmy nominations for her work on the HBO series, this will be Dunham's first ever role in a major Hollywood feature. Not to mention, it'll be the first role in which she won't be playing a 21st century millennial.
Lena Dunham has joined the cast of Once Upon a Time in Hollywood, Tarantino's film centered around Hollywood in the year 1969. According to The Hollywood Reporter, Dunham will join the cast alongside Maya Hawke, Austin Butler (Switched at Birth), and Lorenza Izzo (The Green Inferno).
This will be Dunham's first role in a period piece — apart from a brief role in HBO's Mildred Pierce, from which she was notoriously fired because of her struggles with the script and her character's accent. There's no doubt that Dunham is talented, but she is almost inexorably linked to the modern-day millennial experience thanks to semi-autobiographical roles in Girls, Tiny Furniture, and literally everything else that she's penned. It'll be odd to see her transported to 1969, to say the least, but at least she doesn't have to put on a period-specific accent. This will also be Dunham's first on-screen role since Girls went off the air last year.
Another significant thing to note is the casting of Maya Hawke, the daughter of Ethan Hawke and Uma Thurman. It seems like Thurman passing on the torch of working with Tarantino to her daughter, and that perhaps all is forgiven since the whole "almost being killed on the set of Kill Bill" thing.
But with Dunham joining, Once Upon a Time in Hollywood has officially become the whitest cast in Hollywood (I kid — kind of). But take a look at this star-studded cast for Tarantino's highly anticipated film:
Leonardo DiCaprio as Rick Dalton, a washed-up Western TV star struggling to stay relevant in Hollywood.
Brad Pitt as Cliff Booth, Rick's longtime friend and stunt-double.
Al Pacino as Rick Dalton's agent, Marvin Shwarz.
Margot Robbie as Sharon Tate, the actress who was murdered by members of Charles Manson's cult. She also just happens to be Rick's next door neighbor in the film.
Burt Reynolds as George Spahn, the man who rented his ranch out to Manson. (Learn more about Spahn here.)
Kurt Russell, Tim Roth, and Michael Madsen, all in currently undisclosed supporting roles.
Timothy Olyphant, in an undisclosed role.
Damian Lewis as actor Steve McQueen.
Dakota Fanning as Manson Family disciple Squeaky Fromme, who later tried to assassinate President Gerald Ford.
Emile Hirsch as Manson Family victim Jay Sebring.
Luke Perry as Scotty Lancer, who may or may not be based on a television actor of the same name.
Clifton Collins Jr. as a character named  Ernesto The Mexican Vaquero.
Keith Jefferson as Land Pirate Keith.
James Marsden in an undisclosed role.
Julia Butters in an undisclosed role.
Scoot McNairy as Business Bob Gilbert.
Once Upon A Time In Hollywood opens on August 9, 2019.