Pop Culture Imports: Surreal Turkish Horror, A Hindi Adaptation Of 'Hamlet,' 'Jiro Dreams Of Sushi,' And More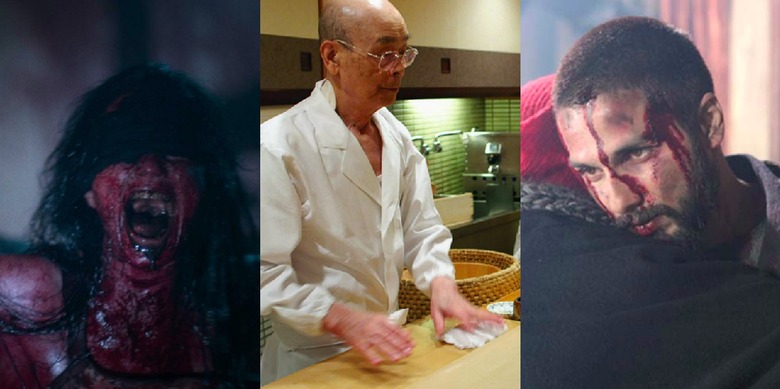 (Welcome to Pop Culture Imports, a column that compiles the best, wackiest, and weirdest foreign-language movies and TV shows streaming right now.)
The end of the month always brings with it a few eclectic stragglers on the "new to streaming" lists. But that's why this column is here: to help you find out the foreign movies and TV shows that are worth the effort to read subtitles. This week, a viscerally disturbing Turkish horror film brings Halloween to August, settle down with a classic sushi documentary, a Hindi adaptation of Hamlet, a dark Japanese teen TV series, and a surreal French drama that pits Marion Cotillard against Charlotte Gainsbourg.
Now let's get streaming, subtitle lovers.
Jiro Dreams of Sushi – Hulu, Netflix
Country: JapanGenre: DocumentaryDirector: David GelbCast: Jiro Ono
There's something soothing about watching a master of his craft do the same thing over, and over, and over again. That's the basic gist of David Gelb's elegant Jiro Dreams of Sushi, and yet the minimalist documentary on the legendary 85-year-old sushi chef Jiro Ono never feels redundant. You can chalk it up to the power of food porn (and Gelb's loving depictions of Ono's mouthwatering dishes are positively pornographic) or to westerners' long-running fascination with Japanese culture. But the real power of this film is Ono's unyielding devotion to the art of sushi-making. He's a perfectionist to the point of obsession, and you can't deny there's some degree of narcissism in a man who won't retire to let his long-overshadowed 50-year-old son take his place. And yet you can't help but be awestruck by Ono's insane levels of devotion to the food he serves in his tiny restaurant nestled in a Tokyo subway station. "I do the same thing over and over, improving bit by bit," Ono explains in the documentary. "I'll continue to climb, trying to reach the top, but no one knows where the top is." Gelb's hypnotic masterpiece is an ode to the power of hard work and, most importantly of all, sushi.
Watch This If You Like: Ugly Delicious, Chef's Table, A Matter of Taste, watching ASMR food videos late into the night.
Baskin – Hulu
Country: TurkeyGenre: HorrorDirector: Can EvrenolCast: Muharrem Bayrak, Gorkem Kasal, Ergun Kuyucu, Fatih Dokgoz, Sabahattin Yakut, Mehmet Cerrahoglu
Five policemen accidentally wander into hell, and the result is one of the most disturbing and gut-twisting horror movies you'll ever experience. The surrealist horror film follows a five-man unit of cops on a night patrol who get called into a creepy backwater town. But when they enter a seemingly abandoned building on a police raid (or a "baskin" in Turkish), they stumble into a grotesque nightmare of corpses, orgies, and satanic rituals. Loaded with heavy-handed symbolism and shocking imagery, Baskin is just as much mood as it is mania. Based on director Can Evrenol's 2013 short film, Baskin lulls you into a sense of complacency with an artful, slow-burning first half before things go absolutely batshit in the last 30 minutes. But Evrenol's hyperstylized vision keeps Baskin from being a low-rent splatterfest, despite some tortuous moments later in the film that border on sadistic. Though a little underplotted (a symptom of its short-film roots), Baskin is a sickening fever dream that is guaranteed to make you lose at least a few hours of sleep.
Watch This If You Like: Hellraiser, Drag Me to Hell, losing your appetite but you weren't really hungry anyway.
Haider – Netflix
Country: IndiaGenre: Crime dramaDirector: Vishal BhardwajCast: Shahid Kapoor, Tabu, Shraddha Kapoor, Kay Kay Menon.Haider is an epic, sweeping Hindi adaptation of Hamlet set amid the turbulent insurgency in '90s Kashmir. A beautifully shot modern-day drama, Haider's tone is kind of a weird one, ping-ponging back and forth between suffocatingly solemn and downright quirky. But director Vishal Bhardwaj skillfully interweaves the film's political backdrop with the classic tragic tale, while throwing in some stunning set pieces and vibrant musical sequences. Haider follows the titular young man returning to his home in Kashmir upon receiving news of his father's disappearance. But upon his return, he learns that his father had been arrested for harboring militants while his mother has struck up a relationship with his uncle. Shahid Kapoor delivers an impressively wide-ranged performance as Haider, playing up his early angst before trading it for a manic and reckless attitude once he sets out to avenge his father's death. Bhardwaj takes the burden of adapting a Shakespeare play very seriously, peppering the film with some on-the-nose nods, and adopting a sophisticated style that belies the rough approach of his two previous Shakespeare adaptations, Maqbool from Macbeth, and Omkara from Othello.Watch This If You Like: Padmaavat, Troy, Hamlet, pretending you read all of Hamlet when really you just watched The Lion King five times.
Switched – Netflix
Country: JapanGenre: Science-fiction/teen seriesDirector: Hiroaki MatsuyamaCast: Daiki Shigeoka, Tomohiro Kamiyama, Kaya Kiyohara, Miu Tomita.
If you're looking for an antidote to Netflix's fat-shaming Insatiable, look no further than that very streaming service. The Japanese teen drama series Switched offers a fresh take on the body-swap comedy — in that it's not really a comedy. In fact, it's really rather dark. The series starts off with a suicide attempt by bullied schoolgirl Zenko Umine (Miu Tomita), who forces her popular classmate Ayumi Kohinata (Kaya Kiyohara) to watch. But the event triggers something strange and supernatural, causing the two of them to swap bodies, much to Ayumi's horror and Zenko's delight. In Ayumi's thin, attractive body, Zenko shows her innate cruelty, while the kind-hearted Ayumi suffers through the horrible abusive home life and school life that twisted Zenko's personality. Of course, this being a J-drama, we have to feature a love triangle between two unsuspecting boys who both vie for Ayumi's affections. Switched is a sweet, affecting drama that manages to gracefully navigate its problematic premise.
Watch This If You Like: Drop Dead Diva, 13 Reasons Why, Nobuta wo Produce, piling on Insatiable.
Ismael's Ghosts – Hulu
Country: FranceGenre: DramaDirector: Arnaud DesplechinCast: Mathieu Amalric, Marion Cotillard, Charlotte Gainsbourg, Louis Garrel.Ismael's Ghosts blurs the line between reality and fiction in a somewhat muddled movie within a movie. Well, actually, several movies within a movie. The French drama follows a filmmaker, Ismael (Mathieu Amalric) whose life is sent into a tailspin when his long-dead wife (Marion Cotillard) returns 21 years after disappearing without a trace. Caught between his current lover (Charlotte Gainsbourg) and his wife Carlotta, Ismael spirals into his delusions — his reality merging with the current film he's working on, an espionage thriller about a careless diplomat. I'll be honest, Ismael's Ghosts is a confusing movie that buckles under its own pretensions, but is saved by the bold and trippy final act. It feels like chunks of the film are missing or just left out altogether, leaving the audience to piece together Ismael's fragmented psyche. The unfortunate thing is that Ismael himself is not that interesting — but the women surrounding him are. I would watch Marion Cotillard and Charlotte Gainsbourg exchange barbs all day, and indeed, the movie came to life whenever the pair shared a scene. But as inscrutable as the film is, Ismael's Ghosts still feels undoubtedly alive.Watch This If You Like: Nocturnal Animals, Three Hearts, Wonderstruck, watching Marion Cotillard in everything — literally everything.