David Harbour Has More To Say About 'Stranger Things' Season 3 (And Hellboy)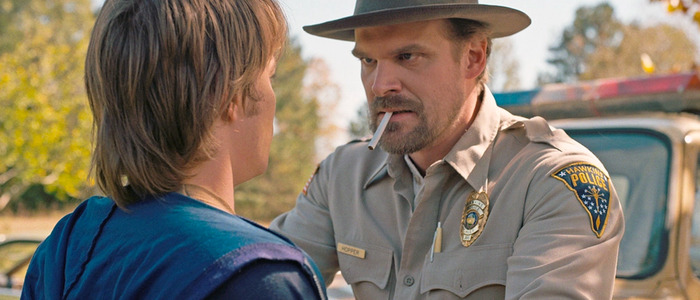 David Harbour, talented actor and proud possessor of the ultimate dad bod, is in the midst of an Emmy season blitz, granting interviews left and right. Recently, the actor dropped even more details about the upcoming Stranger Things season 3, promising "weirder stuff" and hinting at a possible romance with Winona Ryder's Joyce (maybe). Harbour also opened up about taking over the role of Hellboy, going so far as to call the character Shakespearian.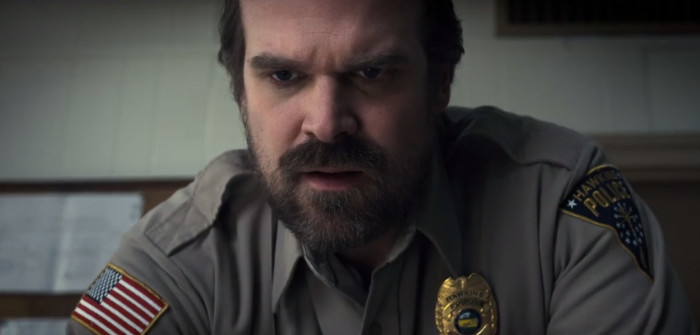 Stranger Things Season 3, Now With Even Weirder Stuff
We're not going to see Stranger Things season 3 until 2019, but David Harbour has been doing the Lord's work and dishing out new details about the Netflix series. In an interview with Vanity Fair, Harbour, who plays chain-smoking mustache-cop Hopper on the hit show, says season 3 will increase the stakes considerably while adding even more weirder stuff:
"The great thing about this show is, we throw out the model every season. Season 1 was a very Stephen King thing, and then Season 2 came along and I feel like we did something very different. Maintaining the same elements, but it was very different. Much bigger and Spielberg-y . . . like putting Hopper and Eleven together is a weird thing to do after Season 1. I think we do some even weirder stuff in Season 3. I think it's always about pushing the envelope."
Escalation is always the name of the game when making a new season (or sequel), but part of the initial charm of Stranger Things was how quaint and small-scale it was. I hope they don't keep making things bigger and bigger until they lose sight of what made the show so special to begin with.
As for Harbour's character Hopper, the actor tells VF that season 3 will delve into the somewhat lonely police chief's needs:
"In terms of Hopper, all the things that we've had from Season 1 and Season 2 come to a boiling point for him in the beginning of Season 3...this is a year for Hopper of real domesticity. Eleven's been validated, she has a birth certificate. She's a part of the world in some way. It's really how Hopper deals with domestic issues, like real day-to-day stuff, that takes him to this place of...he might be better at drama than he is at just sort of ...We'll start to really understand a lot more about what he needs and what he doesn't have and who he wants to be that might take him in different directions."
That all sounds pretty good, but lets get to the most important question: will Harbour's Hopper and Winona Ryder's Joyce finally start smooching in season 3? Harbour is evasive, neither confirming nor denying any possible Hopper/Joyce romance, but he does say he'd very much like to see it happen (as would we all):
"Here's the thing. I do think it is the one thing that he doesn't have. The great thing about Season 1 was that he was messing around with all these young, emotionally unavailable women, like the librarian. He couldn't be vulnerable with a woman on an adult level. Then, in Season 2 he gets to relive his fatherhood experiences and really understand how to care for a child. We've seen him kind of as a dad and as a cop, and we haven't seen him as sort of a man, in terms of having a real equal woman to tangle with. I would like to see that."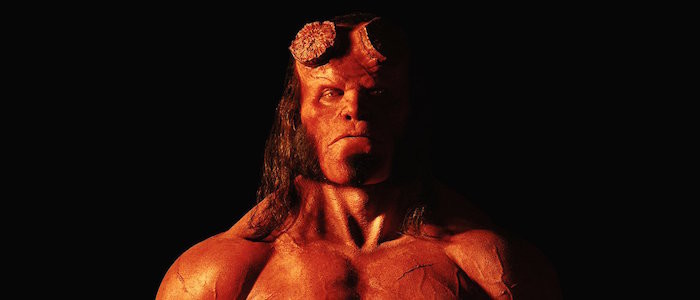 Hellboy
Even though its safe to say that Harbour has a committed fanbase, a minor controversy arose when it was announced the actor was taking over the role of Hellboy from Ron Perlman. Perlman was pretty much born to play the comic book character, and most fans were hoping the actor would slap on all that red makeup yet again, with original director Guillermo del Toro returning to helm a third film. But that's not happening. Instead, the franchise is being rebooted under the tutelage of director Neil Marshall.
Most of the backlash has died down by now, and we're all just waiting to see what Harbour does with the role. During the Vanity Fair interview, the actor spoke about his approach to the character, and I have to say, he sounds like he knows what he's doing, and then some. Harbour calls the character a "classically complicated hero", adding:
"He's a creature that was meant to bring about the end of the world, and he just sort of wants to be a good guy. He's got that complexity to him. He's also a monster who lives among human beings, so he's in a sense fighting for human beings against his fellow monsters, and yet the humans hate him because they fear him and they think he's weird looking and everything."
I enjoy the del Toro/Perlman Hellboy films, but I have to admit that this new approach – at least as far as Harbour is concerned – sounds a lot deeper and more complex than what we got in Hellboy and Hellboy II: The Golden Army.
The actor goes on to say that this new Hellboy is downright Shakespearian, with "demons and witches and stuff like that." I'm here for it:
"There's that question of, why am I fighting this battle? Just because of some sense of justice, or some sense of good? It's a really interesting question that sort of is at the core of him, that he struggles with...He has a heart that's really good and with a lot of this crusted-over stuff... It's very Shakespearean. It's demons and witches and stuff like that. But it has a similar core to a dude who's trapped in horrible circumstances who's just trying to be a good guy."
Hellboy hits theaters on January 11, 2019.