'The End Of The F***ing World' Has Been Renewed For A Second Season By Netflix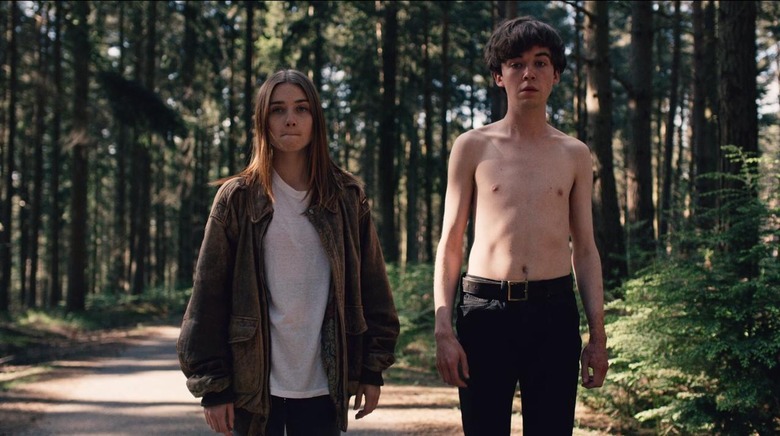 It's not the end just yet for The End of the F***ing World. The Emmy-nominated, darkly comic British series has been renewed by Netflix with writer Charlie Covell set to pen the second season of the critically acclaimed show.
Based on the graphic novel by Charles Forsman, the Netflix black comedy debuted eight episodes earlier this year, charming fans with its dark humor and sharp one-liners. But the season ended on a bit of a cliffhanger, something the show's Twitter account made a nod to in its announcement of The End of the F***ing World season 2.
we'll be f***ing back. pic.twitter.com/K1Ai7iVeZD

— TEOTFW (@TEOTFW) August 21, 2018
In a press release, the streaming giant confirmed that the series will return for a second season. But Netflix remains decidedly cryptic, revealing only that Covell will return to pen the show's sophomore outing. Covell, Murray Ferguson, Ed Macdonald, Andy Baker, Dominic Buchanan, and Jonathan Entwistle will serve as executive producers.
Like the eight-episode first season, The End of the F***ing World season 2 will premiere globally on Netflix, except in the UK where it will premiere on Channel 4. The series co-commissioned by Netflix and Channel 4, much like many of the foreign imports the streaming giant has acquired in its quest to win the content wars. The End of the F***ing World was one of Netflix's success stories, earning raves from critics and picking up an Emmy nomination for Justin Brown's cinematography.
But despite the praise, some critics argued that the first season's bold ending rendered a second season unnecessary. Rolling Stone's Alan Sepinwall succinctly argues puts it his headline: "'The End of the F***ing World' Was Great: Let's Hope Netflix Doesn't Order More."
No official casting or a release date have been announced.
Based on the award-winning graphic novel, adapted by acclaimed newcomer Charlie Covell, the eight episode first season follows James (Alex Lawther, "Black Mirror") and Alyssa (Jessica Barden, "Penny Dreadful") – a self-proclaimed psychopath and a foul-mouthed rebel fed-up with her boring life. The two embark on a roadtrip to find a better life, and escape the impending doom of adulthood. As their chaotic journey unfolds, it becomes apparent that James and Alyssa have crossed a line and have no choice but to take it as far as they can...