'Monument Valley' Movie Coming From Oscar-Winning Director Of Disney's 'Feast'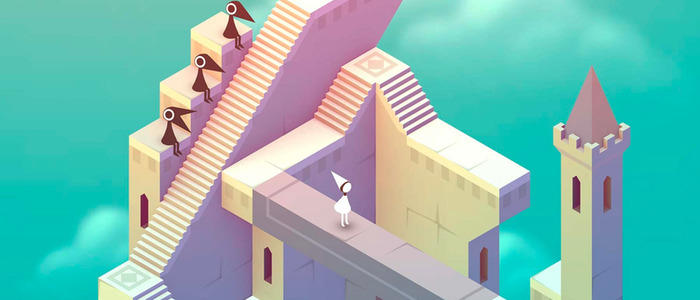 Paramount is looking to turn the visually stunning mobile game Monument Valley into a movie, and they've hired director Patrick Osborne to get the job done. Osborne helmed Feast, an animated Disney short that won the Academy Award for Best Animated Short Film. Monument Valley is a surreal game loaded with optical illusions, so it will no doubt make for an aesthetically pleasing film. The question is: how do you graft a plot onto it? More on the Monument Valley movie below.
Deadline has the scoop regarding the Monument Valley movie, stating Paramount is hoping to launch a "live action/CG hybrid family franchise" based on the mobile game from Ustwo Games. Monument Valley is "a surreal exploration through fantastical architecture and impossible geometry. Guide the silent Princess Ida through mysterious monuments, uncovering hidden paths, taking advantage of optical illusions and outsmarting the enigmatic Crow People." Visually, the game is lit with soft pastel hues, and loaded with imagery that looks pulled right from an M.C. Escher print. If you've never played the game (like me!), here's a trailer to give you a better idea of what it all looks like.
Monument Valley 
Like I said: this is visually stunning. But I'm having a hard time seeing how you turn this into a film with an actual story. Deadline says the movie will "send contemporary live-action characters into the game's extraordinary, mind-bending world." So it's kind of like Last Action Hero, but instead of jumping into a Jack Slater movie, the characters here will jump into Monument Valley.
Paramount is teaming with Akiva Goldsman's Weed Road Pictures to pull this off, and they've hired director Patrick Osborne to develop the film. Osborne is an Academy Award winning filmmaker responsible for the Disney short Feast. He's also a writer and animation director on the Wreck-It-Ralph sequel Ralph Breaks the Internet.
Feast
"Monument Valley is a one of a kind experience, at once small in its meditative, simple gameplay, as well as enormous in its sense of history," Osborne said. "I'm privileged to be handed the reins to Ida's mysterious kingdom, to play in her world of impossible architecture where seeing things differently is everything. I am thrilled to bring this unique world to theaters with the talented storytellers of Paramount and Weed Road."
Dan Gray, Head of Ustwo Games, added: "It's been four years since we launched the first Monument Valley and have been waiting for the perfect opportunity to take our world of beauty and impossibility into cinema. We're incredibly happy that we've found the perfect creative partners in Paramount, Weed Road and Patrick Osborne to champion this concept forward into another medium."
This all sounds promising. In the meantime, here's another of Osborne's shorts, Pearl. The animation style here (and in Feast) looks similar to the Monument Valley gameplay, which probably explains how Osborne landed the job.