New 'She-Ra' Series Creator Adapted Her Own Dungeons & Dragons Character For The Show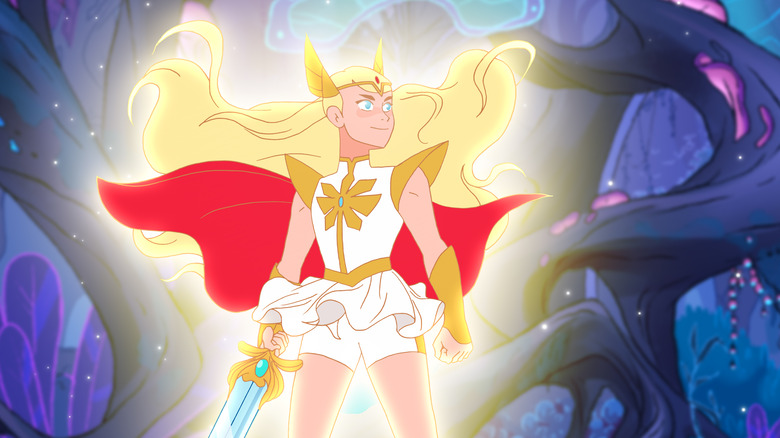 You wouldn't expect She-Ra and Dungeons & Dragons to cross paths too often, but thanks to the new creator of Netflix's She-Ra and The Princesses of Power, we get the perfect crossover.
An avid D&D-er,  Noelle Stevenson couldn't help putting a little bit of herself in the Netflix reboot of She-Ra. Stevenson revealed that one of the She-Ra characters was actually adapted from her own Dungeons & Dragons character, a "Tiefling warlock nightmare baby," as she put it.
At New York City's Flame Con, the largest LGBTQ-centric geek convention, Stevenson revealed that when she found that her Dungeons and Dragons character and a character on She-Ra shared the ability to teleport, she decided to bring her D&D character to the small screen. Stevenson said the D&D root allowed her to flesh out the character "as someone who doesn't have great impulse control," based on her own stumbles with her character in-game.
"She was a teenager who sold her soul to the devil to make her mom mad," Stevenson said, according to Entertainment Weekly.
Stevenson started playing Dungeons & Dragons around the same time that she began developing She-Ra and The Princesses of Power, a reimagining of the 1985 He-Man spin-off She-Ra: Princess of Power. So inevitably, the two became intertwined. "I steal a lot from characters I've made from D&D," Stevenson admitted, adding:
"I pull so much inspiration from [D&D] because how do you embody these characters? How do you embody it when you have a mission for these characters? And you go and you figure it out from there."
She-Ra and the Princesses of Power centers on Princess Adora (voiced by Aimee Carrero), the twin sister of He-Man who is kidnapped as a baby and raised by the villainous Evil Horde. But when she learns the truth, she suffers an identity crisis and must grapple with her persona as the mythical warrior She-Ra. The cast is rounded out by Karen Fukuhara (Suicide Squad), Marcus Scribner (black-ish), and AJ Michalka (The Goldbergs).
She-Ra and the Princesses of Power premieres on Netflix on November 16, 2018.
She-Ra and the Princesses of Power is the story of an orphan named Adora (Carrero), who leaves behind her former life in the evil Horde when she discovers a magic sword that transforms her into the mythical warrior princess She-Ra. Along the way, she finds a new family in the Rebellion as she unites a group of magical princesses in the ultimate fight against evil.