'Twilight' Is Returning To Theaters For Its 10-Year Anniversary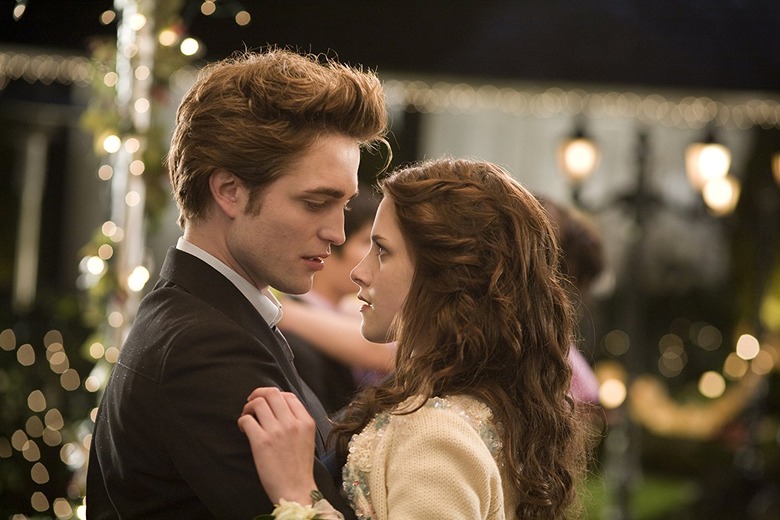 Twilight is coming back to life in theaters. The hugely popular teen vampire romance franchise celebrates the 10th anniversary of its first movie this year with a re-release in movie theaters nationwide. But unlike the immortal lives of Edward and the Cullens, the re-release has a short lifespan: Twilight will only be screening for two days.
It's time to resurrect the fandom, Twihards. Bella Swan and Edward Cullen are returning to theaters for a Twilight theatrical re-release in honor of the 2008 film's 10th anniversary. The special anniversary event will take place nationwide this October.
Twilight will play in more than 450 movie theaters nationwide on Sunday, October 21, 2018 and Tuesday, October 23, 2018 at 2:00 p.m. and 7:00 p.m. local time. Fathom Events and Lionsgate announced the special anniversary event on Monday, with Fathom Events VP of Studio Relations Tom Lucas stating:
"Twilight was a once-in-a-generation supernatural love story that became a pop-culture turning point for teens and teens-at-heart. Fathom Events is thrilled to be celebrating the movie's 10th anniversary with Summit Entertainment by presenting it on the big screen this October."
In addition to re-experiencing the sweeping romance of Edward and Bella on the big screen again, fans will also be treated to an introduction by director Catherine Hardwicke and an exclusive sneak peek of the new special feature "Twilight Tour...10 Years Later." The full special feature will be made available on the Twilight 4K Ultra HD home entertainment release, which hits shelves October 23, 2018. 
Twilight is just the latest in a string of beloved YA properties to return to the big screen lately, following the entire Harry Potter franchise. But Fathom is planning plenty more, with Twilight kicking off its new Fathom Spotlight series, which brings back fan-favorite films to theaters. And Twilight is kind of the perfect advance guard — the insanely popular YA franchise led to a boom in YA romance movie adaptations, as well as a weird pop culture fixation on vampires. It could also be credited with the rise of modern fan culture, but that's an essay for another day. But most importantly, it launched the careers of Robert Pattinson and Kristen Stewart, who both have established themselves as some of the most exciting young film talents today, and whose hostility toward the franchise that made them famous is 10 times more entertaining than these movies ever were.
Tickets for the 10th-anniversary screenings can be purchased online at www.FathomEvents.com or at participating theater box offices.