'Suspiria' Trailer Invites You To Give Your Soul To The Dance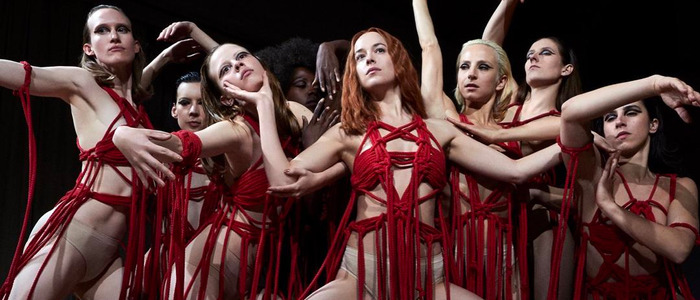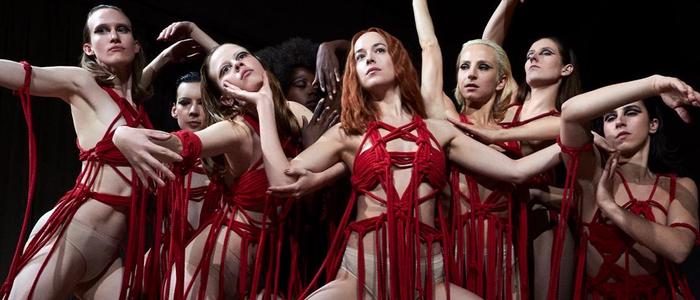 The latest trailer for Luca Guadagnino's highly anticipated Suspiria remake has arrived to give you the creeps. The film adapts Dario Argento's immortal classic into something similar but different – a blood-drenched tale of things gone terrible wrong at a dance academy. Watch the Suspiria trailer below...if you dare.
Suspiria Trailer
My excitement for Suspiria is through the roof. I know there's a sense among some cinephiles that remaking Dario Argento's horror masterpiece is futile, and silly. But everything I've seen of Luca Guadagnino's take on the material so far has been promising (except for the posters, which have been a bit bland). It's clear that Guadagnino's approach is much different than Argento's – whereas the original film is awash in color, this new Suspiria is much more muted. That doesn't mean the occasional splash of blood-red won't pop up, though.
For his film, Guadagnino has assembled a stellar cast that includes Tilda Swinton, Dakota Johnson, Chloë Grace Moretz, Mia Goth, and original Suspiria actress Jessica Harper. Harper had nothing but praise for the new take on her old film, saying: "I have seen this movie – the most brilliantly scary film I have ever seen...Luca's Call Me By Your Name does not prepare you for it, but throws into relief the director's brilliance and versatility."
Guadagnino also has Radiohead frontman Thom Yorke on hand to provide what will surely be a memorable score. Will it be as iconic as the original film's music by prog-rock band Goblin? Probably not – and that's okay. I don't want a new Suspiria film to be a carbon copy of the original. "I can say that my Suspiria is a very personal film," Guadagnino said. "It's like oxygen to me. When I saw the original movie thirty-two years ago, the emotion I felt was so strong, so mind-blowing, and so important to my upbringing. I wanted to investigate the experience I had watching that film."
I have a sneaking suspicion Suspiria is going to turn out to be this year's mother! That's to say, it will be a film that inspires downright loathing in some audiences, while wowing others. I personally thought mother! was a wonderfully crazy movie and highly underrated, so if Suspiria turns out to be similar, I won't complain.
Suspiria will have its debut at the Venice Film Festival before finding its way to theaters October 26 in NY and LA, and November 2, 2018 worldwide. I don't know if I can wait that long, but I'll certainly try.
As a darkness builds at the center of a world-renowned dance company, its artistic director (Tilda Swinton), a young American new to the troupe (Dakota Johnson), and a grieving psychotherapist (Lutz Ebersdorf) become entangled in a bloody, sighing nightmare.