Scarlett Johansson Is The Highest-Paid Actress Of 2018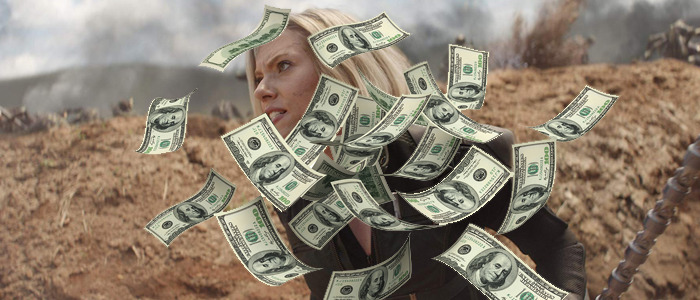 Sound the klaxon: Forbes has crowned its highest-paid actress of 2018. Scarlett Johansson has leap-frogged over La La Land's Emma Stone (not literally, although that'd be fun to see) to earn the title, pulling in more money than any of us will probably ever see in our lifetimes and more than any other actress in the past year. Read on to learn how much Johansson has raked in before taxes this year.
According to Forbes' estimates (which come from ComScore, Nielsen, IMDb, Box Office Mojo, and interviews with industry sources), Johansson banked $40.5 million between June 1, 2017 and June 1, 2018. That means she somehow quadrupled her financial haul from this time last year. That's a colossal increase, and an especially impressive one considering that she's only appeared in three movies during the period in question: Rough Night, Isle of Dogs, and...*checks notes*...Avengers: Infinity War. Oh yeah. I guess appearing in an Avengers movie will do the trick.
Johansson has been a part of the Marvel Cinematic Universe for so long now that her agents and management must have secured her some of those precious back-end percentage points that are so valuable for actors in massive franchises like this. Those deals, which allow actors to earn a percentage of a film's box office grosses, are how Johansson's Marvel co-star Robert Downey Jr. made a jaw-dropping $80 million in 2015.
The actress's $40.5 million crushed Emma Stone's $26 million from last year, but the number two slot on this year's list may surprise you: it's Angelina Jolie, pulling in $28 million. If you're thinking, "Wait, what? Jolie hasn't been in anything since she lent her voice to Kung Fu Panda 3 in 2016!", you're absolutely right. But apparently, her upfront payment for Maleficent 2 is enough to catapult her to the number 2 spot.
Jennifer Aniston rounded out the top 3 with $19.5 million, largely due to her Friends residuals and several major endorsement deals. But it's not just Americans that make up this list:
The list examined actresses the world over, including Australian Cate Blanchett (No. 8; $12.5 million) and Israeli Gal Gadot (No. 10; $10 million). Gadot, whose turn as Wonder Woman catapulted her to fame, is the only newcomer on the ranking.
Welcome to the club, Gal Gadot! I like imagining that there actually is a literal club out there, where all of these high-powered members gather to show each other their fistfuls of cash (which all look exactly the same) and laugh about the people they've bumped out who were among them the year before. Sorry, Emma Watson and Amy Adams – maybe you'll be back next year!