'Mandy' Advance Screenings Coming To 226 Theaters, Featuring Conversation With Nicolas Cage And Director Panos Cosmatos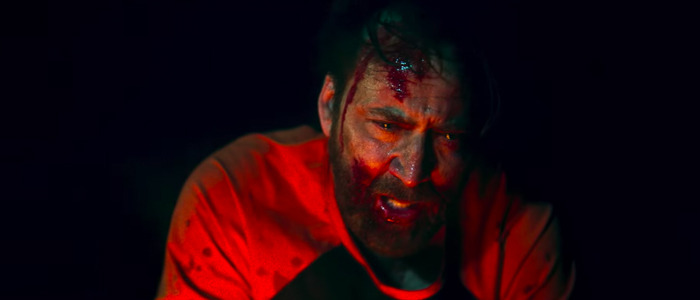 If you're bored with the traditional movies found in your local theater, fear not: Mandy is coming.
That's not to say that all of the films that are out right now are traditional – far from it – but Mandy, the trippy and twisted revenge thriller from director Panos Cosmatos (Beyond the Black Rainbow), is operating on an entirely different level from anything that's been in theaters for a long time. This movie is next-level nuts, and now you can to have the chance to see it a bit early.
Regal Cinemas and Alamo Drafthouse have teamed up with RLJE Films to offer Mandy advance screenings in over 200 theaters across the United States – and in addition to seeing the film early, attendees will also be able to see an exclusive taped conversation between Cosmatos and star Nicolas Cage afterward. Trust me – Cage fans won't want to miss this.
Only those who have seen the film on the festival circuit are fully aware of the insane places it goes, but this trailer does a pretty solid job of setting the stage:
The advance screenings are happening for one night only on September 13, 2018, and tickets are available now at Tickets.MandyMovie.com to see the film in 24 Alamo Drafthouse locations, 202 Regal theaters, and a few additional locations throughout the country. The Q&A will be recorded live at the Egyptian Theater in Hollywood on September 11 as part of Beyond Fest, an excellent genre film festival that happens every year. If you're in Los Angeles, you may still be able to snag tickets to that Beyond Fest screening and see the Q&A live and in person; everyone else will be able to watch a recorded version after the special advance screenings on September 13.
"MANDY is a sensory experience filled with incredible visuals, amazing performances, and a soundtrack and sound design that demand to be seen on the largest screen possible with theatrical sound systems that can envelope the viewer in the insanity that unfolds," says Henri Mazza, V.P. of Partnerships and Events for the Alamo Drafthouse. "We are thrilled to be working with so many great partners to bring this unique experience of the film to theatrical audiences across the U.S., and needless to say, this should be a Q&A for the ages!"
I caught this movie at Sundance, where I called it a "full-on plunge into a kaleidoscopic nightmare" and "a pulsing, twisted descent into heavy metal vengeance that must be seen to be believed." It's a very slow burn, but once the action ramps up, it's a jaw-on-the-floor, unforgettable experience. Plus, Cage delivers one of the best performances of his entire career here, so hearing him talk about his work should be a real treat. Prepare yourselves, though – this is also one of the most violent films of 2018. Get ready for some full-blown Rage Cage.
Outsiders Red Miller (Cage) and Mandy Bloom (Andrea Riseborough) lead a loving and peaceful existence. When their pine-scented haven is savagely destroyed by a cult led by the sadistic Jeremiah Sand (Linus Roache), Red is catapulted into a phantasmagoric journey filled with bloody vengeance and laced with fire.
Mandy opens in theaters on September 14, 2018.