'Superpower Dogs' Trailer: They're Good (Superpower) Dogs, Brent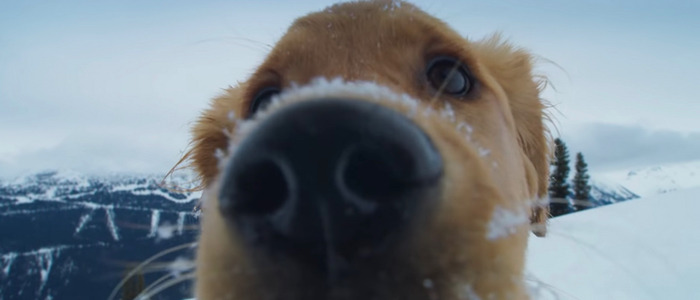 If you've had a hard week, here's something that will cheer you up considerably. The Superpower Dogs trailer is loaded with a bunch of good boys and girls being very good dogs. The IMAX movie focuses on dogs who work to save lives, and that's very commendable. But let's be honest: what we really want to see here is puppers being adorable.
Superpower Dogs Trailer
I'm as cynical as they come, but there's one thing that always melts my heart: dogs, or "doggos" as they're officially called by science. I just can't get enough of watching canines do their thing, folks. Luckily for me, and other dog enthusiasts, the new IMAX movie Superpower Dogs has a whole litter of pups on display. And these aren't just your average dogs, oh no. These are hero dogs, who devote their lives to rescuing us stupid humans.
Here you see dogs on mountains! Dogs in planes! Dogs on boats! It's almost too much. If the Academy really wants to go forward with their silly Best Popular Movie Oscar, I urge them to consider awarding this Superpower Dogs trailer that prize.
According to the Superpower Dogs website, all these pups have good names:
Follow Halo, a rookie puppy training to join one of the most elite disaster response teams in America. Meet Henry, an avalanche rescue expert in the Canadian Rockies; Reef, a Newfoundland lifeguard with the Italian coastguard; Ricochet, a Californian surf legend helping people with special needs, and the Bloodhound brothers, Tipper & Tony, who are leading the fight to save endangered species in Africa.
I can't decide which of these is my favorite, but I'm leaning towards "Ricochet, a Californian surf legend." But really, they're all good dogs. Each of these dogs have their own individual headshots and bios on the website, and I'm going to share some of them with you now, because it's been a long week, and we could all use some joy in our lives.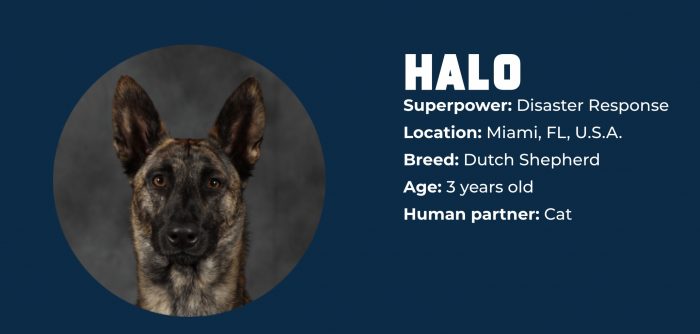 Halo
"The runt in a litter of ten Dutch Shepherd brothers and sisters, Halo showed some promise as a working dog soon after her birth. In January 2016, Fire Captain 'Cat' Labrada of Miami Dade County, Florida flew to Detroit and chose her as her new partner. From the day she arrived back home, Halo met her new family, including Cat's retired search and rescue dog, the golden Labrador Bella, and the other members of Florida Task Force 1, one of the most elite search and rescue teams in America. In those early days, Cat describes her lovingly as "a devil dog" with an independent, even mischievous streak. However, as her training progressed, she began to mature into a more focused and confident search dog."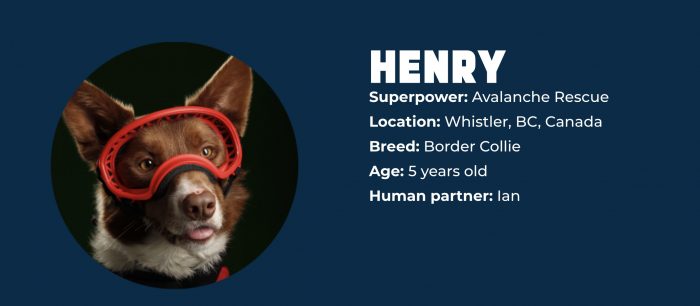 Henry
"Together, Henry and his Handler/Trainer Ian Bunbury, are a Senior Avalanche Rescue Dog Team working as volunteers with the Canadian Avalanche Rescue Dog Association. Henry is the third Border Collie that Ian has trained for Avalanche Search and Rescue. Ian believes that Henry's strong herding instincts combined with the Border Collies' legendary work ethic, their natural smarts and physical soundness make for a great canine working partner. Indeed, Henry's grandfather was a Reserve World Herding Champion, and Henry has put those herding skills to use in Wildlife Aversion work in his hometown of Whistler, B.C., moving both Canadian Geese and Black Bears out of conflict situations."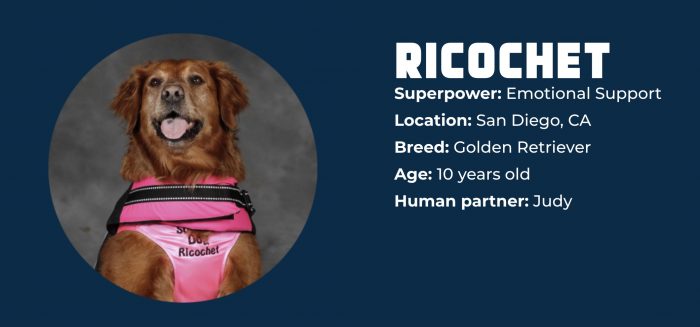 Ricochet
"An internet sensation, Ricochet is a 10-year old Golden Retriever and one of America's most beloved therapy dogs. In 2009, Ricochet made an independent decision to jump on a surfboard with a boy who is quadriplegic. Since then, she has surfed with hundreds of individuals, and became the only SURFice dog® on the planet who provides canine assisted surfing to empower and improve the quality of life for individuals with physical, cognitive, or emotional disabilities. Although surfing has been at the forefront of Ricochet's work, it's not the act of surfing that makes her interactions so life changing. It's her mystifying ability to make immediate, deep, heart-to-heart, soul-to-soul connections with the individuals she interacts with, both in and out of the water. She intuitively and empathically alerts to their emotional and physical changes which allows for profound paws-on healing interventions."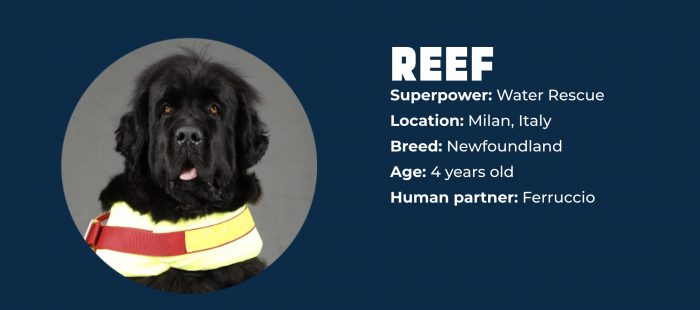 Reef
"Reef is a four-year old Newfoundland, who adores the lakes and sea around her home near Milan, Italy. Her partner is Commandante Ferruccio Pilenga, founder of the Scuela Italiana di Cani Salvataggio (Italian School of Water Rescue Dogs), and a huge advocate for the Newfoundland as a working water dog. Today, Reef is an instructor dog, helping other dogs develop their innate rescue instinct to save human lives. She can deploy from a boat or helicopter, swim for miles without tiring and tow up to 40 times her own weight in the water!"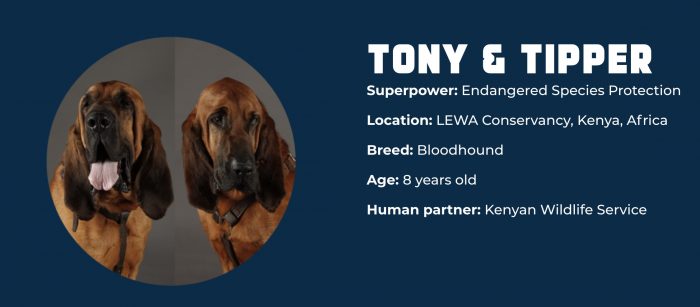 Tony & Tipper
"Twin Bloodhound brothers, Tipper and Tony have spent their lives protecting the residents of the Lewa Wildlife Conservancy in Kenya, particularly endangered rhinos and threatened elephants. They are expert trackers, with the most precise nose of any dog and can follow a scent for miles."
Superpower Dogs won't hit IMAX theaters until March 2019, and I honestly don't know if I can wait that long. But I'll try.
Join an immersive IMAX adventure to experience the life-saving superpowers and extraordinary bravery of some of the world's most amazing dogs. In this inspiring true story, our best friends are also real-life superheroes. Journey around the globe to meet remarkable dogs who save lives and discover the powerful bond they share with their human partners.