Movie Mixtape: 6 Movies To Watch With 'Crazy Rich Asians'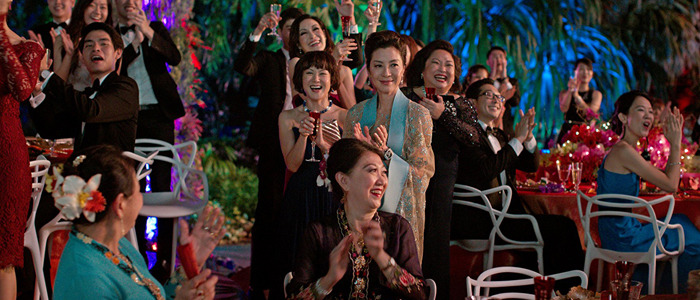 If you're looking for Western-produced movies with solely-Asian casts, your pickings are slim, which is why there's been a lot of talk surrounding Crazy Rich Asians' status as the first of its kind in a quarter-century. But there also aren't many Western-made movies where the cast is half-Asian. Or even where there's more than one Asian character. I'm not sure whether that makes Crazy Rich Asians more impressive or if it simply signals the relative, representational failures of the Hollywood system.
Why not both, right?
Based on the bestselling book, Crazy Rich Asians sends Rachel (Constance Wu) into the lion's den of meeting her boyfriend Nick's (Henry Golding) family at a wedding in Singapore. Nick never told her that his family is insanely wealthy, Rachel has to win over Nick's formidable mother Eleanor (Michelle Yeoh), and rom-com goodness ensues.
Our own Karen Han says  it's "chock-full of little details that may well fly over the heads of some viewers, but will vault the film into another stratosphere for others. The cultural specificity is more charming than the delirious displays of wealth by leaps and bounds, and ultimately what makes it impossible to say that Crazy Rich Asians is just a carbon copy of other meeting-the-in-laws comedies that have come before it."
Let's see what to double feature with this history-maker.
The Joy Luck Club (1993)
When you hear people say Crazy Rich Asians is the first in 25 years, this is the movie from 25 years ago. It was also based on a book that became a sensation, but it features several segmented stories that reveal the different ways Chinese-American women love, hate, disappoint, and reconcile with their Chinese mothers.
It's also a strict drama that plays more like an epic by looking intently through the generations, with stories about unhappy marriages, abandoned children, and maternal blessings.
Better Luck Tomorrow (2002)
Before he got into the Fast & Furious franchise, Justin Lin made a splashy debut with this sweat-inducing thrill about Asian-American high schoolers who slide into a world of big cash out of sheer intelligence and boredom. Parry Shen leads the ensemble as a young man craving perfection and a ticket to the Ivy League who has to balance out that pressure with pranks and low-level grifts against electronic stores.
His group of friends' enterprise gets kicked into high gear with some stolen tests, and their descent into money and madness eventually threatens success in the "real world." Better Luck Tomorrow is a fantastic film that hides smart commentary about the expectations set for overachievers inside a tense heist-style flick.
Meet the Parents (2000)
Just so we're clear: Jack doesn't talk Thai very well.
Still, this is the quintessential film about someone trying desperately to impress a potential spouse's hard-minded parents and failing until the very end. Crazy Rich Asians works off a very similar formula, where misunderstandings are blown out of proportion against the main character, their potential spouse sets them up for failure by (understandably) not painting the full picture of their family, and we all hope love wins out.
Both movies are about blazing your own unique trail to fitting in. The process is painful (thankfully nobody gets milked) but worth it.
Coming to America (1988)
Instead of hiding his crazy rich family from his girlfriend, Akeem (Eddie Murphy) hides his crazy rich family and royal status in order to find a girlfriend. Shakespearean levels of comic misunderstandings abound by the end as Lisa (Shari Headley) must choose between the decently wealthy Darryl (Eriq La Salle with an unsafe amount of Jheri curl) and the guy she thinks is a janitor.
The tropes both movies explore are in the same ballpark even if they don't line up exactly. Issues of money, the fear that it's the only reason someone will love you, and the dread of family acceptance. In an ironic twist, Akeem wins over Lisa's dad (John Amos) not because he proves himself worthy enough for the wealthy clan, but because her dad is (initially) a gold digger.
The Birdcage (1996)
Sweet perfection in the realm of slamming two families together for laughs. Mike Nichols' and Elaine May's film features two young lovers (Calista Flockhart and Dan Futterman) who try to trick her wealthy, political parents into believing his drag show-directing, gay parents are the picture of Republican norms.
Again, it's all about acceptance, which is why it's so incredible that Nathan Lane and Robin Williams's characters love their potential new daughter-in-law with ease. They go to Herculean lengths to get Gene Hackman and Dianne Wiest on board with the marriage, through sexy soup bowls, mispronounced names, and a second mom showing up.
The Princess Diaries (2001)
A horror film where an introvert is forced by societal norms to interact and speak in front of a ton of people judging her.
Or a fun comic romp about an awkward young woman (Anne Hathway) who discovers she's secretly royalty and must live up to the accompanying expectations despite her natural state of spilling things at fancy parties. Toss in a love interest who cared about her even before she became rich and powerful, and you've got the rom-com wish fulfillment trifecta.
The Mix
It's worth looking at the history of Asian representation in Western media after laugh-crying your way through Crazy Rich Asians. It's not pretty. Even in a film like Karate Kid that's popular and scored an Oscar for its Asian actor, the portrayal still helps perpetuate an enduring stereotype: the wise Far East sage. That's one of the not-horrible examples in a long line of Yellow Face, tokenism, demonizing, and outright erasure.
So it might be revolutionary to see a cast like this, but it's equally revolutionary to see them engaging in the frivolous, no-chance-they-won't-end-up-together stakes of a story designed to show off shiny objects and true love.
What are you watching with Crazy Rich Asians?