'An Evening With Beverly Luff Linn' Trailer: Aubrey Plaza Is At Her Weirdest In This Magical Rom-Com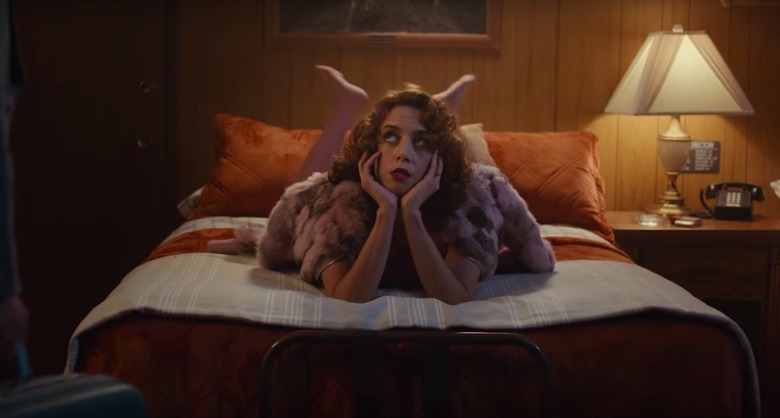 The romantic-comedy has never been so absurd as it is in An Evening With Beverly Luff Linn. But hey, when you have Aubrey Plaza and Jermaine Clement in a movie together, what do you expect? Plaza is basically a real-life witch taken form, while I'm convinced that What We Do in the Shadows star Clement is an actual vampire. Put the two of them together, and voila, you have one of the trippiest, freakiest romances put to the big screen.
An Evening With Beverly Luff Linn Trailer
I can't really make sense of the trailer for An Evening With Beverly Luff Linn, which, for all intents and purposes, seems to be composed of kooky vignettes in which director Jim Hosking just pointed the camera at Plaza and Clement and told them, "Let loose." I think there's a plot involving some mysterious magician played by Craig Robinson, kidnapping, and guns. Also, Emile Hirsch is here for some reason?
It's as off-kilter as you would expect in a rom-com starring Aubrey Plaza, who has been making bold and out-of-the-box choices that perfectly suit her scary-hot persona since she wrapped Parks and Recreation. And all the more power to her — it's just left to us common folk to decipher what she's doing and whether she's actually an alien in a human body.
An Evening With Beverly Luff Linn premiered at Sundance to mixed reception, with most critics, including /Film's Ben Pearson, baffled by the film's absurdity. But thankfully, it doesn't cross the line into indecipherable, because "while Beverly Luff Linn is off-kilter, it never crosses into what-the-hell-am-I-actually-watching territory," Ben writes in his review. "The narrative is clear, the character motivations make sense, and it maintains a consistent internal logic throughout – in other words, while the film is undeniably wacky, it's not so impenetrable that only hardcore fans of absurdist comedies will enjoy it."
Here is the official synopsis for An Evening With Beverly Luff Linn:
After getting fired by her scheming husband Shane Danger (Emile Hirsch) from his cappuccino shop, dissatisfied Lulu Danger (Aubrey Plaza) is stunned when a TV commercial for "An Evening With Beverly Luff Linn For One Magical Night Only" reveals a mysterious man from her past (Craig Robinson). When Shane and his bumbling cohorts steal the cashbox from Lulu's adopted vegan brother Adjay (Sam Dissanayake), specialist Colin (Jemaine Clement) enters the fray to retrieve the stolen funds. But Lulu seizes the opportunity to run off in search of her mystery man—and events only become stranger from there. This is a story of love, theft, athletic swimming, and a magical magical event.
An Evening with Beverly Luff Linn hits theaters, On Demand and Digital HD on October 19, 2018.