'Jurassic Park' Stomps Back Into Theaters For Three Days This Fall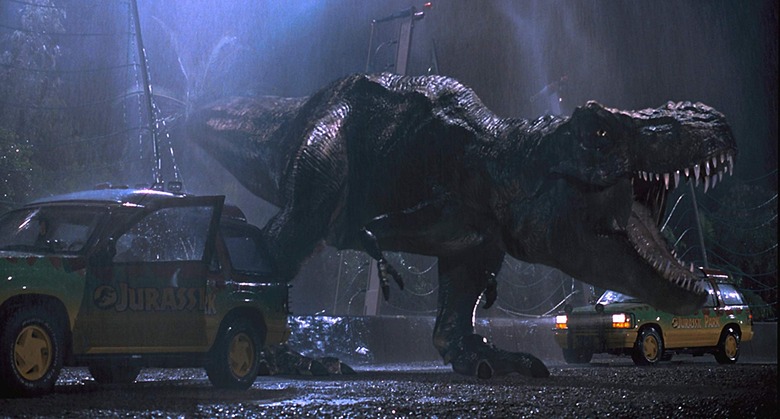 Next month, you can journey back in time — not 65 million years to the Jurassic period – but 25 years, to the 1993 release of Jurassic Park.
The Steven Spielberg film that launched an indomitable blockbuster franchise is welcoming you back to the park with a theatrical re-release in honor of Jurassic Park's 25th anniversary. But you better run fast (and not in heels) to the box office: Jurassic Park will only be returning to theaters for three days this September.
Universal and Fathom Events are teaming up to bring the only good Jurassic Park film back in theaters for three days this fall: September 16, 18, and 19.
The classic sci-fi action film will be shown in more than 500 theaters across the country and will be accompanied by a 17-minute fan-made "remake" of the movie, "showcasing the passion fans have for the movie and their boundless creativity," Universal and Fathom said in a statement.
You can buy tickets now at FathomEvents.com and at participating theater box offices for these special presentations.
This offers an exciting opportunity for the many Jurassic Park fans who never got a chance to see Spielberg's masterpiece in theaters. I can count myself among those fans, being only about a year old when the 1993 film came out. And now, with new generations of moviegoers excitedly filling theater seats to see Jurassic World and  Jurassic World: Fallen Kingdom, there should be no shortage of new and old fans lining up to see one of the three exclusive screenings of Jurassic Park.
It's even possible that many new fans have never even seen the first Jurassic Park and they'll be lucky to experience every awe-inspiring moment in the 1993 film, which still holds up tremendously well.
The exclusive Jurassic Park 25th anniversary theatrical re-releases will take place on September 16, September 18, and September 19, 2018.