'Jack Ryan' Trailer: Amazon Really Wants You To Watch Their Expensive Tom Clancy Show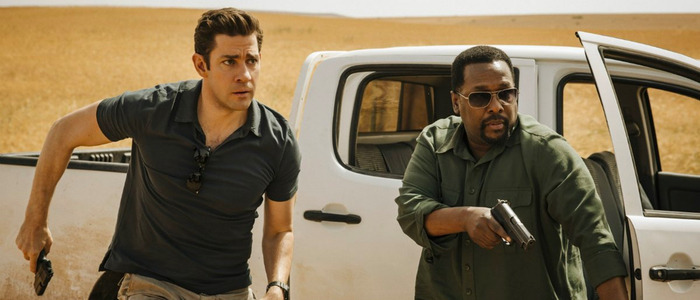 Amazon is dead-set on making Jack Ryan a hit, so much so that they've pumped out more trailers than your average television program receives. Now, the (presumably) final Jack Ryan trailer is here, loaded with enough explosions and shots of John Krasinski frowning to pique your interest. The series hits Amazon at the end of the month.
Jack Ryan Trailer
By now you must be aware that Amazon has a new show called Jack Ryan. How could you not? They've been advertising it seemingly forever, unleashing trailers and featurettes and Super Bowl spots and more. Now, the time of Jack Ryan is almost at hand. The show will debut on Amazon Prime at the end of the month, and in anticipation of that, one final trailer is here.
Jack Ryan stars John Krasinski as the eponymous CIA analyst, who is trying to prevent an impending terrorist attack. The show is based on the many, many Tom Clancy books featuring Ryan. This isn't Ryan's first time on the screen, either. Previous Clancy adaptations have brought the character to life, in a variety of different ways. Alec Baldwin played him in The Hunt for Red October. Harrison Ford took on the part in Clear and Present Danger and Patriot Games. Ben Affleck stepped into the role for The Sum of All Fears. And Chris Pine gave it a shot with Jack Ryan: Shadow Recruit.
Of all these films, Red October is the only entry I'd call genuinely good. The rest fall somewhere in between serviceable and bad. The fact of the matter is that producers have had a hard time making Jack Ryan work. The character in Clancy's books isn't inherently an action hero – at least not at first. But the film adaptations have progressively turned him into more of an ass-kicking James Bond type.
Will Amazon's Jack Ryan succeed where the films have mostly failed? Possibly. This being a TV show allows for more room to breathe, as well as more room for Ryan to grow as a character. At the same time, the trailers make it clear they people behind Jack Ryan are still going the action hero approach when telling Ryan's story.
No matter how Jack Ryan season 1 turns out, Amazon has already given the go-ahead for season 2. The second season will have Ryan confronting "the forces in power in a dangerous, declining democratic regime in South America."
In addition to Krasinski, Jack Ryan stars Abbie Cornish, Wendell Pierce, Ali Suliman, Dina Shihabi and Amir El-Masry. The full first season hits Amazon August 31, 2018.