'The Angel' Trailer: The Middle East's Most Famous Real-Life Spy Gains His Wings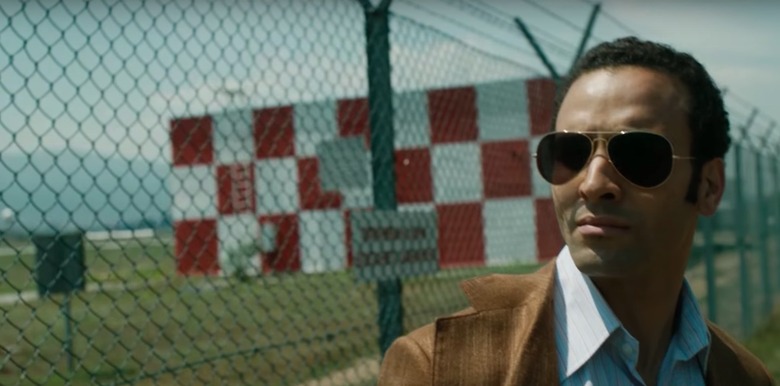 Ashraf Marwan's code name was "The Angel," and his memoir dubbed him the "The Egyptian Spy Who Saved Israel" — both hugely impressive descriptors that would intimidate anybody. But seeing as Marwan's actions helped prevent a deadly terrorist attack against Israel, they might just be perfect.
Marwan gets the biopic treatment in a film helmed by Israeli director Ariel Vromen and launched by Netflix. Fittingly titled The Angel, the film is a thrilling real-life drama starring the vastly underrated Toby Kebbell and our soon-to-be Jafar, Marwan Kenzari.
The Angel Trailer
Set in the 1970s at a time of great turmoil in the Middle East, The Angel will inevitably draw comparisons to the Oscar-winning Argo. But, at least, it doesn't whitewash its protagonist. Kenzari is little known to U.S. audiences (for now), but is an acclaimed Tunisian-Dutch actor who won the Golden Calf for the 2013 film Wolf and has appeared in Ben-Hur, The Mummy, and Murder on the Orient Express. Judging by The Angel trailer, he has more than enough talent to easily carry this taut, tense spy thriller. And he seems like he wants to do right by Marwan in this adaptation of the non-fiction book by Uri Bar-Joseph, "The Angel: The Egyptian Spy Who Saved Israel."
"In researching what motivated Ashraf Marwan, I discovered one of his best friends, but not until late in production," Vromen said in an interview with IndieWire. "He told me that ... in every business or arms deal and at every dinner party or social event, there was one word that came out of Ashraf until the day he died and that was 'peace.' He was always constantly seeking for peace in his life."
Here's the official synopsis for The Angel:
The Angel, directed by Ariel Vromen, is the true story of Ashraf Marwan, who was Egyptian President Nasser's son-in-law, and special advisor and confidant to his successor Anwar Sadat, while simultaneously one of Israeli Intelligence's most precious assets of the 20th century.
The Angel premieres on Netflix on September 14, 2018.