'Jack Ryan' Featurette: Amazon's New Spy Series Is Aiming For Authenticity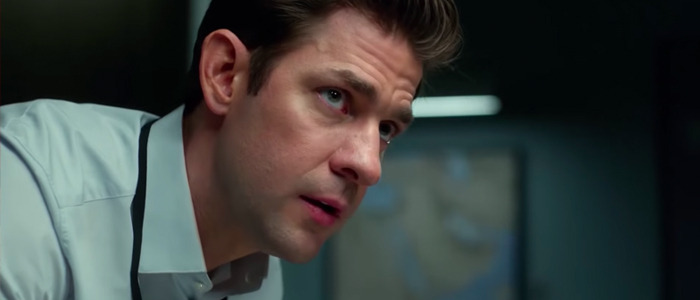 The late Tom Clancy's novels are famous for the level of technical accuracy and specific details he would insert to give readers a sense of authenticity. So it's no surprise that Jack Ryan, Amazon's new streaming series about Clancy's most famous character, is aspiring to that same level of specificity on the small screen.
In this new Jack Ryan featurette, we take a look behind the scenes at the new John Krasinski-led show and see interviews with the showrunners, military advisors, and more to find out the lengths to which the production went in order to make the audience feel immersed in a grounded, realistic world.
Jack Ryan Featurette
"A good Jack Ryan story is not just entertaining, it teaches you something about the world that it inhabits," says co-showrunner Carlton Cuse (Lost, The Strain), who created the show with Graham Roland (Fringe).
One of the tell-tale signs that a production is phoning it in is if the graphics that appear on its screens look terrible. But while there's a lot of focus in this featurette on making sure the weapons are spot-on, Jack Ryan also went out of its way to make sure that all of the phones and computers are displayed in a realistic manner. It seems like a small detail, but it's one of the things that can make or break an audience's engagement with a show, even if it's on a subconscious level.
Accuracy appears to be second only to drama in this series, which follows Jack Ryan from paper-pushing desk jockey to one of the CIA's best field assets. We caught the first episode when it screened at this year's San Diego Comic-Con, and you can read our reaction here.
Season 1 of Tom Clancy's Jack Ryan arrives on Amazon on August 31, 2018. Season 2 has already been given the go-ahead, moving the action from the Middle East to South America and giving Krasinski a couple of new additions to play off of in the form of Michael Kelly (House of Cards) and Noomi Rapace (Prometheus).
When CIA analyst Jack Ryan stumbles upon a suspicious series of bank transfers his search for answers pulls him from the safety of his desk job and catapults him into a deadly game of cat and mouse throughout Europe and the Middle East, with a rising terrorist figurehead preparing for a massive attack against the US and her allies.