'Magic For Humans' Trailer: Magician Justin Willman Dazzles Crowds On Netflix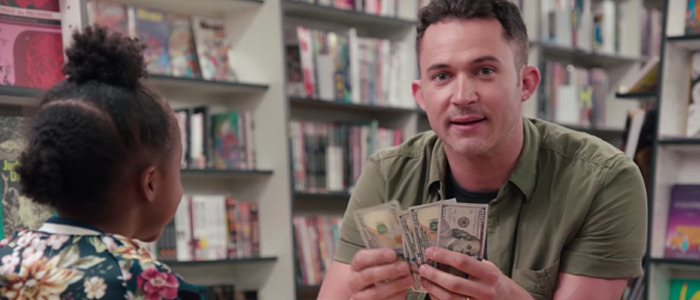 It's been a while since a magic-based TV series has gotten my attention, but Justin Willman's new Netflix show Magic For Humans has done the trick. (Get it? "Done the trick?" I'll see myself out.)
Before we continue, try to find a deck of cards. Shuffle them until you're content, fan them all out face down, and pick out the fourth one from the left. Don't look at it yet! We'll return to this in a second, but for now, take a look at the first trailer below, and while you're at it, check out a few clips from the show.
Magic For Humans Trailer
To complement the trailer, Willman also released a couple of clips from the show on his social media accounts:
Froyo anyone??#MagicForHumans
(coming August 17 to @Netflix) pic.twitter.com/MtXSBG9rDq

— Justin Willman (@Justin_Willman) August 6, 2018
Willman has some neat tricks ("They're illusions, Michael!"), and I'm very curious to see what /Film's editor in chief Peter Sciretta thinks about this show, since he's a magician himself and a member of Los Angeles's famed Magic Castle. My biggest hope for the show is that the editing is less frenetic than this trailer and actually holds on wide shots for extended periods of time during a trick. Otherwise, it's too easy to see how some clever editing could be deployed to enhance the effect. Willman's voiceover in the trailer promises "real people, real magic, no camera tricks," but what? I'm supposed to just blindly believe a magician who deceives people for a living? I'll believe it when I see it, thank you.
I used to randomly come across David Blaine or Criss Angel shows on TV, but I never really cared enough about those specials to exert the minimal effort it would take to figure out when they regularly aired. But I think a magic show like this is perfect for a service like Netflix, where audiences can watch however much you want, whenever you want, without needing to think about how to find it.
Remember how I asked you to pick the fourth card from the left? Through the magic of movie blogging, I'm going to reveal your card without even looking at it. Abracadabra: your card is the Ace of Clubs!
No? It isn't? Ah. Oh well. That would have been pretty cool. Back to the drawing board. Maybe I'll ask Peter to teach me a trick for the next magic article I write.
Here's the official synopsis for Magic For Humans:
From baffling people on the street to orchestrating elaborate tricks, Justin Willman blends good-natured magic with grown-up laughs.
Magic For Humans begins streaming on Netflix on August 17, 2018.