Carrie Fisher's Brother Talks Leia's "Magical" Return In 'Star Wars: Episode 9'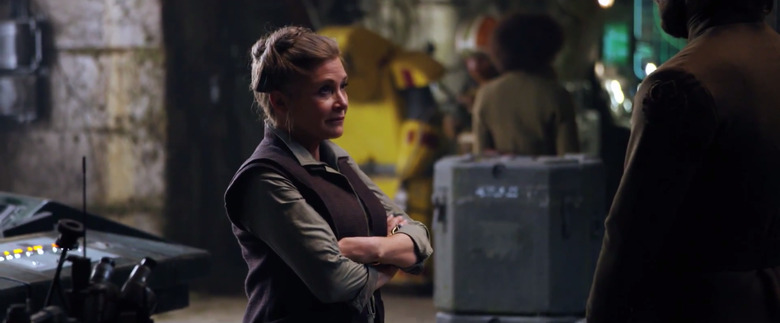 In April of 2017, Lucasfilm president Kathleen Kennedy said that the late Carrie Fisher would not appear in the upcoming Star Wars: Episode 9, despite the claims of Todd Fisher, Carrie's brother. But it looks like Todd ended up being right in the long run, because the production ultimately figured out a way to include General Leia after all by utilizing unused footage that was shot during the making of Star Wars: The Force Awakens and Star Wars: The Last Jedi.
In a recent interview, Todd Fisher reacts to the decision and says Leia's final appearance will be "important to us all."
"My sister and Princess Leia are the same thing," Fisher told ET Canada (via ComingSoon). "And the idea of that story stopping and her not carrying forward is very disturbing to me. It's just awesome that it worked out this way, and thanks to J.J. Abrams, it's just going to be, I'm sure, very magical and important to us all."
Kennedy was adamant last year that Carrie Fisher wouldn't appear in the final movie in the Skywalker saga. Todd says that it wasn't an "easy task," but they figured out a way to make it work:
"They arranged it – the script and what was shot – to bring her into the story in a way as if they had filmed it yesterday. Isn't that magical? That the things she shot a few years ago are frozen in time so to speak, and then they've been reborn into the final Star Wars where she is truly the character that needed to continue."
Fisher says that his niece, Billie Lourd, who appears in the Star Wars movies as Lieutenant Kaydel Ko Connix, is "really sensitive to the whole thing," and makes it clear that his family has a deep desire to preserve Carrie's legacy. "We are sensitive to how things are done and why they are done," he said. "This is one that you have got to embrace with a big hug." To read much more about Carrie's work in Hollywood, be sure to read our feature about her time as a script doctor right here.
Star Wars: Episode 9 hits theaters on December 20, 2019.