Dwayne Johnson Shares The Breathtaking 'Jungle Cruise' Set In New Teaser Video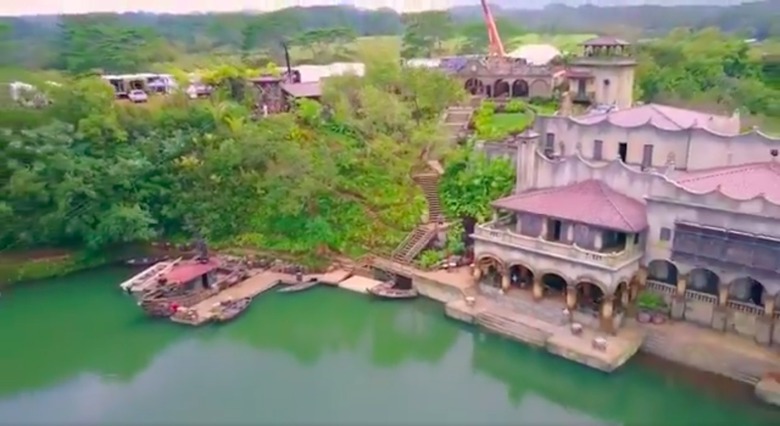 The Jungle Cruise ride was one of Walt Disney's first pet projects, a Disney Parks attraction that simulated a riverboat cruise down several major rivers of Asia, Africa and South America. And legend has it that Walt Disney himself was the very first skipper for the ride's opening day — which is probably why Dwayne Johnson and the team behind the upcoming Jungle Cruise movie have put so much heart and soul into the live-action adaptation of Disney's beloved attraction.
In a new teaser video from the set, Johnson hypes up the movie once again, giving viewers a sneak peek of the awe-inspiring Jungle Cruise set.
Jungle Cruise Set Sneak Peek
"*watch 'til the end and see one of the most awe inspiring & massive sets ever built from scratch.
Walt Disney, this one's for you buddy! 🤙🏾💫" (via @TheRock) pic.twitter.com/1eEf7fYRiW

— Walt Disney Studios (@DisneyStudios) August 9, 2018
"Walt, this one is for you buddy, and world, get ready for the adventure of a lifetime," Johnson announces in the latest Jungle Cruise set video following his and Emily Blunt's adorably charming first video from last month. Johnson doesn't say much in this new video about plot details for the film, but he doesn't need to — he lets the set do the talking.
The camera pulls back into a sweeping drone shot that reveals a set "built from scratch," nestled right in the heart of the Hawaiian jungle. A beautiful, early 20th century inn sits on a river bank where boats are tied in at a dock and even more historic-looking boats and buildings can be seen scattered around this bank. It's a breathtaking physical set the likes of which we don't see much anymore, when green screen and CGI is so much easier and cheaper. That Disney and director Jaume Collet-Serra are willing to build this extravagant set at all is a wonder to behold.
Penned by Michael Green (Logan, Blade Runner 2049), Jungle Cruise is a period piece set in the early-1900s Amazon jungle, and follows a boat captain (Johnson) tasked with taking a woman (Blunt) and her brother (Jack Whitehall) to a mythical tree with magical healing powers. Jungle Cruise also stars Paul Giamatti, Edgar Wright, and Jesse Plemons.
Jungle Cruise is currently in production and will open in theaters in October 2019.