'Hold The Dark' First Look: 'Green Room' Director Jeremy Saulnier Promises His Highest Body Count Yet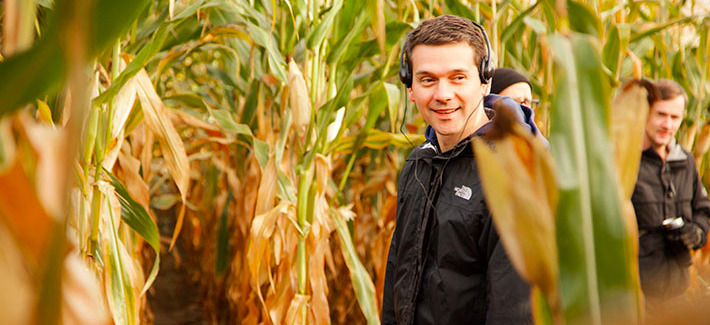 If you've seen the revenge movie Blue Ruin and the Nazi punk rock thriller Green Room, you know director Jeremy Saulnier is not the type of filmmaker to pull any punches. And if you thought those were a little too savage, you ain't seen nothin' yet.
The director just released the first official photo from his new movie, a Netflix thriller called Hold the Dark, and Saulnier says that the movie contains his highest body count so far – but it also set a new record for him in terms of intimate dialogue scenes. Check out the photo of star Alexander Skarsgard and read more about the new film below.
Hold The Dark First Look Photo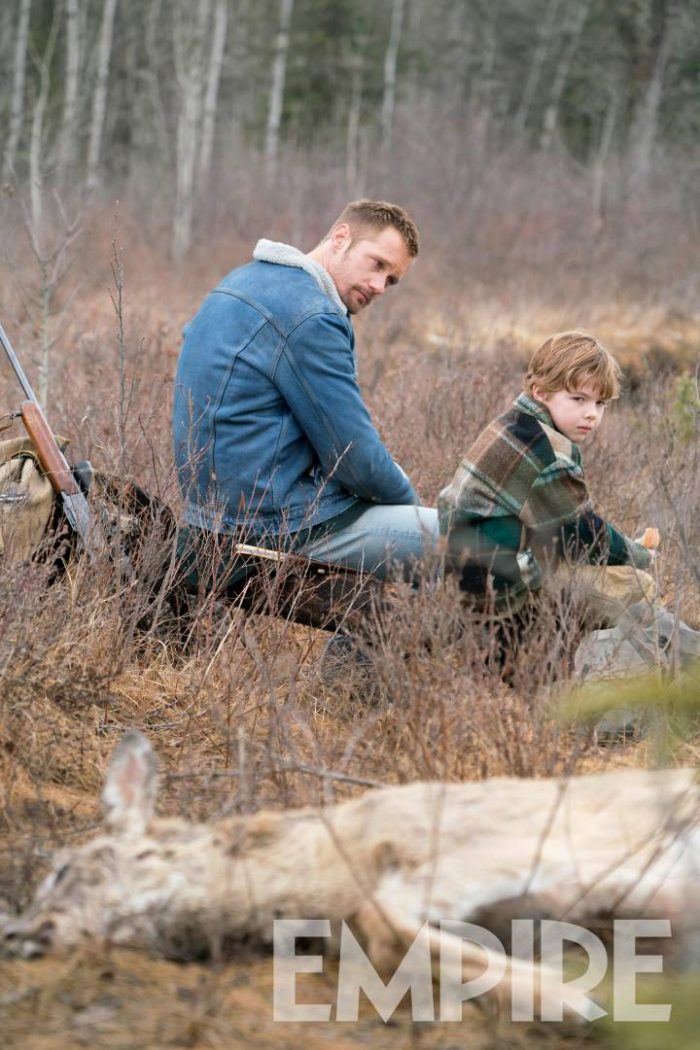 Here's the full photo from Empire, who spoke with Saulnier about his most ambitious movie to date. "This film has so many firsts for me," he told them. "It has my record number of intimate dialogue scenes and my highest body count. It has my first war scene, my first aerial sequence, my first time working extensively with animals. So in that regard it was a huge challenge."
Hold the Dark is a film adaptation of William Giraldi's best-selling novel, and it's written by Saulnier's longtime friend and collaborator Macon Blair, who wrote and directed the excellent and under-seen I Don't Feel At Home In This World Anymore for Netflix in 2016. The story begins as wolves have stolen and killed three children from a remote Alaskan village. A wolf expert (Jeffrey Wright, Westworld) is brought in to investigate and learns a horrifying secret from the mother of one of the children (Riley Keough, Mad Max: Fury Road). When the woman's husband (Skarsgard) returns home to discover that has wife has gone missing, he "begins a maniacal pursuit that cuts a bloody swath across the frozen landscape." James Badge Dale (Iron Man 3) will play a detective hoping to catch up to Skarsgard's character, and newcomer James Bloor is set to play a creepy drifter.
This all sounds like it's perfectly in line with the type of bleak, brutal thrillers Saulnier has made in the past. He seems to be making all the right moves, gradually telling more complex stories in more ambitious ways, and I really hope that methodical approach continues to pan out for him. I can't wait to check this one out.
Hold the Dark comes to Netflix on September 28, 2018.