Watery And Monster-Y Comics You Should Devour After Watching 'The Meg'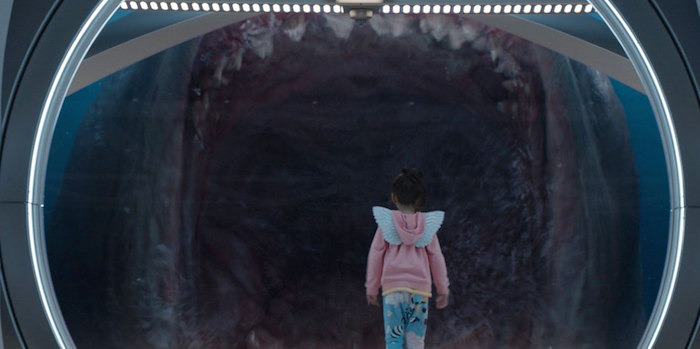 (Welcome to Comic Book Drive-In, a series where comic and movie fans Jazmine Joyner and Rosie Knight recommend brand new, ongoing, and completed comic book series that tie into classic films and new releases.)
Hello, comic and movie fans! This week, our chosen film is the outrageous monster movie The Meg, which stars Jason Statham, Li Bingbing, Rainn Wilson, Ruby Rose, Winston Chao, and Cliff Curtis, and is the end product of 20 years of development hell! National Treasure's Jon Turteltaub directs.
Based on Steve Alten's book Meg: A Novel of Deep Terror, the movie tells the tale of the legendary prehistoric shark Megalodon re-emerging and getting his feast on. Jason Statham may or may not punch it. So when it comes to picking comic books to read alongside The Meg, we had a ton of options: giant monsters, watery spectacle, fear of the unknown, and so on!
We've selected three fantastic comics (one brand new, one ongoing, and one finished) for your perusing pleasure that complement the wild giant shark-infested waters of The Meg! Whether you're going to read 'em relaxing on the beach or whilst battling a massive monster, we've got something to sate your sequential storytelling appetite!
New Comic: Goliath Girls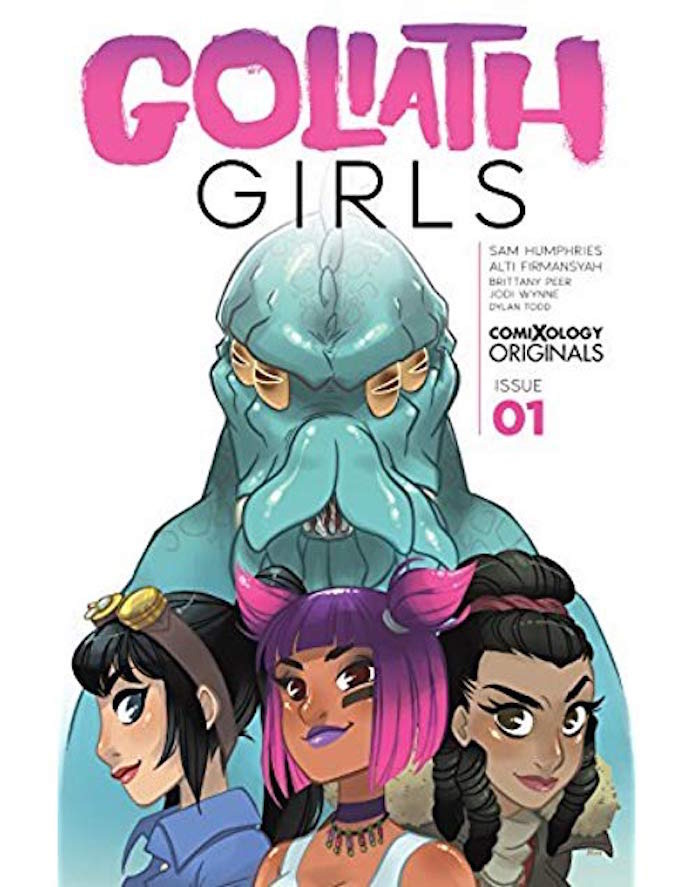 The Talent: Sam Humphries (Writer), Alti Firmansyah (Artist), Brittany Peer (Colorist), and Jodi Wynne (Letterer)
What It's About: In a world where Kaiju have become a part of everyday life, the Goliath Girls were established to create harmony between human and Kaiju. But now, years after the project was launched, there are only three left. Can they save the world alongside their pet Kaiju?
How It Connects to The Meg: Filled with lots of big monster madness, this action-packed story is about saving Earth in the face of a prehistoric new addition to the world that we know. Just like Jason Statham's battle with that Megalodon.
Rosie: I first came across this radical romp at a panel at San Diego Comic-Con. It's one of the new ComiXology original comics, which are created specifically for the digital platform. Goliath Girls really stood out to me, as I was already a fan of writer Sam Humphries from his work on Jonesy and Green Lanterns, plus it's a book about badass girls and their pet Kaiju, which is 100% up my alley.
Goliath Girls immediately jumped out at me when we were thinking about comics that would complement The Meg. Not only is it a really great comic about monsters, but it also focuses on the world irrevocably changed by those very giant prehistoric monsters, which of course is the threat that the titular Megalodon poses. I adore the art by Firmansyah and Peer, which is honestly some of the best I've seen in awhile. They bring an authenticity and rawness to the page.
Jaz: I first heard of this comic from Rosie! She brought it up as one of the comics that we could cover for Comic Book Drive-In. The first issue is available for free for Amazon Prime members and it's truly a delight to read. I love the story of these three girls in a dystopian future ravaged by prehistoric Kaiju, working to create harmony between monsters and humans. Though the film and comic share some serious creature creations, I feel like the goal of harmony that drives Goliath Girls is probably not shared in The Meg, seeing as the titular Megalodon is clearly on the hunt for human flesh and Statham is out for revenge.
My favorite part of this comic is the writing by Sam Humphries. How these girls communicate is just as volatile and endearing as their baby Kaiju after a nap. You totally believe their relationships with one another and see their passion in what they're doing.
Rosie: There's such good camaraderie and friendship between the girls. Humphries is a really clever writer, and crafts a truly fun and fresh world. Alti Firmansyah and Brittany Peer do an unbelievable job of making a beautiful visual landscape that's honestly one of the loveliest looking books around. Goliath Girls is a must if you're a fan of massive monsters, strong young women, and very cute Kaiju. It also made sense to me to pick this as a suggestion for The Meg because the upcoming film stars Li Bingbing and Ruby Rose who are both total badasses, and it's always super refreshing to see a Hollywood monster movie – though The Meg is a Chinese co-production – that actually centers strong women.
Jaz: I agree it's great to see a strong female-led film, and Goliath Girls complements The Meg so well in that regard. Firmansyah and Peer do a wonderful job at bringing Humphries' writing to life. The vivid colors and beautiful artwork add a whole new level to the storytelling. The vibrant pinks, blues, greens, and purples keep the vibe of a magical girl romp all while still being about three badass women wrangling Kaiju. I am obsessed with Goliath Girls.
Ongoing Comic: Dept H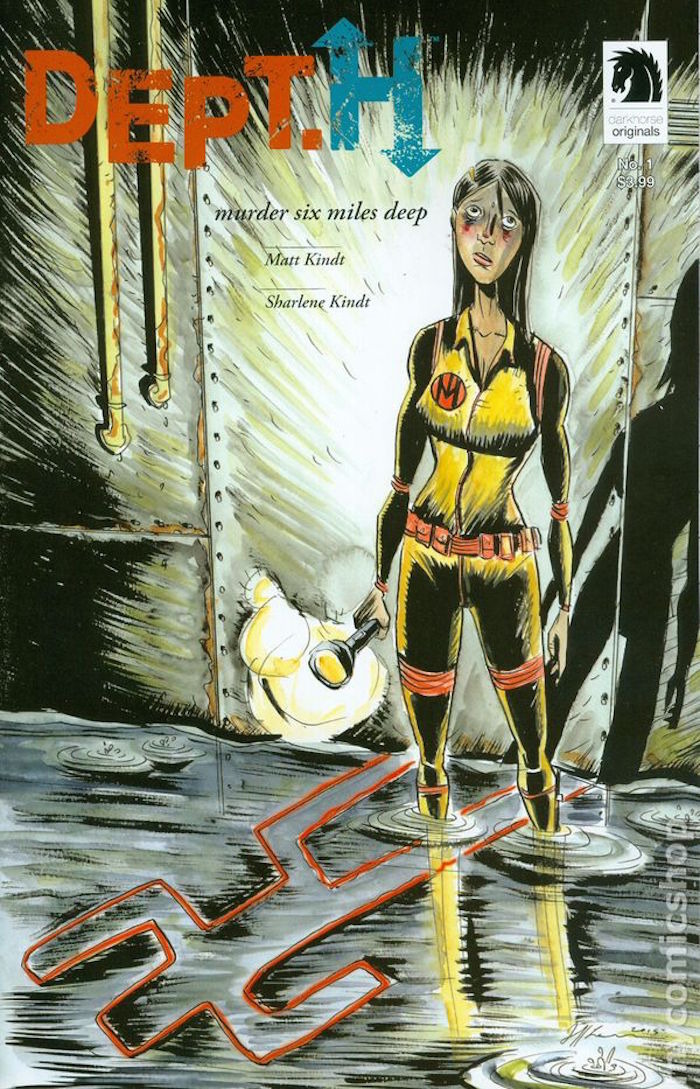 The Talent: Matt Kindt (Writer, Artist), Sharlene Kindt (Colorist), Marie Enger (Letterer)
What It's About: The story focuses on a young woman named Mia, whose father is a famous innovator living and working on an undersea base that's set six miles below the ocean's surface. When her father dies, she's hired to go down and investigate his death. But nothing is quite as it seems in the underwater world of Dept H.
How It Connects to The Meg: Both The Meg and Dept H are set on underwater bases, and both focus on the mysterious pasts of their lead characters: Mia's enigmatic and conflicted relationship with her father or Taylor's (Jason Statham) bleak and brutal history with his former teammate, Dr. Heller.
Jaz: Depth H is a mesmerizing underwater murder mystery. Once the story of Mia's father's death reaches her, it becomes her mission to find out who killed him. This book moves at a breakneck thriller pace. Everyone's a suspect and sabotage is coming from every direction. Like The Meg, this underwater thriller doesn't let up until we see the last person standing. I really enjoy Matt Kindt's writing and his wonderful illustrations. Every character feels full and complicated, especially Mia.
Rosie: I adore Dept H. It's such a sumptuous and immersive story. Sharlene Kindt's painted colors actually make the book read as if you're underwater, and Matt's art is, of course, just divine. A reimagining of the locked room mystery trope, Dept H is a smart and slick story which always keeps you on the edge of your seat. It's likely a lot more serious than Statham's new star vehicle, but it shares a deep underwater sea setting with the monster movie, as well as focusing on family and the horrors of the deep...which might not always be the obvious beast outside your door.
Jaz: At first, Matt's art was something I had to get used to, having not read any of his previous comics. But as I got to know Mia and her world, I started to appreciate Matt Kindt's illustrations and Sharlene Kindt's watercolors. Like Rosie said, the colors immerse you in the deep underwater setting of Depth H, and while I was at first turned off by the art, by the end of the story, I was in love with Matt's art style and Sharlene's colors.
Rosie: I'm really stoked that Jaz came around to this book. I feel like Matt Kindt is often a creator who people can find inaccessible or write off of as a part of pretentious "intelligentsia" comics. The reality is he's just a creator who really loves to weave a complex and sometimes esoteric story. The strength of Dept H is that he really strips down his style to make a streamlined, slick, and splendid story that somehow still never feels mundane or trite. Which is a feat, as it's filled with tropes that have been done many times before but still manages to feel unique.
Kindt's art is strange and special, stark and full, all at the same time, and that creates something truly atmospheric. I love that Sharlene is doing the colors on this book, as it adds just enough of a difference to make it stand out. Watercolors are such a rare and lovely thing to find in the interiors of a contemporary direct market book like this and it really makes Dept H a striking read.
Finished Comic: The Underwater Welder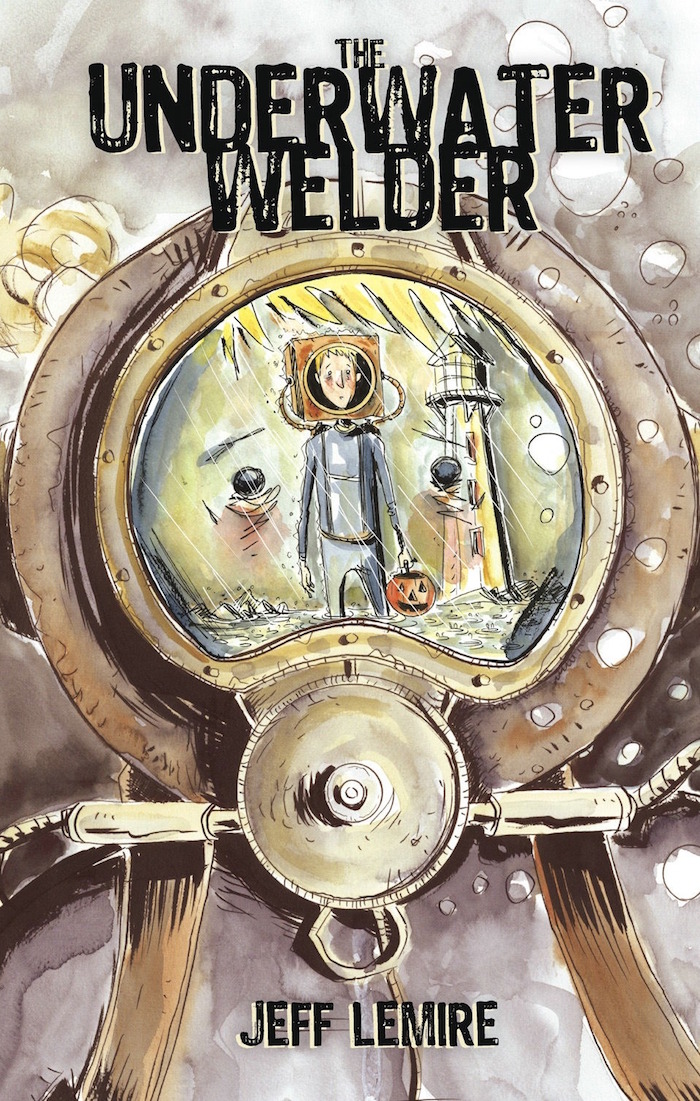 The Talent: Jeff Lemire (Writer, Artist)
What It's About: A man who works in isolation as a welder on a deep sea oil rig deals with the impending responsibility of fatherhood, whilst slowly becoming more and more distant from his family until he has a supernatural experience that changes him forever.
How It Connects to The Meg: Lemire's magical realism might seem worlds away from the action-tinged depths of The Meg, but the stories are both their own kind of underwater fantasy and both explore themes of family in peril.
Jaz: Damon Lindelof (of Lost and The Leftovers fame) wrote the best possible description of this comic in the introduction to the book: "Well, ladies and gentlemen, you are about to read the most spectacular episode of The Twilight Zone that was never produced."
Jack is a blue collar guy with a wife and baby on the way. He's distant and obsessed with the death of his father and the deep sea diving his father did, so much so that he took up work as...you guessed it, an underwater welder! Jeff Lemire does a wonderful job creating a surreal vibe inside the pages of this comic. For me, the most interesting themes in The Underwater Welder are the parallels that Lemire pulls from Jack's life and his father's life. The story does a wonderful job of demonstrating the cyclical nature of how he's following in his father's footsteps, even though our protagonist swears he's nothing like him.
The Underwater Welder is very much centered around a family, much like The Meg, where a mother and daughter are an integral part of the plot. It's about facing the unknown as a family and fighting for survival, whether it be metaphorical in The Underwater Welder or an actual fight against a giant shark in The Meg.
Rosie: I totally agree. The themes of family and isolation are so strong in The Underwater Welder, and the book is so wonderful. It's really easy to see why it's widely regarded to be the some of Lemire's best work.
It's so gorgeous and it really excels as a magical realism story, which, arguably, a lot of science fiction and monster movies like The Meg actually are. Lemire is a master at crafting beautiful, intimate, and heartfelt stories that are also gripping and vital. Work is one of those activities that always made me feel the most interior and self-reflective, as you spend hours in your own head thinking about the interactions you have, the ways you'd have done them differently, or might behave during future ones. The Underwater Welder deftly handles that mindset and explodes it onto the page.
The Underwater Welder is also at its heart a story about fathers and sons. Fatherhood is a theme that's similarly explored by The Meg, except that The Meg focuses on daughters – whether it's the relationship between Dr. Minway Zhang and his daughter Suyin, or Suyin's relationship with her daughter Meiying. Although The Meg will undoubtedly center the maniacal monster at its core, The Underwater Welder is at its heart all about the people who inhabit the fantastical world that Lemire creates.
There's something really special about an everyman story set against a magical or hyper-fantasy background, which is something that The Underwater Welder excels at and is likely something The Meg will be trying to harness with the slightly unexpected casting of Statham. Though the movie feels more like Die Hard under the sea, The Underwater Welder is more along the lines of Pan's Labyrinth by the way of The Abyss.
***
The Meg hits theaters August 10, 2018 and you can find any and all of these lovely comics at your local comic shop! You are now leaving the Comic Book Drive-In. Read safe, comic fans!