'Ant-Man And The Wasp' Will Be The Final Marvel Studios Movie To Stream On Netflix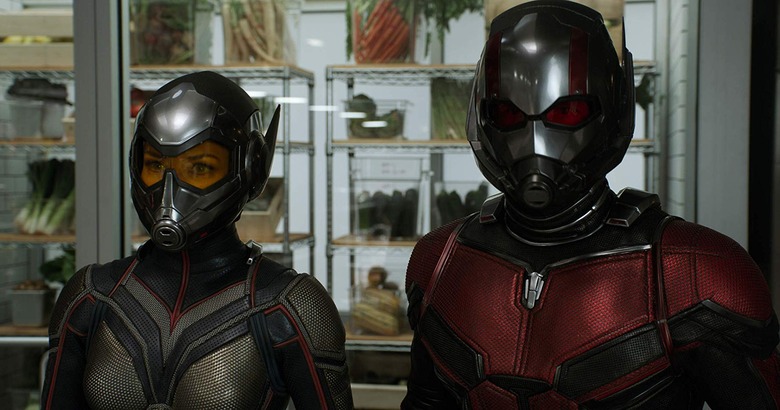 As Disney grows to be an even bigger industry behemoth following its acquisition of 21st Century Fox, the House of Mouse prepares its assault on the biggest streaming giant: Netflix. And the battle is beginning sooner than we thought. Ahead of Disney's launch of its own streaming service, it's pulling all of its Marvel Studios films from Netflix. This is something we knew was happening, but kind of expected to take place further in the future — you know, when we all have jet packs and Disney chips installed in our brains. But nope, Ant-Man and the Wasp will be the last Marvel film to stream on Netflix, and the final remnant of the old Netflix Marvel deal.
Beginning with Captain Marvel, all Marvel Studios films will begin streaming on Disney's upcoming streaming service, following their respective theatrical runs, according to the New York Times.
The report says, "Starting with 'Captain Marvel' in March, all of the films that Walt Disney Studios releases in theaters will subsequently flow to the Disney streaming platform instead of to Netflix." This will include not only Marvel films, but all of the Star Wars movies and Disney releases as well. It's a move that was to be expected since Disney first announced its plans to launch a streaming service last summer.
However, there are "no current plans" to move Marvel-themed television shows off Netflix, a Disney spokeswoman told the publication. This means that you can still catch Daredevil, Jessica Jones, Luke Cage, Iron Fist, The Punisher, and Defenders on the streaming giant — though this feels like it implicitly widens the divide between the Marvel Cinematic Universe and its TV counterpart. "It's All Connected," indeed.
Disney will also be producing original content for the yet-to-be-named streaming service, including Star Wars TV shows and even some live-action remakes. In other words, Disney intends to position itself as the ultimate streaming rival to Netflix. But I wouldn't be too worried about Netflix — with hundreds of original titles dropping on the streaming giant every month, it should be just fine.
Disney's streaming service is expected to launch sometime in 2019.