Legendary Snags Untitled Film About Criminals Who Try To Rob A Superhero's Lair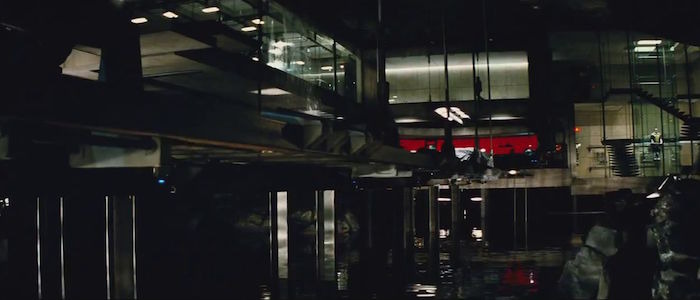 For years, one of the hottest scripts floating around Hollywood was called Super Max. It was about Green Arrow being framed for a crime he didn't commit and it was basically a prison break movie about the hero trying to escape from a special high-security facility full of supervillains. That project never ended up getting made, but now a different unconventional superhero film is in development at Legendary Pictures. This one is a heist movie – and the heist takes place inside a superhero's lair.
What if someone tried to rob the Batcave? That's basically the premise of this untitled script that Legendary Pictures just closed a deal to make. Collider has the news and a brief description, saying that the story follows "a group of career criminals who stage a heist on the lair of a superhero, and then must escape with their lives when everything goes wrong." I wonder if that means that the superhero catches them in the act? Can you imagine what someone like Batman would do if he found a handful of jackasses wandering around his lair with an eye toward stealing his gadgets? I don't imagine this movie will feature a superhero as famous as Batman, but it's easy enough to create a new one for this situation. Either way, it sounds like these criminals' days are numbered.
Filmmakers Chris Baugh and Brendan Mullin sold the pitch to the company; the duo will both produce and Baugh will direct. They previously collaborated on a film called Bad Day for the Cut, which played at last year's Sundance Film Festival. Here's the trailer:
I haven't seen Bad Day for the Cut yet, but it looks like a down-and-dirty indie thriller – in other words, the kind of project that seems to serve as a test run for up-and-coming filmmakers to get called up to the big leagues. I imagine this untitled superhero heist movie won't have a huge budget, but it sounds like it probably won't need one. There are a lot of different ways to approach such a cool premise, and I look forward to seeing what Baugh and Mullin have in store for us. As we close out our second straight decade of continuous superhero movies, coming up with non-traditional angles like this is what's going to keep fringe superhero films as interesting as the mainstream fare.