Small-Screen Stream: 'Castle Rock,' 'American Horror Story,' And More Television Horror Streaming Now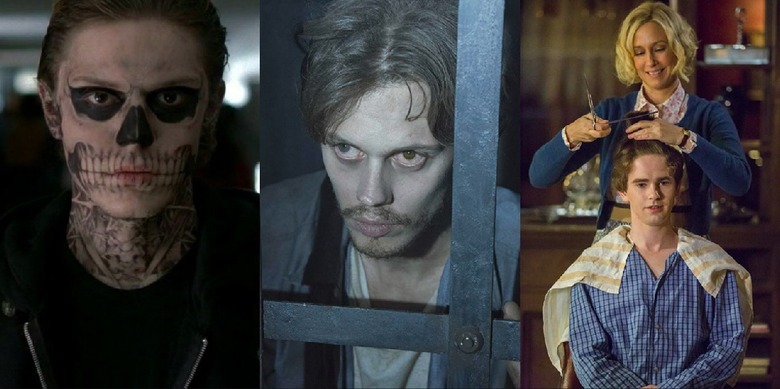 (Welcome to Small-Screen Stream, a feature where we share the best television shows streaming and where you can watch them.)
For this week's column, I'm sticking to a theme once again. I plan to ditch the hyper-specific lists and get a little more random with my pickings going forward – so as not to limit my selections – but I couldn't resist another one-genre list this time around. I blame it on Stephen King.
Something about the late summer – when the humidity levels reach a putrid density, when the days are long and the nights velvet-dark – puts me in the mood for good horror. Obviously, fall is what we most associate with spooks and scares, but summer has a far eerier quality, like there's something off in the air. Hulu capitalized on that late-summer spookiness with their new Stephen King anthology series, Castle Rock, which – along with some news from TCAs about American Horror Story – influenced the theme of this weeks' column.
Here is a compilation of some of the best horror series – old and new – currently available to stream.
Castle Rock, Season 1
Where To Watch: Hulu
Created By: Sam Shaw, Dustin Thomason
Starring: André Holland, Melanie Lynskey, Bill Skarsgård, Sissy Spacek, Jane Levy
I am absolutely hooked on this series, which is set in the Stephen King universe but isn't a direct adaptation of any of his works. The show follows Henry Deaver (André Holland), a death row lawyer and native of Castle Rock, Maine who is drawn home after a young, nameless man (Bill Skarsgård) suddenly appears in the bowels of Shawshank Prison. The show works as both a meta commentary on King's multi-verse – including his original stories and their adaptations – and a brand new story worthy of the horror maestro's attention and gratitude. It takes place in his favorite fictional town, and is ripe with themes important to his own tales: small-town treachery, complicated families, the devil in disguise. The most interesting thing about Castle Rock is how it weaves actors from other King projects – Skarsgård, Sissy Spacek, Ann Cusack, Melanie Lynskey, Chosen Jacobs – into its narrative while forging a whole new identity for them and for the town. It's a worthy part of King's world, and a joy to watch. The first four episodes (out of 10) are currently streaming on Hulu, with new ones dropping every Wednesday.
American Horror Story, Seasons 1-6
Where To Watch: Hulu, Netflix
Created By: Ryan Murphy, Brad Falchuk
Starring: Sarah Paulson, Jessica Lange, Evan Peters, Frances Conroy, Denis O'Hare, Emma Roberts, Lily Rabe, Kathy Bates, Wes Bentley
I often feel like the sole defender of this Ryan Murphy smorgasbord of campy weirdness. It's fine, because I really don't mind championing this strange, mad, uneven, often brilliant anthology series, which promises its most epic entry in this September's season eight, subtitled "Apocalypse." The new episodes will marry seasons one and three – "Murder House" and "Coven" – in what is sure to be a tasteless, manic plea for relevancy. Sign me up! Last season's "Election Year" – which isn't streaming just yet – is among the show's strongest entries, and all of the seasons that came before really live up to the show's name. School shootings, the murdering of slaves, the persecution of accused witches and the criminally insane, monstrosities committed by colonists, Donald Trump; it's all a part of our ragged, ugly history. But it's all the truth, and American Horror Story has fun taking arch liberties with that reality.
100 Years of Horror, Season 1
Where To Watch: Amazon Prime
Created By: Ted Newsom
Starring: Christopher Lee
In all honesty, 100 Years of Horror is a little surface level. The show, hosted by Christopher Lee, delves into the history of horror cinema, with anecdotes and interviews with actors and creators, from John Carpenter to Richard Matheson to Robert De Niro to Joe Dante. Surface level though it may be, I recommend it on the strength of those who lend their voices to archiving the genre. If you, like me, could listen to Christopher Lee talk for hours about the history of werewolf and vampire movies, you'll get a kick out of this half-hour per episode series.
The Exorcist, Seasons 1-2
Where To Watch: Hulu
Created By: Jeremy Slater
Starring: Geena Davis, Alan Ruck, Alfonso Herrera, Ben Daniels, John Cho
The Exorcist was recently canceled after two seasons – a real bummer for horror fans since this was an across-the-board excellent show. The series was a surprise sequel to the 1973 movie, and also an anthology focused on new cases of demonic possession and exorcisms each season, though it followed the same two priests: Father Tomas Ortega (Herrera) and Father Marcus Keane (Ben Daniels). The two are something of an update on Fathers Karras and Merrin from the original film; like Karras, Ortega struggles with his faith, and like Merrin, Keane is practiced in demonology and satanic confrontation. The two play wonderfully opposite each other, and it's a tragedy we don't get to follow them on new journeys in new seasons.
The Enfield Haunting, Season 1
Where To Watch: Hulu
Created By: Joshua St. Johnston
Starring: Timothy Spall, Juliet Stevenson, Matthew Macfadyen, Rosie Cavaliero
If you've seen The Conjuring 2 you'll be familiar with this story. The Enfield Poltergeist is a famous haunting that allegedly happened in a council house in Enfield, England in the late 1970s, that had severe effects on the family's youngest daughter, Janet, the "target" of the supernatural chaos. Though it's now largely believed to have been a hoax staged by Janet and her sister, Margaret, the case still earned a lot of attention. This BBC miniseries is a fictionalized account of the investigation that took place in the Enfield council home, as documented by two paranormal researchers, played by Macfadyen and Spall. It's a less fantastical version than The Conjuring 2 – with fewer demonic nuns and less Ed and Lorraine Warren (who in truth had very little to do with the case) – but it's just as chilling, and, at just three episodes, a brisk, satisfying watch.
Bates Motel, Seasons 1-5
Where To Watch: Netflix
Created By: Robert Bloch, Carlton Cuse, Kerry Ehrin, Anthony Cipriano
Starring: Vera Farmiga, Freddie Highmore, Max Thieriot, Olivia Cooke, Neston Carbonell
I will never tire of hyping Bates Motel, which in my opinion is one of the best horror reimaginings of late. Vera Farmiga is a fantastic actress, and she breathes terrifying life into Norma Bates, mother of "psycho" Norman (Highmore), whose dominating, eerie relationship with her son lends the series its darkest horror. Highmore is also excellent as Norman, and the show has a Twin Peaks vibe in that it peers into the creepy crooks and corners of a small town, and unlocks its many secrets. What's not to love about a show where Rihanna takes over Janet Leigh's role from the original Psycho?
Hammer House of Horror, Season 1
Where To Watch: Amazon Prime
Created By: Roy Skeggs
Hammer House of Horror is one of the more underrated horror anthology series out there, and features some of the scariest stuff ever put to TV. The episode "The House that Bled to Death" still haunts my dreams. The British-produced series was also a great showcase for actors; Peter Cushing and Brian Cox star in one episode together (with Cushing playing a Nazi pet shop owner, because why not), and a young Pierce Brosnan appears in another.
Requiem, Season 1
Where To Watch: Netflix
Created By: Kris Mrksa, Blake Ayshford
Starring: Lydia Wilson, Joel Fry, Tara Fitzgerald, Brendan Coyle, James Frecheville
I'm in love with this Netflix series – another British import – about a young woman drawn to the Welsh countryside and a spooky old manor house that rests there. She gets swept up in the case of a young girl who vanished from the village years before, and where it leads her is pretty wild. Requiem dabbles in the occult and supernatural, but it also feels pretty grounded, which makes it all the creepier. The slow-zooms and color palette lend it a vintage quality, which is a neat touch.
Scream, Seasons 1-2
Where To Watch: Netflix
Created By: Kevin Williamson, Wes Craven, Jill Blotevogel, Dan Dworkin, Jay Beattie
Starring: Willa Fitzgerald, Bex Taylor-Klaus, John Karna, Amadeus Serafini
No, Ghostface isn't the killer in MTV's Scream show. (Although he will be in the upcoming season three.) But that doesn't make the series any less fun or any less in debt to its meta-movie lineage. This is lightweight teen slasher stuff, yes, but it's also a lot of ridiculous fun. Bonus: Scream 4 just got added to Netflix, too, and it's great.
Ash vs. Evil Dead, Seasons 1-3
Where To Watch: Netflix
Created By: Sam Raimi, Ivan Raimi, Tom Spezialy
Starring: Bruce Campbell, Ray Santiago, Dana DeLorenzo, Lucy Lawless, Ted Raimi
This Starz series, a sequel to Raimi's beloved Evil Dead film series, was canceled in April, another sad loss for horror TV. The show follows Campbell's Ash 30 years after the events of Army of Darkness. Now a deadbeat living in a trailer and working as a stock boy, he's submitted himself to tending to the Necronomicon, which he's never been able to destroy. After accidentally reawakening the curse of the Evil Dead, he's set on a new series of adventures. As a Michigan native, I get a kick out of the show's Elk Grove setting and Midwest touchstones, but I also just love seeing Campbell as Ash; it never loses its charm. If you're a fan of the films but haven't checked out the series yet, get on this ASAP.
Tales From the Darkside, Seasons 1-4
Where To Watch: Shudder
Created By: George A. Romero
If you're a Shudder subscriber, you really have no excuse not watching Tales From the Darkside, or re-watching it for the 50th time, if you're someone like me. Maestro George Romero created the anthology series, and it lives up to the horror prestige that comes with that name. I have a hard time picking a favorite episode, although I lean towards the Tom Savini-directed "Halloween Candy," about an old man who doesn't want to pass out his Halloween candy to trick-or-treaters and is therefore tortured by an evil puppet goblin. There are plenty of equally crazy and scary episodes in the four seasons, which is reason enough to sign up for Shudder today. 
Outcast, Seasons 1-2
Where To Watch: Hulu + Cinemax Add-On
Created By: Robert Kirkman, Paul Azaceta
Starring: Patrick Fugit, David Denman, Philip Glenister, Wrenn Schmidt, Brent Spiner
Outcast is so good and so criminally under-seen. If you've been wondering where Patrick Fugit has been lately, this series is your answer. Based on the Robert Kirkman and Paul Azaceta comics of the same name, Fugit stars as Kyle Barnes, a man who's life has been riddled with demonic possession, which plagues him and his family like a mental illness. He uses his experience to help others affected by demonic assault, as he tries to get his own life together. The visuals are creepy as hell and Fugit is excellent in the lead role. It's on Cinemax, which is still finding its footing when it comes to original series, but you can stream it with a Hulu add-on.
Crazyhead, Season 1
Where To Watch: Netflix
Created By: Howard Overman
Starring: Cara Theobold, Susan Wokoma, Arinze Kene, Riann Steele, Tony Curran
CRAZYHEAD IS SO GOOD. Did I say that loud enough? I'm really just so excited to share this one, and I hope to god if you don't feel compelled to watch anything else on this list, you at least check this one out. It's only six episodes long and it's so, so fun. If you're a fan of the British superhero series Misfits, you can't miss this; it was created by the same guy, Howard Overman, and is its spiritual successor in a way. The show follows two young girls – Amy (Theobold) and Raquel (Wokoma) – who are united after the latter, a demon hunter, saves the former from a demonic attack. The two get in over their heads after they accidentally kill Amy's best friend Suzanne (Steele) during an exorcism, only to have Suzanne return from the dead as a flesh-eating revenant. It's hilarious, scary, and easy to breeze through; the perfect way to cap off your summer horror checklist.