'Eighth Grade' Is Holding Free Screenings Across The Country That Won't Enforce R-Rating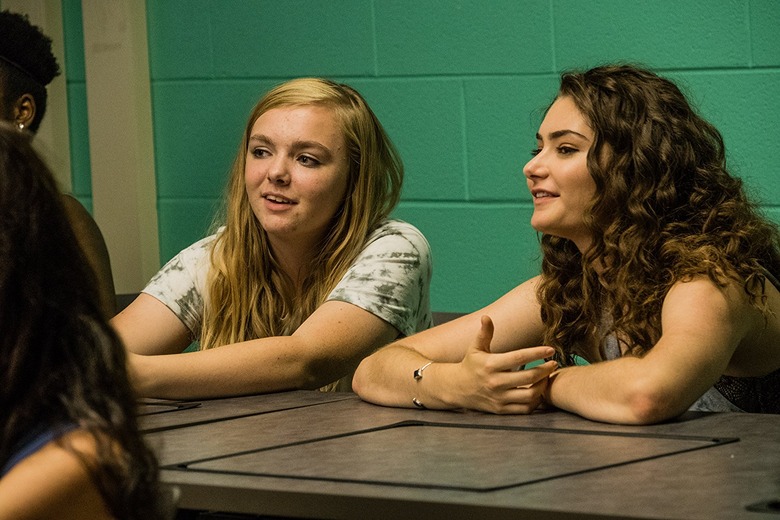 Despite its title, eighth graders probably won't be able to see Eighth Grade in theaters. Bo Burnham's incisive, incredible film about coming of age in the digital age was saddled with an R-rating thanks to a few errant curse words that the MPAA is unreasonably strict about. But it's a film that eighth graders should see. And A24 agrees. This week, the studio will be hosting free screenings across the country that won't enforce the movie's R-rating to encourage all ages to see this pivotal and powerful movie.
Every so often, a fantastic movie that features a few too many "fucks" will come around to remind us how backwards the MPAA can be when it comes to depicting curse words and frank sexual discussions onscreen. And that's where Eighth Grade fell into hot water with the all-powerful ratings board, whose R-rating for the film unreasonably bars 13-year-olds from seeing a resonant movie about themselves. Because unlike what its rating suggests, Eighth Grade is not a raunchy comedy that exaggerates the antics of middle schoolers today — on the contrary, it's as raw and real as it gets. Parents across the country could benefit (though admittedly suffer a bit through the film's more cringeworthy moments) from taking their kids to see Eighth Grade and kickstart important conversations about body image, identity, and sexual consent. But nope, the MPAA has got to be a remnant of Puritanical times.
Thankfully, A24 gets it. For one day only, the indie studio is holding Eighth Grade free screenings across the country that won't enforce the R-rating, to encourage kids — and maybe even their parents — to see this important movie.
These first-come, first-serve screenings will take place on Wednesday, August 8, 2018 in each state, the studio announced. To RSVP for the event, you can email info@A24films.com or contact your local theaters. You can find more information here.
Here is the full list of theaters holding these free Eighth Grade screenings.
ALABAMA: BIRMINGHAM – SUMMIT 16 at 7:00PM
ALASKA: ANCHORAGE – REGAL TIKAHTNU COMMONS STADIUM 16 & IMAX at 7:00PM
ARIZONA: SCOTTSDALE – CAMELVIEW AT FASHION SQUARE at 7:00PM
ARKANSAS: LITTLE ROCK – COLONEL GLENN 18 at 7:05PM
CALIFORNIA: SAN FRANCISCO – ALAMO DRAFTHOUSE MISSION at 7:40PM
CALIFORNIA: LOS ANGELES – ARCLIGHT HOLLYWOOD at 8:00PM
COLORADO: BOULDER – CENTURY 16 at 7:15PM
CONNECTICUT: HARTFORD – PALACE 17 & ODYSSEY at 7:00PM
DELAWARE: WILMINGTON – BRANDYWINE TOWN CENTER 16 at 7:00PM
FLORIDA: WINTER PARK – WINTER PARK VILLAGE 20 at 7:00PM
GEORGIA: ATLANTA – PHIPPS PLAZA 14 at 7:00PM
HAWAII: HONOLULU – DOLE CANNERY 18 at 7:00PM
IDAHO: BOISE – BOISE STADIUM 21 CINEMAS at 7:00PM
ILLINOIS: CHICAGO – RIVER EAST 21 at 7:10PM
INDIANA: INDIANAPOLIS – KEYSTONE ART CINEMA 7 at 7:00PM
IOWA: WEST DES MOINES – CENTURY 20 @ JORDAN CREEK at 7:30PM
KANSAS: LEAWOOD – TOWN CENTER 20 at 6:15PM
KENTUCKY: LEXINGTON – CINEMARK FAYETTE MALL 16 at 7:50PM
LOUISIANA: HARAHAN – PALACE 20 – ELMWOOD at 7:00PM
MAINE: PORTLAND – NICKELODEON CINEMAS 6 at 7:15PM
MARYLAND: ANNAPOLIS – HARBOUR 9 THEATRES at 7:00PM
MASSACHUSETTS: DANVERS – LIBERTY TREE MALL 20 at 7:00PM
MICHIGAN: GRAND RAPIDS – CELEBRATION NORTH 17 6:45PM
MINNESOTA: EDEN PRAIRIE – AMC EDEN PRAIRIE 18 at 7:45PM
MISSISSIPPI: GULFPORT – CINEMARK 16 – GULFPORT at 7:10PM
MISSOURI: ST. LOUIS – RONNIE'S 20 at 7:00PM
MONTANA: MISSOULA – ROXY THEATER at 7:00PM
NEBRASKA: LA VISTA – ALAMO DRAFTHOUSE OMAHA at 7:15PM
NEVADA: LAS VEGAS – TOWN SQUARE 18 at 7:25PM
NEW HAMPSHIRE: HANOVER – NUGGET THEATRE 4 at 7:00PM
NEW JERSEY: PARAMUS – GARDEN STATE 16 at 7:00PM
NEW MEXICO: ALBUQUERQUE – CENTURY RIO 24 at 7:40PM
NEW YORK: BROOKLYN – ALAMO DRAFTHOUSE DOWNTOWN BROOKLYN 7 at 7:30PM
NORTH CAROLINA: CHARLOTTE – STONECREST @ PIPER GLEN 22 at 7:00PM
NORTH DAKOTA: FARGO – WEST ACRES 14 at 7:00PM
OHIO: VALLEY VIEW – VALLEY VIEW 24 at 6:25PM
OKLAHOMA: OKLAHOMA CITY – QUAIL SPRINGS 24 at 6:45PM
OREGON: PORTLAND – FOX TOWER 10 at 7:00PM
PENNSYLVANIA: KING OF PRUSSIA – KING OF PRUSSIA 15 & IMAX at 7:00PM
RHODE ISLAND: PROVIDENCE – PROVIDENCE PLACE 16 at 7:00PM
SOUTH CAROLINA: MT. PLEASANT – CINEBARRE – MT. PLEASANT 11 at 7:00PM
SOUTH DAKOTA: RAPID CITY – AMC CLASSIC RUSHMORE 7 at 7:00PM
TENNESSEE: KNOXVILLE – PINNACLE STADIUM 18 at 7:00PM
TEXAS: AUSTIN – ALAMO DRAFTHOUSE SOUTH LAMAR at 7:45PM
UTAH: SALT LAKE CITY – CENTURY 16 – SLC at 7:35PM
VERMONT: BURLINGTON – MERRILL'S ROXY CINEMAS at 6:40PM
VIRGINIA: RICHMOND – CRITERION CINEMAS @ MOVIELAND at 7:00PM
WASHINGTON: SEATTLE – MERIDIAN 16 at 7:00PM
WEST VIRGINIA: MORGANTOWN – REGAL MORGANTOWN STADIUM 12 at 7:00PM
WISCONSIN: MEQUON – NORTH SHORE 11 at 7:00PM
WYOMING: LARAMIE – FOX at 7:00PM
Eighth Grade is currently playing in theaters now.