First Look: Margot Robbie As Sharon Tate In 'Once Upon A Time In Hollywood'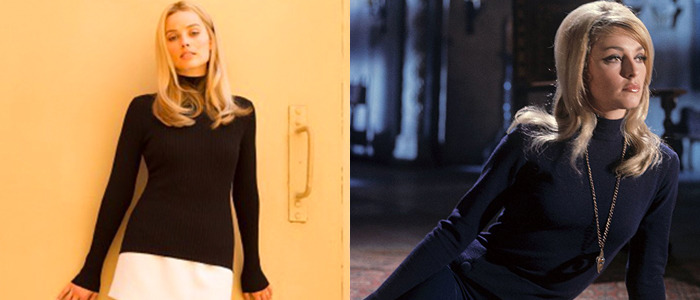 Filming on Quentin Tarantino's 1969-set period piece Once Upon a Time in Hollywood is underway, and actress Margot Robbie has shared an official first look photo of herself in costume as actress Sharon Tate. Take a look at the full photo and read more about the film below.
Margot Robbie as Sharon Tate
First look. #OnceUponATimeInHollywood @onceinhollywood
Robbie appears to be an excellent physical match for Tate, and this style of first look photo is familiar for this movie, because we saw stars Leonardo DiCaprio and Brad Pitt in similar poses about a month ago.
Robbie will be stepping into the shoes of the doomed actress, who, in August of 1969, was brutally murdered along with four other people by Charles Manson's "family" members. Tate was married to director Roman Polanski and eight-and-a-half months pregnant when she was stabbed to death. I'm currently rewatching Game of Thrones and just rewatched the Red Wedding episode, so the image of a pregnant woman being murdered is unfortunately very fresh in my mind. That's one of the most brutal episodes of TV ever produced, and as much as I like Tarantino, I'm crossing my fingers that he does not actually depict this horrific event in his movie.
In Once Upon a Time in Hollywood, Tate is actually neighbors with Leonardo DiCaprio's character. We knew that the Tate murder would serve as the backdrop of Tarantino's movie, but I didn't realize that the infamous slayings would be happening so close to this film's protagonists. With a geographical relationship like this one, the murders could quite literally play out in the background of a scene in this film.
Here's the absolutely bananas cast Tarantino has assembled for his new movie:
Leonardo DiCaprio as Rick Dalton, a washed-up Western TV star struggling to stay relevant in Hollywood.
Brad Pitt as Cliff Booth, Rick's longtime friend and stunt-double.
Al Pacino as Rick Dalton's agent, Marvin Shwarz.
Burt Reynolds as George Spahn, the man who rented his ranch out to Manson. (Learn more about Spahn here.)
Kurt Russell, Tim Roth, and Michael Madsen, all in currently undisclosed supporting roles.
Timothy Olyphant, in an undisclosed role.
Damian Lewis as actor Steve McQueen.
Dakota Fanning as Manson Family disciple Squeaky Fromme, who later tried to assassinate President Gerald Ford.
Emile Hirsch as Manson Family victim Jay Sebring.
Luke Perry as Scotty Lancer, who may or may not be based on a television actor of the same name.
Clifton Collins Jr. as a character named Ernesto The Mexican Vaquero.
Keith Jefferson as Land Pirate Keith.
James Marsden in an undisclosed role.
Julia Butters in an undisclosed role.
Scoot McNairy as Business Bob Gilbert.
DiCaprio previously called the script "one of the most amazing screenplays [Tarantino's] ever written, and that's saying a lot because he's done some masterworks in cinema history." The production recently took over Hollywood Boulevard and revamped the entire area to make it look appropriate to the era; you can see a video of that right here. For even more, make sure to listen to Karina Longworth's excellent podcast You Must Remember This – she did an entire series about Manson in Hollywood, and it's must-listen stuff.
Once Upon a Time in Hollywood arrives in theaters on July 26, 2019.